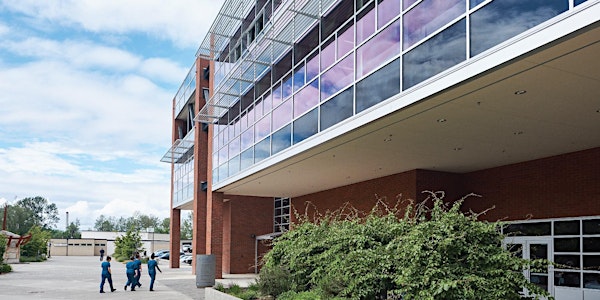 CAMPUS KICK-OFF 2022: All Together Again
Bellingham Technical College Campus Kick-Off
When and where
Location
Bellingham Technical College 3028 Lindbergh Avenue Settlemyer Hall Bellingham, WA 98225
About this event
2022-23 BTC Campus Kick-Off: ALL TOGETHER AGAIN
(for BTC Employees only)
This year's event will be a time to reconnect with familiar faces, connect with new ones, and catch up on what to look forward to at BTC in 2022-23.
We look forward to finally seeing everyone in person for a day spent together building our individual skills and strengthening our campus community.
Dr. Kimberly Perry and the Opening Day Planning Committee, Chaired by the incomparable Trish Newbold
Andi, Billie, Danielle, Jake, Kim, Lynda, Lynn, Ruth, Trish, Valerie, and Veronica
_______________________________________________
SCHEDULE
7:45 AM Breakfast
8:15 AM Plenary --- Kick-Off
9:30 AM Break
9:45 AM Workshops
10:45 AM Break
11:00 AM Plenary --- DEI
12:00 PM Lunch
1:00 PM Plenary --- Accreditation
2:00 PM Group drone photo
2:15 PM Closing remarks and adjourn
_______________________________________________
PLENARIES
Everybody in Settlemyer Hall
Kick-Off: Icebreaker, Trustee Welcome, President's Message, New Hires & New Positions, Combined Fund Drive, Public Service Announcements
Accreditation Presentation: RaeLyn Axlund McBride and the Accreditation Steering Committee will provide details about BTC's ending and upcoming accreditation cycles.
DEI Topic: Join Hannah Simonetti and Danielle Humphreys to find out more about the upcoming DEI training program for campus.
_______________________________________________
WORKSHOPS
First come, first served sign-up at the event
CARDS & CONVERSATION FOR GRATITUDE & COMMUNITY CARE - Join us for a low-key community-building session of hand-making cards and papercrafts while having conversations. It is a chance to enter the new academic year with new or renewed connections to each other and feeling grounded in shared values of gratitude and nurturing. ~ Andi, Chris, Mary, Nyssa, Emilia
CTCLINK PROCUREMENT PROCESS REFRESHER - Need a refresher on the steps to submit a purchase requisition for fall? Unsure about what happens after a purchase requisition is submitted? New to BTC and your position is one that will be submitting purchase requisitions? Join me for a short refresher/introduction to Purchasing in ctcLink. Not everyone has access to the Purchasing Module in the ctcLink system, so please check with Melisa Nelson at mnelson@btc.edu prior to signing up for this session if you do not already have access. ~ Melisa Nelson
DATA LITERACY - Traffic and breweries: How your assumptions about data can lead to surprising results. What do Bellingham traffic and breweries have in common? What about per capita cheese consumption and golf course revenue? What about a student's first generation status and their likelihood to be retained? Join the Data & Research team to learn about some basic concepts in statistics, and how the assumptions you make about data affect the conclusions you reach. ~ Diana Knight & Shawn Minnig
LET'S GET (SMART)SHEET-FACED - What happens after you click "submit"? Take a behind-the-scenes look at how the Marketing Team is using Smartsheet to manage projects, and get helpful tips for making your next project come to life. Participants will also receive a tutorial on providing feedback using Smartsheet's proofing features. ~ Sebastian Shoelss & Michelle Rhodes
NAME THAT SKILL: IDENTIFYING, APPRECIATING AND PROMOTING FIRST-GENERATION STUDENT STRENGTHS AND ASSETS - First-generation college students possess many "hidden" superpowers that are critical for success in college and beyond. Quick, can you name one? How about ten? Twenty? This session will highlight the valuable strengths, assets and contributions that first-gen students bring to our college. We'll use video storytelling, guided discussion and active learning activities to practice identifying specific strengths and skills backed by research in student success, sociology and positive psychology. This session will be light on theory and heavy on practical application of appreciative advising strategies. Anyone can use these critical tools to broaden their own perspective, support student identity development and contribute to an inclusive campus culture. ~ Kelly Vogel & Laura Singletary
WORKFORCE FUNDING/FINANCIAL AID - The point of this workshop is to learn about Workforce Funding. What is it, Who is eligible, Why is this important and How does it work? Most students at BTC are using financial aid for their funding, but most students also utilize and need alternative funding sources and that's where our WFF office comes in. We help students learn about and find more funding for their programs. There are many options and we want to share some of this with staff to help you help us, to help our students secure funding for their programs so that they can pursue their pathways to success. ~ Rachel Garcia, Gabe Fauber , Jennifer Lewis
ZUMBA FITNESS - Get up and move! ~ Annaliza Wilson
_______________________________________________
If you have problems or questions about registering for the event, please contact Valerie Frank (vfrank@btc.edu).
See you soon!