Campus Catalyst Central Florida, October 4-6, 2013

Multiple Dates
Event Details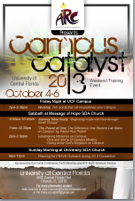 Campus Ministry Training for launching, growing and sustaining Christian ministry on college and university campuses including the Ten Essentials For Successful Campus Ministry. Training will be provided by seasoned campus minister, Ron Pickell, North American Division Coordinator for Adventist public campus ministries through Adventist Christian Fellowship. 
Schedule: 
Friday Night: 7 - 9:30 pm,  (Following Jesus On Campus: Jesus' Model For Sharing The Good News With Students)
Saturday Morning Bible Study: 9:30 - 11 am (Journey Bible Study: Experiencing Jesus Mission and Message)
Sabbath Worship: 11:15 am (The Power Of One: The Difference One Student Can Make In The Lives Of Others)
Sabbath Afternoon: 2 - 5:30 pm, (The Word On Campus: Practical Steps For Launching, Growing And Sustaining Campus Ministry).
Saturday Evening: 7 - 10 pm. Participants will plan a social event that they would feel comfortable bringing their unchurched friends to.
Sunday Morning: 9 am - 12 pm. Discussion and planning for the CRAVE outreach event scheduled for February 20, 2014 occuring during the JCI 4 Youth Young Adult Congress.
Organizer
Florida Conference Youth Ministries Department
Youth Ministries Department of the Florida Conference of Seventh-day Adventist. Contact name: Patricia  Pates patp808@gmail.com & Micky Santiago - Micky.Santiago@floridaconference.com
Campus Catalyst Central Florida, October 4-6, 2013