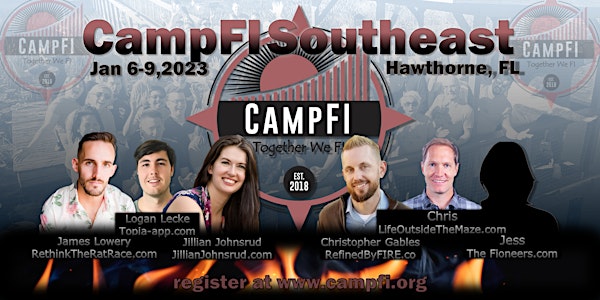 CampFI: Southeast JAN: Jan 6-9, 2023
CampFI: Southeast JAN Jan 6- 9, 2023 (Fri-Mon)
When and where
Location
Luther Springs Camp and Conference Center 264 Vause Lake Road Hawthorne, FL 32640
About this event
CampFI: Southeast JAN
Jan 6- 9, 2023 (Fri-Mon)
CampFI: Southeast is returning for 2023.
Have you ever wondered what it would be like to hang out with 50 friends out in nature, playing basketball, archery, canoeing, sitting on the porch talking, eating, listening, learning, relaxing and being unplugged from the daily grind? 
You aren't the only one. 
Since 2017, we've welcomed over 1,000 FIREwalkers from all across the country who enjoyed meeting and spending time with their tribe.  It started just outside of Gainesville, FL  and we are doing it again in 2023.  Come join us for 4 days and 3 nights at a beautiful retreat center just east of Gainesville, FL and enjoy nature, meetup with new and old friends, relax, have fun, and maybe even learn a thing or two that will help you along your Financial Independence journey and a more fulfilled life.   
If you can't make this one, but you are interested in future CampFI events, please stay updated at: 
Our Facebook Page: www.facebook.com/campfi.org
and our website at www.campfi.org
PAST featured guests have included:
J.D. Roth of www.getrichslowly.com
Doug Nordman of The Military Guide
Brad Barrett and Jonathan Mendonsa of the ChooseFI radio Podcast
Scott Trench and Mindy Jensen from www.biggerpockets.com
Carl from www.1500days.com
Joel from www.fi180.com
NOT JUST FOR BLOGGERS!  People from all walks of life including students, dentists, lawyers, engineers, accountants, and members of the military shared their unique experiences and interesting stories.  Strong and enduring friendships will be made.
I've reserved a retreat center outside of Gainesville. It's a beautiful rural venue with canoeing, swimming, nature trails and other recreational activities.  
Your ticket covers food and lodging for 3 nights.
***NOTE:  This event is scheduled for Jan 6-9.  This is the first of two CampFI events at the same location.  The second will be March 24-27, 2023***
Q&A:
Can I come just for the day?
We decided against offering day passes as we feel the full weekend provides the best overall experience, based on past events.
How much are children?
Children 0-3 are free, and children 4-8 are $150. Children 9 and up are full price.
If you're interested in bringing children, please consider that we never know how many children are coming until the end, so we can't promise how many kids will be there, or what ages. Please be prepared that your child may not have many playmates and might need your supervision.  Having said that, we have had many children attend with no issues.  This is a family friendly event.  
Can I get a private room?
The retreat center we are renting has shared rooms.  Most are double occupancy and some can sleep up to seven people.  We will default to filling up the 2-person rooms first and overflowing into the other rooms as groups prefer and/or demand requires it. You will likely be sharing a room.
Can I camp or bring an RV?
The retreat center does have RV hookups and Tent campsites (Bring your own tent).  If you prefer to bring your RV or camp in a tent, that is perfectly fine.  However, it will not affect your ticket price.  This location is a perfect opportunity for those who always wanted, to take an opportunity to camp.  All of the amenities are close by.
How many tickets are there?
We have room for 60 people at this event. Depending on how many kids and families sign up, we may have a room for a few more. We will open up a waiting list when all the tickets are sold.
Are the tickets refundable?
No. However, if we do have a waiting list, we can put you in touch with someone from the waiting list.  You are also welcome to find a buyer on your own.  Transfers are allowed until two weeks prior to the event, for room assignment purposes.  
I purchased a ticket. When do I get all the details?
You'll be getting an email within 2 months of the event date with all the details you need, and an invitation to the CampFI: Alumni private Facebook group .  For those of you who do not use Facebook, please email me and let me know so I can email relevant information to you directly.  If you need information faster than we post it, send an email to campfi.org@gmail.com. 
See the short videos below to get a sense of what to expect.