Description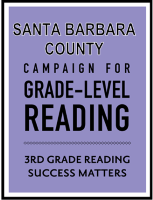 The Campaign for Grade Level Reading (CGLR) is a national collaboration of communities focused on the number one predictor of school success: third grade reading. The CGLR addresses three underlying challenges that can keep young children, especially those from low-resource families, from learning to read proficiently: school readiness, school attendance and summer learning.
Join us at our Kick-Off event to learn more about the CGLR Collaborative in Santa Barbara County.
Santa Barbara Public Library, Faulkner Gallery
Thursday, September 28, 2017 | 5:00 - 6:30pm
(5:00 - 5:30pm - Networking)
---
Santa Barbara County CGLR Collaborative Partners
Housing Authority of the City of Santa Barbara, Peoples' Self-Help Housing, Santa Barbara Unified School District, Santa Barbara Public Library, The Village at Santa Barbara and United Way of Santa Barbara County.
Date and Time
Location
Santa Barbara Public Library, Faulkner Gallery
40 East Anapamu Street
Santa Barbara, CA 93101