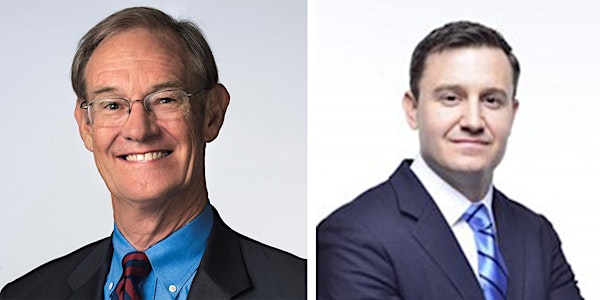 Campaign Contributions: Disclose or No?
Live Debate - Arizona Proposition 211 Webcast
About this event
LIVE WEBCAST DEBATE
Campaign Contributions: Disclose or No?
Tuesday, October, 4, 2022
10:00am PT | 1:00pm ET
Among the questions that will be put to Arizona voters this November is one asked by Proposition 211: should the original source of campaign contributions be disclosed? To elucidate the matter and present the strongest positions for their opposing opinions, Terry Goddard and Jon Riches will join the Institute for a moderated, live, online debate.
Terry Goddard is a former attorney general for the state of Arizona and a former mayor of Phoenix. His areas of legal practice include urban development, consumer protection, financial services, anti-money laundering, and environmental issues.
Mr. Goddard is the former president of the National League of Cities, a HUD official, and founder of non-profit organizations. He has served on the Central Arizona Water Conservation District. Mr. Goddard has led the Prop. 211 initiative that will be on the November 8 ballot.
Jon Riches is the Vice President for Litigation for the Goldwater Institute's Scharf-Norton Center for Constitutional Litigation and General Counsel for the Institute. He litigates in federal and state trial and appellate courts in the areas of economic liberty, regulatory reform, free speech, taxpayer protections, public labor issues, government transparency, and school choice, among others.
His work at the Goldwater Institute has been covered by national media, including the Wall Street Journal, New York Times, CBS This Morning, Bloomberg News, and Politico. Jon is also a member of the Federalist Society's Regulatory Transparency Project: State and Local Working Group. He served as a JAG officer in the U.S. Navy and is currently an officer in the Navy Reserve.
Liam Julian | Moderator
Liam Julian is director of public policy for the Sandra Day O'Connor Institute for American Democracy. He was previously managing editor of Policy Review magazine in Washington, D.C. His writing and commentary on public policy topics has appeared in a variety of publications such as The Washington Post, The Atlantic, City Journal, and National Review and on programs such as NPR's Morning Edition and All Things Considered. Mr. Julian also spent time working with the College Board, where he oversaw development of Advanced Placement curricula, including the redesign of the AP U.S. Government and Politics course. From 2006 to 2013, he was a Hoover Institution research fellow at Stanford University.