Description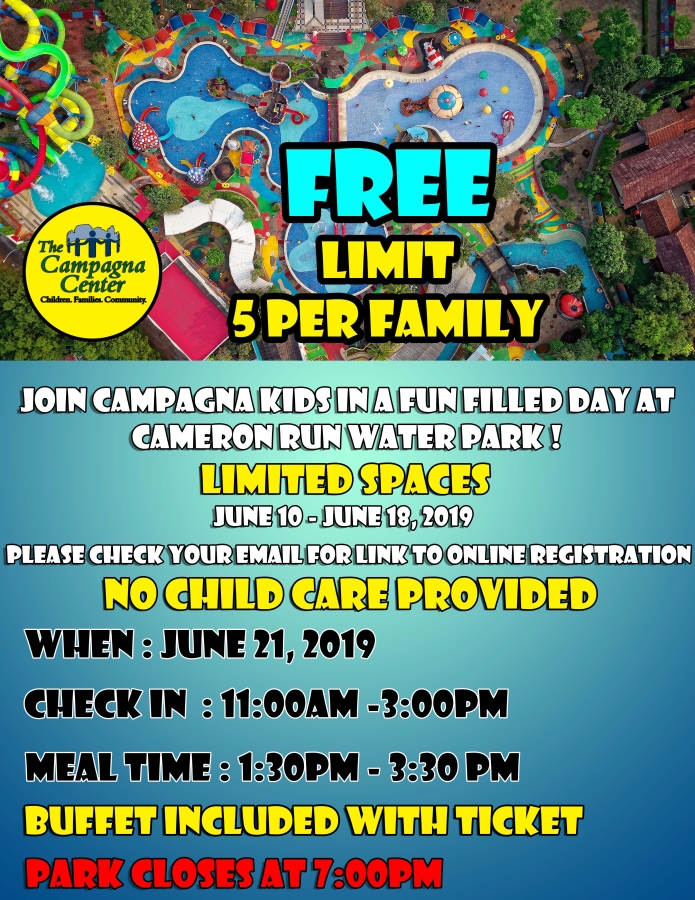 Greeting Campagna Kids Families,
You are cordially invited to the Campagna Kids "Family Fun Day at Cameron Run".
The event will take place on Friday, June 21, 2019 at Cameron Run Water Park .
Campagna Kids check-in will be open from 11:00am -3:00pm. Cameron Run Park is open until 7:00pm
This event is for Campagna Kids families only and tickets are subject to availability. Please note that in the event of inclement weather, no event will be rescheduled and replacement tickets will not be granted for this event.
Registration for this event will close on Tuesday, June 18, 2018 at 6:00 pm.
Our program-wide family engagement events provide an opportunity for CK children, parents and staff from across the Alexandria community to connect and engage in fun activities.
For more information, please contact us at ck-enrichment@campagnacenter.org
Thank you for making Campagna Kids your Out-of-School Time Program of choice.