Camp Yampire: Journey of the Scholars (Sunday Session - Online)
Camp Yampire: A free and fun-filled Zoom, Topia, & In-Person camp weekend experience for adults!
About this event
Still spending time indoors? Is living the socially-distanced life leaving you bored, bummed out, or with the desire to make some new friends? Are your self-isolation restrictions finally easing up, but you'd rather have some indoor fun?
We're here for you.
Join fellow whimsy-makers at Camp Yampire! We're on Zoom (meetings, not webinars), Topia (spatial audio & video chat), and IN PERSON, August 14th & 15th!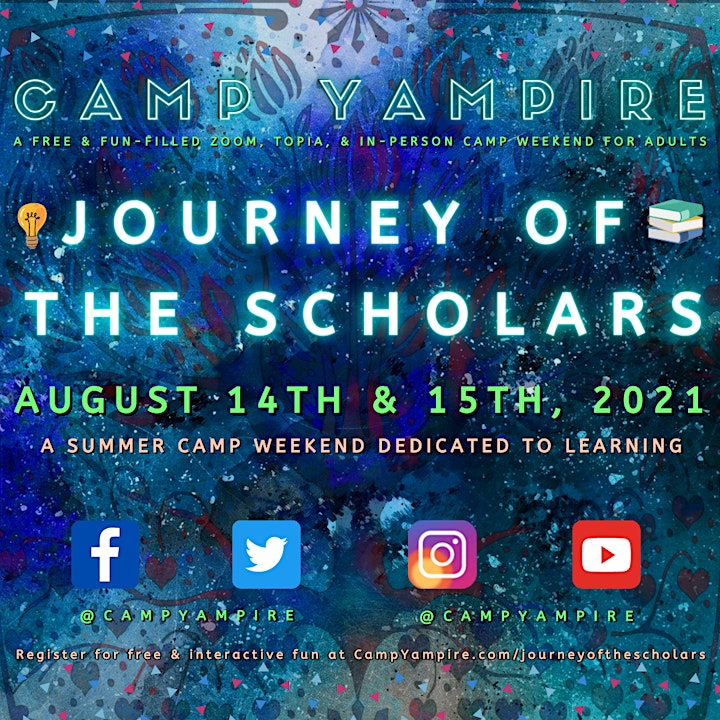 (Please note - this is an online camper registration for Sunday, August 15th (Zoom & Topia) only. To attend all weekend, please register for Sat the 14th HERE, and the in-person aspect of Sunday HERE.)
Happy August, campers! This summer, we're combining Zoom, Topia.io, and an in-person element this August 14th & 15th to celebrate knowledge in its many powerful forms at Camp Yampire: Journey of the Scholars! This free and fun camp is open to all ages, but was created for adults. We emphasize play as a form of self care, and connection as a balm to self-isolation during the pandemic, and beyond!
Learn, move, play, create, and listen to live music with campers from around the world, hosted by Yam, Pie, and amazing guest camp counselors (GCC's) from across the nation!
All "Zoomed" out from 2020? No worries, come join us in our virtual "campus quad" on Topia - happening simultaneously with our sessions on Zoom - and chat, explore, and relax with fellow campers nearby thanks to spatial audio and video! After your time in Topia, pop back to zoom anytime to catch a scholarly-themed session from our excellent community of talented and knowledgeable guest camp counselors at Camp Yampire: Journey of the Scholars!
Open to all ages but centered towards adults and traditional summer camp, at our camp weekends activities range from painting, baking, video games, workouts, and language classes, to easy crafts, live music, happy hours and self-care sessions, trivia nights, scavenger hunts, glow dance parties, e-smores, and more! Self-isolation and social distancing are still very much a thing for 2021, and we've got your back.
Treat Camp Yampire like a festival, with multiple workshops and sessions going on in Zoom breakout rooms at the same time - visit any or all, and stay as long as you'd like.
With the 2021 addition of Topia, campers can now experience whole new levels of immersion, walking around and interacting with whimsical, scholarly elements on our campground map, then popping back and forth between Zoom & Topia with the click of a mouse.
Your camp counselors, Yam & Pie, are on Zoom & Topia from 5pm-12:30am EDT on Saturday the 14th with a new activity to immerse yourself in every half-hour. And local, fully vaccinated campers may also join us at for IN PERSON fun at the Museum of Natural History, Central Park, & Board Game Cafe from 2PM-11:00PM EDT on Sunday (our bonus in-person day!), with a Zoom component from 8:30-11:00pm EDT so you can join in the fun if not local to NYC!
Our main events for Camp Yampire: Journey of the Scholars: Nickname Academy w/Grizz the Bear, The "How" & "Why" of Learning, Intro to Bhangra Dance, Intro to Japanese, Fizzy Physics Crafts, Lordy's Karaoke Mania, Nutrition & Healthy Movement, Needle Felting & Stop Motion 101, Poetry Symposium & Workshop, Intro to French, Math is Magical!, Fishtank Marine Biology 101, Circus AMA, The History of Puppetry, Ukulele 101, How to Spot "fake" news, Intro to Philosophy, Made You Think: Film Shorts With a Purpose, Scholar's Book Club, Midnight Glow Art & Dance Party, a visit to the Museum of Natural History, Scholars Picnic in Central Park, Board Games at a Café in Manhattan, and SO...MUCH...MORE! (See the full schedule of 60+ activities below)
Check out the schedule & supplies below - we hope to see you soon, campers!
Find the full schedule and register for free at CampYampire.com/journeyofthescholars
Find us on: FACEBOOK , INSTAGRAM , and TWITTER
*Please note - registrations completed with a temporary/marked for spam email address will be subject to automatic cancellation. Thank you for helping keep our camper space safe and troll-free!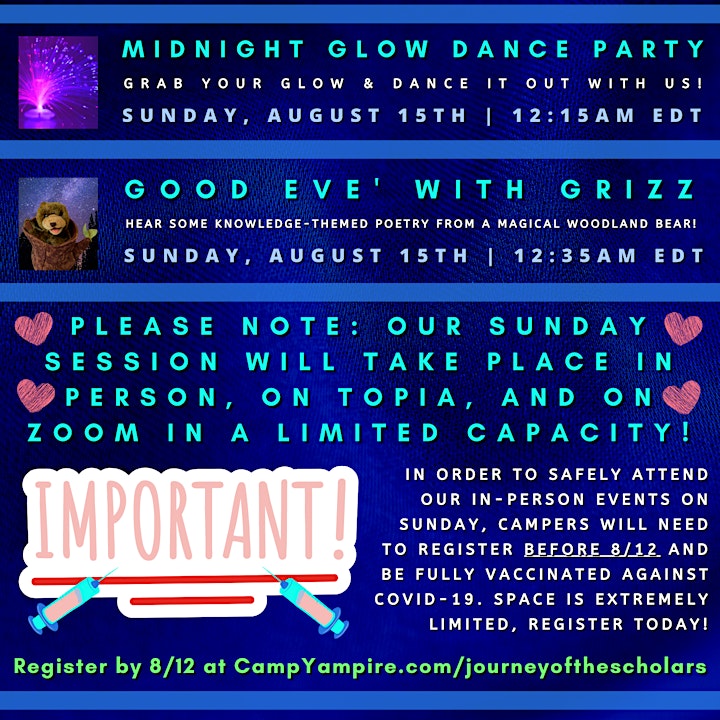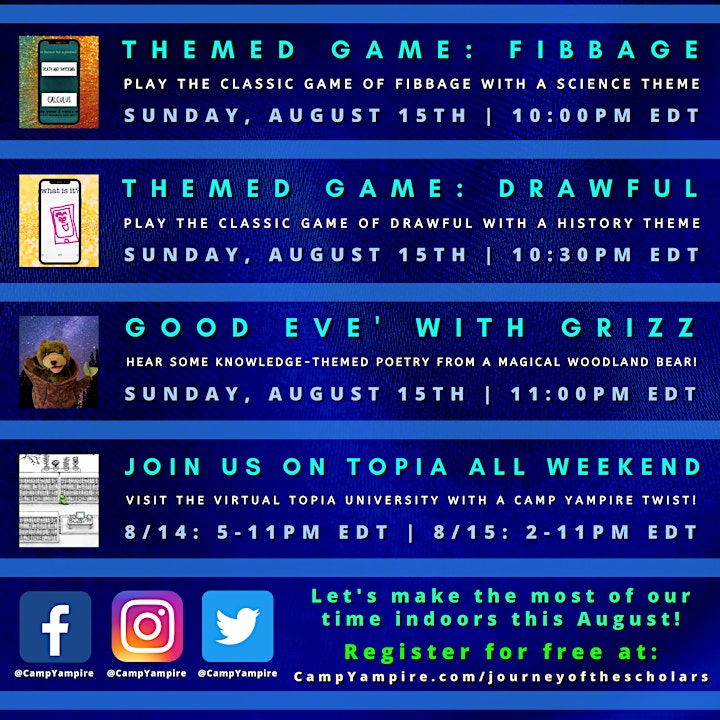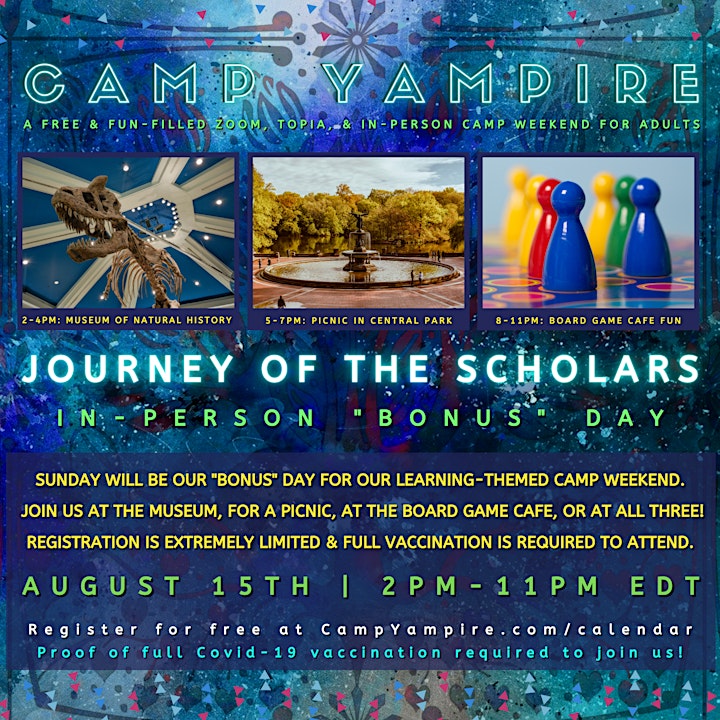 MORE INFORMATION ABOUT OUR IN-PERSON EVENT ON 8/15:
TO ATTEND OUR "IN-PERSON" EVENT ON 8/15: Attendance is limited to 20 campers, so please register by August 12th to ensure a spot! All campers that attend must email us by 8/14 with proof of full Covid-19 vaccination - failure to provide proof of full vaccination by 8/14 will result in the cancellation of your complimentary ticket. If you attended in July and have already provided proof of full vaccination, you do not have to re-send proof to attend.
For camper's safety, there will be multiple sanitation methods employed throughout the day, including mask wearing (when not with our sole group), hand sanitizer stations, temperature checks upon joining us, and campers are encouraged to stay home if they are not feeling well. Masks will be optional at our picnic, but may be required in all common spaces, including the Museum of Natural History and the board game cafe.
Yam & Pie will be streaming on Zoom from 8:30-11:00pm EDT on 8/15, so campers can join us remotely if you cannot be there in person!
--------------------------
TIPS FOR TOPIA:
Camp Yampire: Journey of the Scholars will have a Topia "campus quad" to explore, interact with, and connect with other campers at the same time as our camp is being held on Zoom. Due to the spatial audio and video, you'll only talk with those that are close to you.
See Our Latest Camp Yampire Blog Post on Using Topia
TECH SPECS: Please make sure you have Google Chrome Browser enabled, and that you are joining with a mac, pc, or tablet. Anyone joining from a phone should make sure to check "Enable Desktop" to ensure they can join the Topia space in the desktop version of Chrome on your phone. Please note, joining from a cellular device will limit some aspects of play, so please try to join from a computer if at all possible.
*For the best audio experience of hearing the spatial audio and video, we recommend using headphones.
**Our Topia space is completely optional to join, but we hope those who are tired of the limitations of Zoom will find this space a welcome change to the traditional zoom meeting structure. Make sure to send us your feedback on Topia after camp weekend!