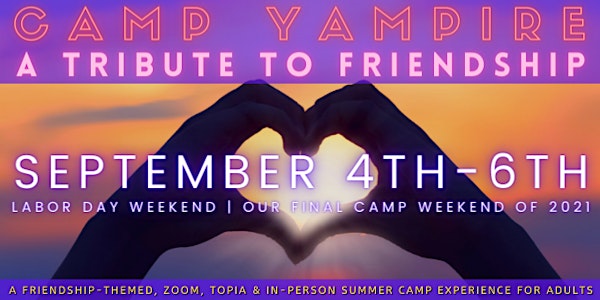 Camp Yampire: A Tribute to Friendship (Monday Bonus Day Social)
Camp Yampire: A free and fun-filled Zoom, Topia, & In-Person camp weekend experience for adults!
When and where
Location
Central Park Great Hill, Central Park New York, NY 10025
About this event
Is living the socially-distanced life leaving you bored, bummed out, or with the desire to make some new friends? Are your self-isolation restrictions finally easing up, you're fully vaccinated, and you're okay with hanging out with a small group of badass campers?
We're here for you.
Join fellow whimsy-makers at Camp Yampire! We're celebrating Labor Day Weekend at Central Park this Monday, September 6th!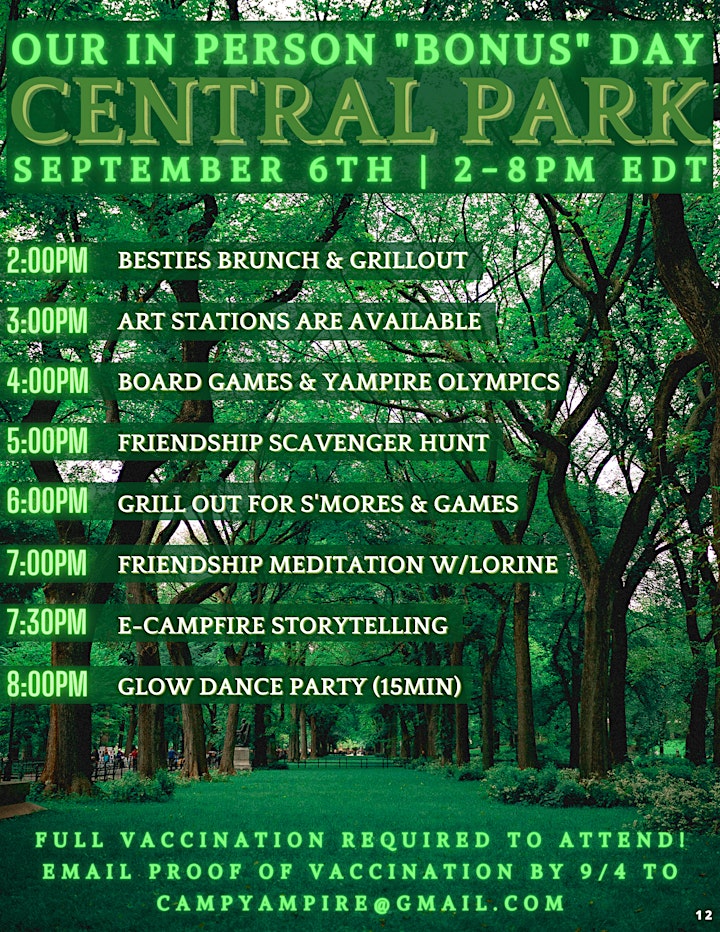 (Please note - this is a camper registration for Monday, September 6th (In Person Event) only. To attend all weekend, please register for Sat the 4th HERE (zoom/topia) & Sun the 5th HERE (zoom/topia)
Happy September, campers! From September 4th-6th, we're combining Zoom, Topia.io, and an in-person element this Labor Day weekend to celebrate friendship and connection in its many life-affirming forms at Camp Yampire: A Tribute to Friendship! This free and fun camp is open to all ages, but was created for adults. We emphasize play as a form of self care, and connection as a balm to self-isolation during the pandemic. This is our final camp weekend of 2021, so if you haven't stopped in this year, come join us!
Our final day for this camp weekend will be IN-PERSON, and takes place in Central Park, NYC! Campers who attend must provide proof of full vaccination by 9/5 at 12pm EDT in order to join the day's events. Campers will also need to bring their own food and drink for the day!
Find the full schedule and register for free at CampYampire.com/tributetofriendship
Find us on: FACEBOOK , INSTAGRAM , and TWITTER
*Please note - registrations completed with a temporary/marked for spam email address will be subject to automatic cancellation. Thank you for helping keep our camper space safe and troll-free!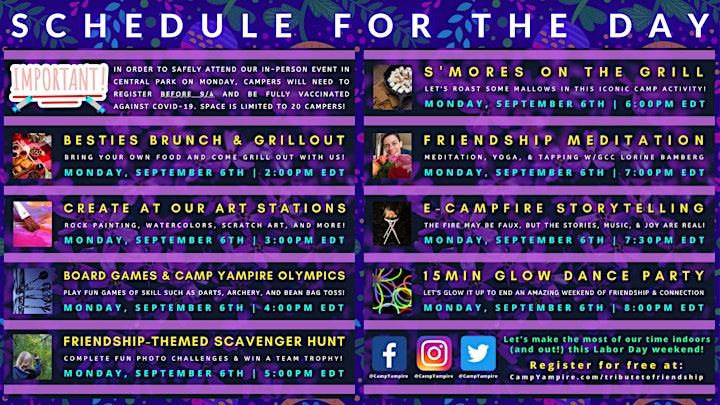 MORE INFORMATION ABOUT OUR IN-PERSON EVENT ON 9/6:
TO ATTEND OUR "IN-PERSON" EVENT ON 9/6: Attendance is limited to 20 campers, so please register by September 4th to ensure a spot! All campers that attend must email us by 9/5 with proof of full Covid-19 vaccination - failure to provide proof of full vaccination by 9/5 will result in the cancellation of your complimentary ticket. If you attended in July or August and have already provided proof of full vaccination, you do not have to re-send proof to attend.
For camper's safety, there will be multiple sanitation methods employed throughout the day, including mask wearing (when not with our sole group), hand sanitizer stations, temperature checks upon joining us, and campers are encouraged to stay home if they are not feeling well. Masks will be optional at our picnic.