Location
Armory Center for the Arts
145 North Raymond Ave
Pasadena, CA 91103
Club SCUM and the Armory invite all queer youth of color and allies to a day of creative workshops and presentations.
About this event
Club SCUM and the Armory invite all queer youth of color (age 12-17) and allies to a day of creative workshops and presentations celebrating and empowering identity through self-expression. Presented by leading culture makers from Club SCUM's creative community, this full day of programming will include workshops on zine production, queer photography, the basics of DJ-ing, and Drag 101 with the queens of Club SCUM, as well as conversations with Project Q founder Madin Lopez, comic book artist Sina Grace, performance artist Rafa Esparza, and more. Additionally, queer trans barber Eli Shaffer will provide free, gender-affirming haircuts for youth throughout the day (with sliding-scale cuts for adults). All proceeds to benefit Gender Justice LA.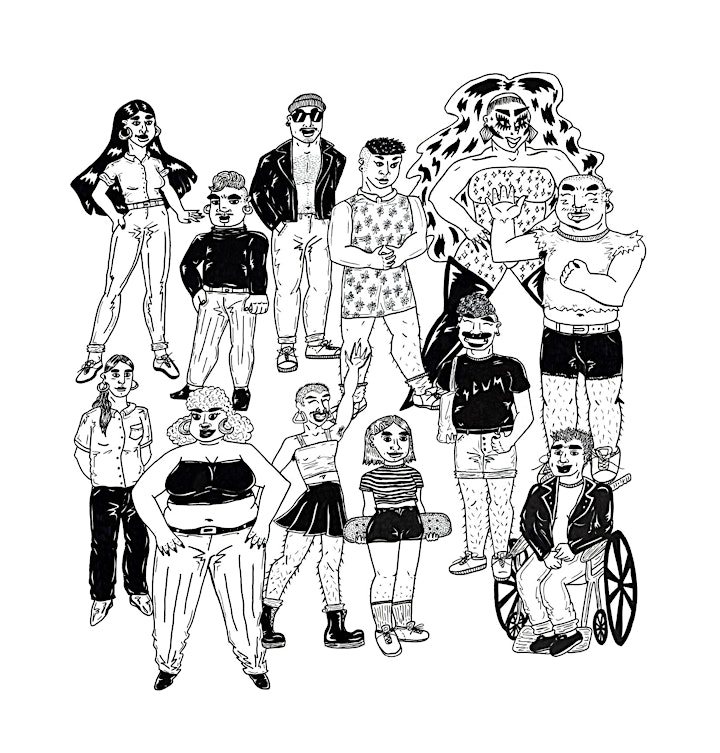 -----------------------------------------------
SCHEDULE AT-A-GLANCE
-----------------------------------------------
10:30 am - Welcome/Registration
11:00 am - Project Q
12 pm - DJ 101/Performance Workshop
1:30 pm - Lunch
2:10 pm - Risograph Printing/Zine Workshop
3:30 pm - Photo Workshop/Drag 101 Workshop
5:10 pm - Sina Grace
5:40 pm - Rafa Esparza
6:00 pm - Party
-----------------------------------------------
WORKSHOPS & PRESENTATIONS
-----------------------------------------------
Twice as Hard, Half as Good - A first-person thought experiment about growing up in the '90s as a black trans kid at the precipice of Y2K. Presented by Madin Lopez, founder of Project Q.
DJ 101 - Do you love introducing your friends to new music? Are you always creating the playlist for the party? Have you ever wondered what it would be like to DJ? If so, then this workshop is for you. Participants will learn about the equipment used for DJ-ing along with hands-on training with both vinyl and digital DJ stations. Presented by DJs GFUNKTRECE, Romy, and Your Mother.
Performing Yourself - In this workshop participants will experiment with creating characters based on and inspired by their own personal experience, using props and costumes. Presented by Jibz Cameron (aka Dynasty Handbag).
Zine Workshop/Risograph Printing - Learn how to build community and self-expression through zine-making! An introduction to zines and examples of diverse zines will be shown. Zines will be made together or individually. You can do it old school cut and paste style or on the risograph. You will print and learn to assemble zines. At the end of the workshop, zines can be shared with each other and others outside of the workshop. Risograph version presented by Cynthia T Navarro of Tiny Splendor. Cut and Paste version presented by Seth Bogart.
Queer Image Making: Seeing Ourselves - In a workshop facilitated by Las Fotos Project, participants will be able to create portraits inspired by the legacies of LGBTQ+ photographers using similar techniques in lighting, framing, and composition. Ranging from natural to studio lighting, participants will get to experiment with props, backdrops, color profiles, and more. Presented by Las Fotos Project.
Drag 101 - Join the queens of Club SCUM and learn the tips and tricks of getting into drag and performing. Presented by Angry Baby, Blasia Discoteca, Dvvsk, Lady Forbidden, and Charles Galin.
Making Queer Dreams a Reality - Writer and artist Sina Grace has created the world he always dreamt of for himself— writing and drawing comics for the biggest publishers in the industry, creating artwork for the musicians who shaped his heart and voice. While his is a success story, Grace learned a lot of lessons along the way. Join him during an engaging and interactive conversation where he outlines the key ingredients he found it took to make a little gay boy sharing a crammed apartment with his sister and single mother and no "connections" into a grown-ass man whose every dream has been made so real.
Keynote by Rafa Esparza - Rafa Esparza (b. 1981) is an American performance artist who lives in Los Angeles. His work often takes the form of physically exhaustive performances and installations constructed out of adobe bricks. Esparza also frequently works with collaborators, including members of his family. Esparza has exhibited in several public parks, nightclubs, sidewalks, galleries, and museums in Los Angeles and internationally. Esparza was born and raised in Pasadena, and is the son of Mexican immigrants from Durango, Mexico. His father had worked in construction for over 30 years and used to make adobe bricks back in Mexico. Later on, his father would teach him how to make adobe brick as a way to reconcile their relationship after Esparza came out as queer.