CAMP Rehoboth Theatre presents its production of Tiny Beautiful Things on 11/5 - 11/7
About this event
CAMP Rehoboth Theatre presents its production of Tiny Beautiful Things on November 5 and 6 at 7:30 p.m. and November 7 at 2 p.m.
Based on the writings of Cheryl Strayed, this play was adapted for the stage by Nia Vardalos and directed by Russell Stiles.
Tiny Beautiful Things shares the real-life letters written to Sugar (portrayed by Gwen Osborne) and the shockingly vulnerable, empathetic ways in which she responds. The stories are overtaken by the voice of one of three actors (Matty Brown, Diana Counts and Rick Welk), who assume the identity of various letter writers, regardless of age or gender.
Whether you're looking for a reminder about our shared humanity or just in the mood for a play with a lot of heart, this is a must see.
This production will have an intermission and will feature a bar. Tickets are being sold at a maximum capacity of 65 people in the audience per night to allow for social distancing.
COVID-19 Notice: All attendees of these performances must wear masks. More stringent guidelines might be in place at the time of the event, and those details will be shared ahead of time.
PLEASE NOTE - In the event you request a refund before the close of the non-refundable sale date, Eventbrite will take out a processing and credit card fee that goes directly to Eventbrite to process your refund. CAMP Rehoboth does not get any percentage of this fee.
Please visit camprehoboth.com/arts/CAMPtheatre for more information.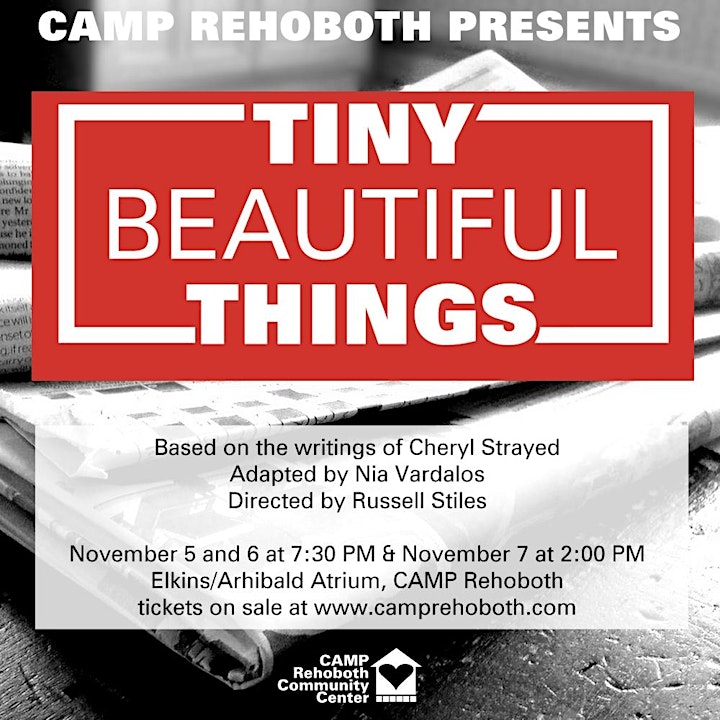 Organizer of CAMP Rehoboth Theatre Presents "Tiny Beautiful Things"
CAMP Rehoboth is a 501(c)(3) nonprofit, LGBTQ community service organization.  Celebrating diversity, building a strong sense of community, and "creating a more positive" environment for all people, gay and straight, has been at the heart of the CAMP Rehoboth philosophy for over 29 years. 

Donations to CAMP Rehoboth are tax deductible to the fullest extent of the law.
For more information on CAMP Rehoboth and its events and services, visit www.camprehoboth.com or call the Community Center at 302-227-5620.