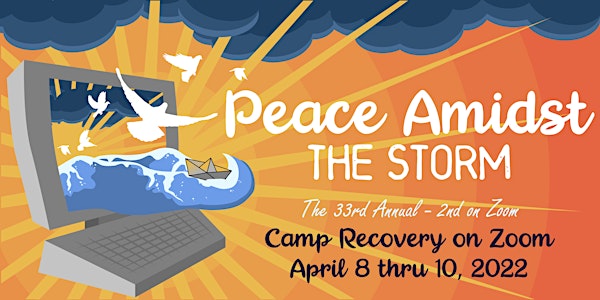 Camp Recovery Zoom 2022
Scroll down for more information!
About this event
If you have registered, but not received email notifications, please check your spam or promotions folder.
33rd Annual Camp RecoveryPeace Amidst the Storm
Presented by Camp Recovery ACA #CA1436 especially for Adult Children of Alcoholics and Dysfunctional Families with CoDA and other 12-Step programs invited.
Zoom Meetings, Workshops, and Activities
All times are Pacific Daylight Time.
Come join your fellow travelers on Zoom while we cultivate "Peace Amidst the Storm". Connect to your inner child and loving parent, gently discovering growth along the high seas. Learn new things about yourself, see old friends and make new ones, or just sit back and enjoy the journey!
Workshops:
Changing Your Internal Compass, When the Waves Get Big-Inner Child Check In, Anger In a Safe Place, Inner Child Tenderness Writing & Sharing, Steering Your Ship, A Light in the Darkness, When the Waters Calm, Batten Down the Hatches, and Zoom Technology Assistance.
Activities:
Hoist the Anchor Newcomer Orientation, Lower the Sails Gentle Yoga, Laughter Yoga, Authentic Movement, Inner Child Show & Tell, T'ai Chi Chih, When Lost At Sea Drawing Your Higher Power, Rock the Boat Inner Child Dance Party, Talent/NoTalent Show, Motion in the Ocean Morning Boost Dance Party, Captain's Hats, Mandala Drawing, and a Sail Away Dance Party.
Meetings:
Opening, Morning Meditation, Women's, Men's, Late Night, LGBTQ+, Coffee Chat, and Sharing AHA Moments.
Registration is Free
7th Tradition donations may be made and are gratefully accepted via CampRecovery101@gmail.com via Zelle or PayPal (Use "Friends and Family" option).
Tech Help:
Please update your zoom application to the most recent release.
On Friday April 8th, come learn some tips and tricks for navigating Zoom by trusted servants, from 4:00 pm to 5:30 pm. Learn how to stay afloat navigating Zoom. Learn how to raise your hand to share, how to edit your Zoom name, change your virtual backgrounds and so much more! We cannot troubleshoot printing, connected devices or internet connection problems. We can only help you with zoom features.
If you cannot log on to the Zoom platform, we suggest you call or text (preferred) 805-751-5735 or email camprecovery.org@gmail.com. One of our tech trusted servants will respond as soon as they are able.
WHAT TO GET READY FOR THE WEEKEND
Review Zoom Camp Recovery Guidelines - Click link to review
Computer, tablet or smartphone
Update or download Zoom app. or bookmark https://zoom.us/download#client_4meeting
Plan your Talent Show act and sign up at CRTalentshow@gmail.com
Water, snacks & food
Notebook, paper, pen, crayons, markers, colored pencils.
Yoga mat, pillow and or blanket for meditations and activities.
Stuffed animal and "show and tell" toys for Inner Child Meeting
Photo of your younger self, inner child, inner teen.
Phone numbers of Fellow Travelers to connect with for emotional support
Willingness to play and have fun!
Looking for our In-Person Camp Recovery 2022 at Grey Squirrel Resort?