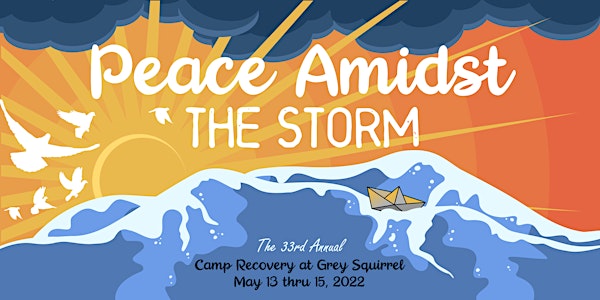 Camp Recovery @ Grey Squirrel 2022
Scroll down for more information! READ CAREFULLY HOW TO REGISTER BELOW
When and where
Location
Grey Squirrel Resort & Vacation Rental Homes 39372 Big Bear Boulevard Big Bear Lake, CA 92315
About this event
33rd Annual Camp Recovery
Peace Amidst the Storm
Grey Squirrel Resort is a public resort and vacation rental facility. We have exclusive use of the resort for the weekend. There are 3 acres of common recreation area with 19 charming cabins.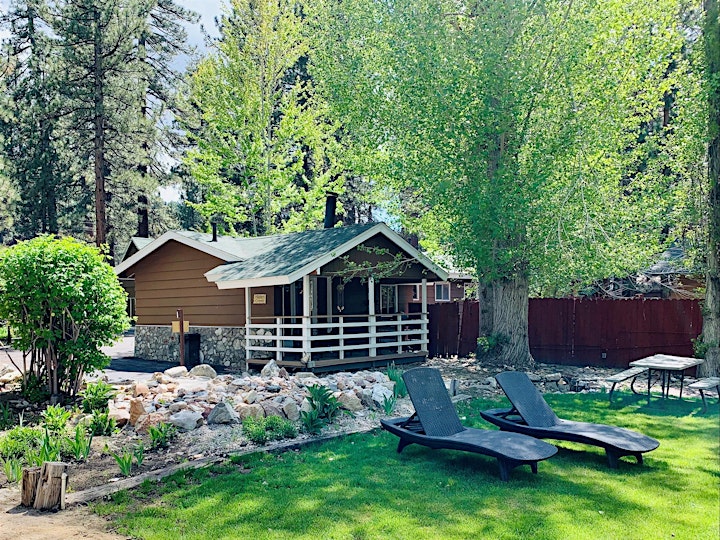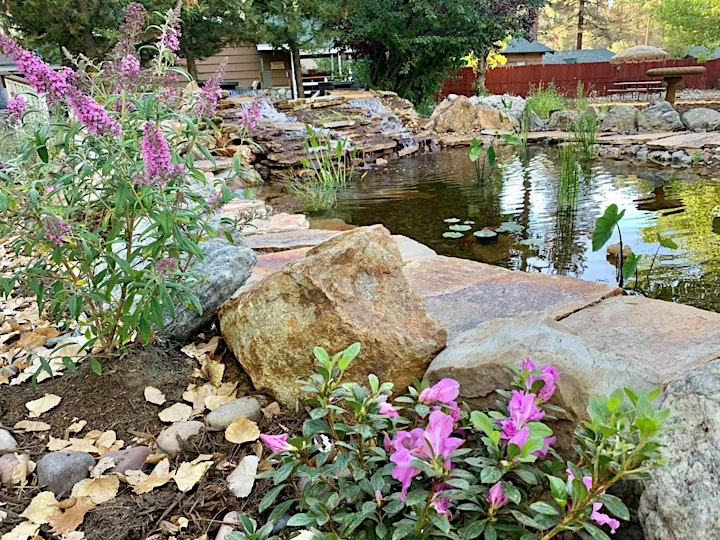 Grey Squirrel Resort
All Camp Recovery sponsored activities, workshops, and meetings will be held OUTDOORS.
So, you must bring your own outdoor chair. Enjoy the rest of the amenities below.
Amenities
• Cabins - All cabins have propane BBQs, Coffeemaker, Toaster, Microwave, Refrigerator, Free WIFI, Fireplace. Most cabins have range tops and ovens. All cabins are stocked with hotel linens, towels, soap, cooking and eating utensils based on max capacity. Other amenities vary by cabin which can include a piano, pool table, dishwasher, large screen TVs and one even has a 2-person jacuzzi tub! Most cabins have wood-burning fireplaces, one has electric, and one has a gas fireplace. Firewood bundles are $8 each or bring your own. Purchase wood at the front desk and maintenance can bring it to your cabin.
• Meals and food will be entirely on-your-own, however we will have an optional outdoor potluck for Saturday dinner, if you wish to participate in that, or just join us eating together outdoors with your own food at some of the resort tables. Local restaurants are nearby. Grocery stores are also close by, but we suggest bringing food with you. Most cabins have small or large refrigerators. Dishes must be washed prior to leaving the cabin or occupants will be charged with an additional cleaning fee.
• Parking - Free parking by your cabin. Parking is extremely limited so be sure to adhere to the maximum number of cars allowed for your cabin. CARPOOLING IS ESSENTIAL! There is no local street parking allowed. If any additional parking is needed for more than your cabin max, arrangements must be made ahead of time. If there is availability, there may be an additional small fee for parking at an adjacent property.
• Arrival/Departure - Check in time is 4:00 pm to 10:00 pm Friday. If campers arrive after 10 pm they must plan to get the key code by text from the front office. Four driveways lead onto the property. There are outdoor lights throughout the grounds and around many of the outdoor tables. Auto shut-off around 2am. Cabin checkout is 11:00 am on Sunday.
• Fire Pit - We will be making use of the Outdoor Fire Pit (propane) each night in the common area. There is also a small fire pit (propane) that is moveable throughout the facility and may be used during meetings. Bring your marshmallows, roasting sticks, and fixings for S'mores!
• Heated outdoor swimming pool open 10 am-6 pm (no lifeguard), weather permitting.
• Free guest laundry washer and dryer available between the Whispering Creek Cabin and the Hidden Creek Cabin. Bring your own laundry soap.
• Other Amenities - Outdoor picnic tables and chaise lounges, scenic koi pond with waterfall, free coffee, gift shop with some food items in the office, Ping Pong table, Corn Hole, Horseshoes.
BRING YOUR OWN OUTDOOR CHAIR FOR ALL MEETINGS!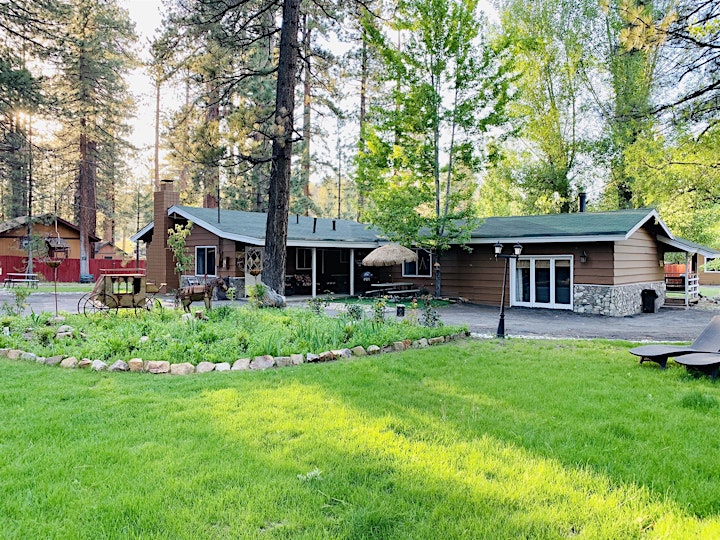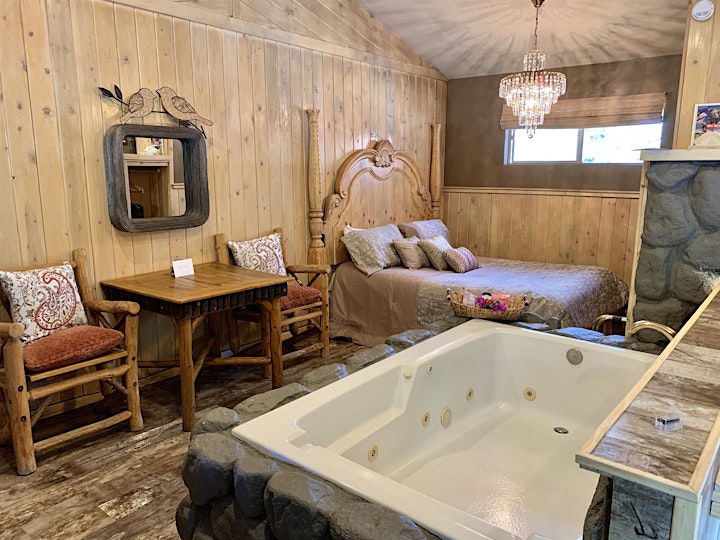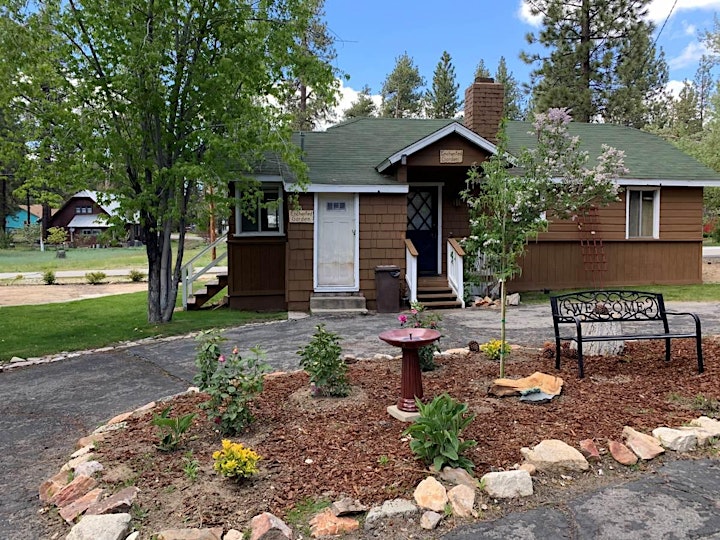 Registration for Camp @ Grey Squirrel
***Cabins are Reserved as a GROUP****
YOU may create your own Cabin Group
How to Register for Camp Recovery
***Only one person needs to fill out the registration on Eventbrite for your Cabin Group***
1. FIRST form a Cabin Group or lodge by yourself.
a. Friends and Fellow Travelers - We suggest you contact friends and fellow travelers to form a group. Talk about cabin options, your needs, and carpooling.
b. If you need a Cabin Group - We may be able to lodge you in a cabin with others. Please email your request to CampRecovery.org@gmail.com. Please specify if you are okay being in a mixed gender cabin (separate rooms).
c. If you have Space in your Cabin Group - We may be able to find a camper to fill that opening. Please email your request to CampRecovery.org@gmail.com. Please note any specifics for your Cabin Group.
2. Select your cabin on Eventbrite and register to claim that cabin. Lodging costs vary by cabin and the number of people you have in your Cabin Group.
a. See list of available cabins by clicking on green registration button at the top of the page.
3. AFTER you register on Eventbrite, email the name, email address, and phone number for each camper in your Cabin Group to CampRecovery101@gmail.com.
4. Within 48 hours, pay the total lodging cost AND the event registration fee of $20 for each camper in your Cabin Group. Make FULL payment via Zelle or PayPal using PayPal's Friends and Family option to CampRecovery101@gmail.com. https://www.paypal.com/us/home. Your cabin mates may pay their share of the cabin plus the $20 registration fee but must note for which cabin they are paying. Registration is not completed until the entire amount is paid. Your cabin must be paid IN FULL within 48 hours to secure your cabin.
Do *NOT* contact Grey Squirrel Resort regarding payment.
Camperships
Camperships are matching financial assistance (in the amount of $90) for those who cannot otherwise afford to attend camp. We believe everyone who has a sincere desire to recover should have the opportunity to attend camp! Camperships are dependent on the generosity of the fellowship and on a first-come, first-served basis. Camperships are confidential (but your Cabin Group will know) and are given with the understanding that service will be rendered at camp. If you are granted a campership, we ask that you be of service at camp. The campership coordinator will contact you with service options.
Giving to the Campership Fund - Would you consider contributing $10, $20, $30 or more to the Campership fund? Donations are accepted via Zelle or PayPal (Friends and Family option) to CampRecovery101@gmail.com.
Receiving a Campership - Do you need a Campership? Can you pay the registration fee of $20 plus the balance of your share of the cabin cost? Are you willing to be "self-supporting" through a service contribution at camp? If so, before your Cabin Group registers, please contact CampRecovery101@gmail.com to obtain a campership.
Waitlist
If you were unable to register for the cabin you wanted, please add your name to the WAITLIST by clicking the green "Registration" button and clicking on the red "Join Waitlist". You may also want to Email with the subject: WAITLIST with your name, phone and email address along with the cabin you would like to CampRecovery.org@gmail.com. You may also want to include specifics of what you would like such as a particular whole cabin (that you and your fellow travelers would potentially fill) or a single slot in a cabin. Please specify any gender preferences.
Refunds and Cancellations
Refunds and cancellations will be handled within each Cabin Group. That means if someone in your cabin can't make it, then it is up to your Cabin Group to find a replacement or cover the cost of that person. If your entire Cabin Group needs to cancel, please contact the registrar by email as soon as possible. We will keep a waitlist of others who want to attend camp and will do our best to fill your cabin, which would then allow your Cabin Group to receive a refund.
Safety
Currently, the Grey Squirrel Resort, a public resort and vacation rental facility, does not require proof of vaccination or a negative COVID-19 test to stay at their resort. We will continue to monitor changing conditions and update registered campers as necessary. Camp Recovery, having no opinions on outside issues, chooses to not impose any additional restrictions and assumes no liability. All Camp Recovery sponsored meetings, workshops and activities will be held outdoors. Please bring your own chair. Campers may wish to discuss concerns with their cabin group about being together in their indoor cabin spaces. Camp Recovery suggests campers take responsibility for their own lives and do what they need to do for themselves to feel safe. We encourage campers to speak up about their boundaries for themselves. We ask all campers to be respectful and ask others for permission before giving hugs, etc. We anticipate approximately 50-75 people will attend.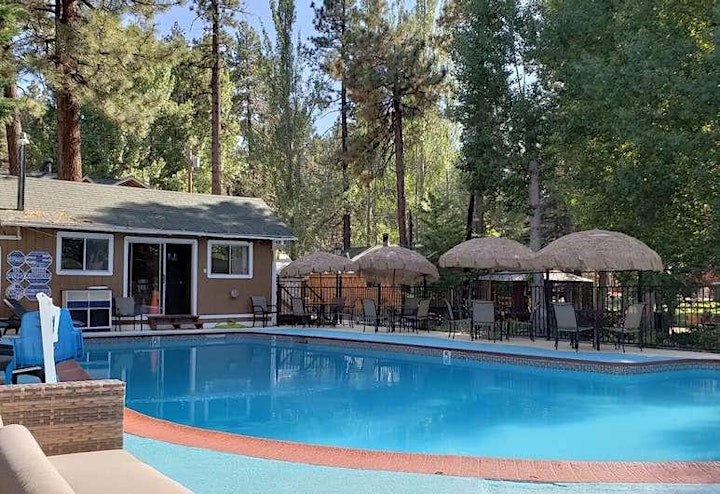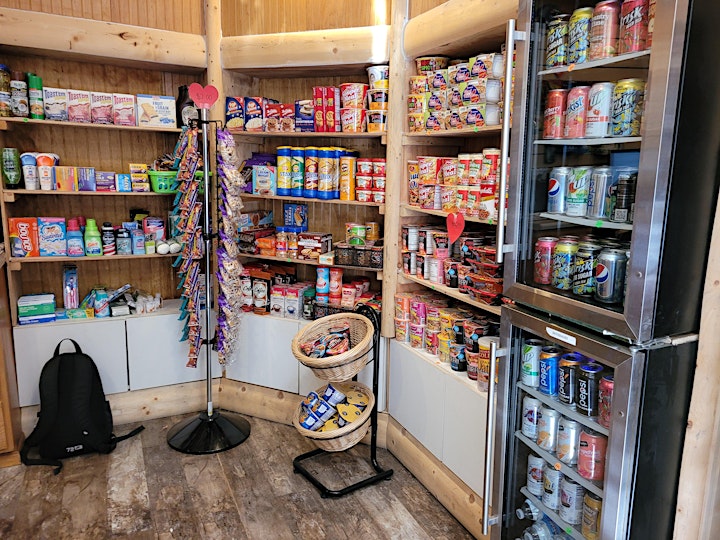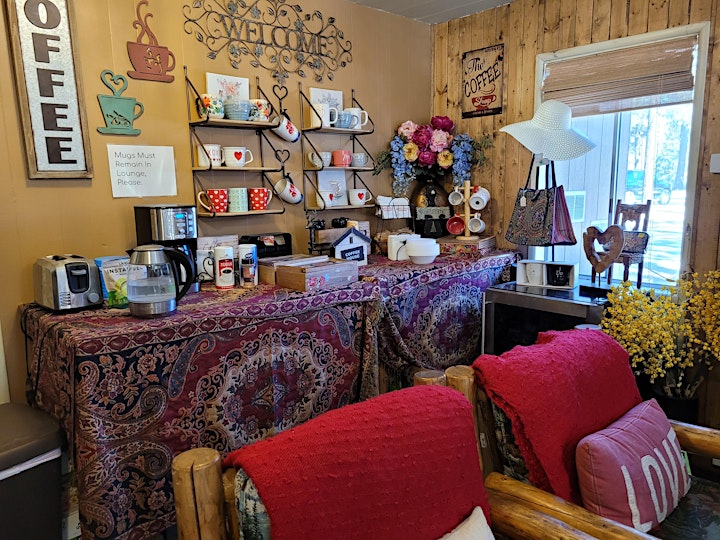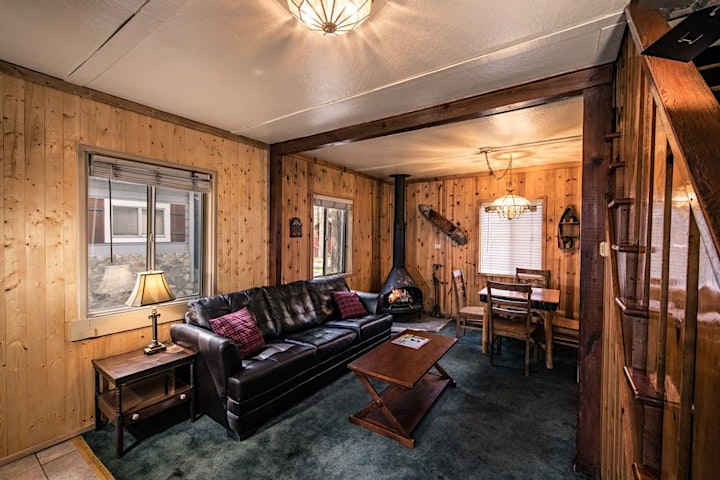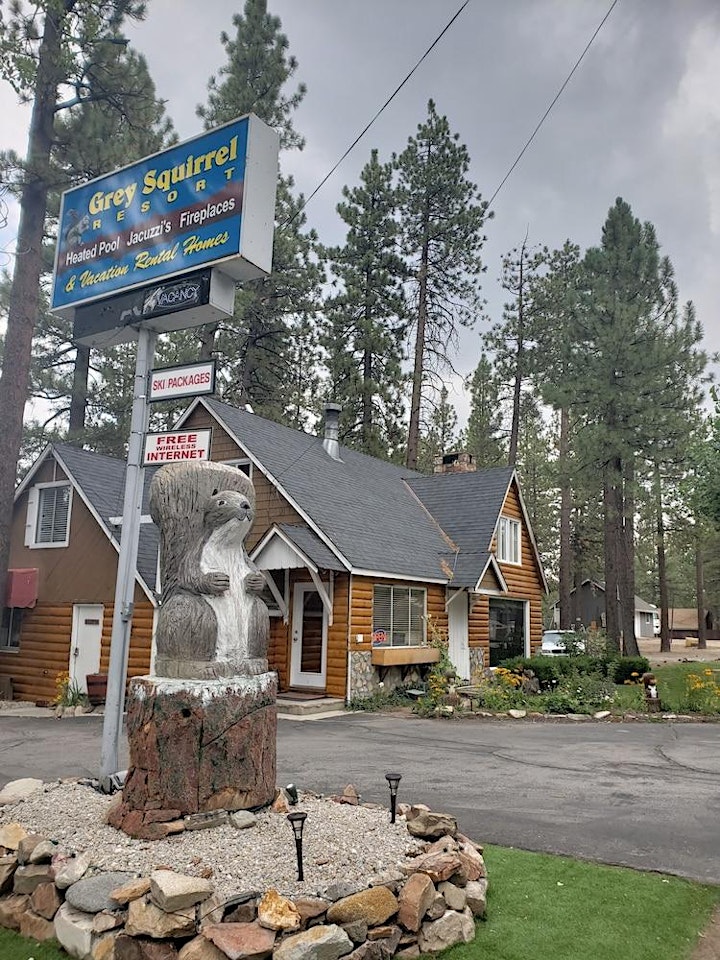 Miscellaneous
No weapons, drugs, alcohol, animals, or children allowed at Camp.
No smoking or vaping inside cabins.
No commuters. The Resort does not allow day-use visitors.
Extended stays may be available. Contact the Resort directly to make those reservations.
Nearby activities include hiking, kayaking, paddle boarding, Alpine Slide with miniature golf, and go-karts. Parking at trailheads requires an Adventure Pass ($5.00 per day fee) that can be obtained in many local markets.
Directly behind the resort is a bus stop for the trolley that runs in to the Village of Big Bear. Check for schedule: http://www.mountaintransit.org/routes/big-bear-weekend-trolley/
Bear Valley Community Hospital is located (3.7 miles away) at 41870 Garstin Dr., Big Bear Lake, CA 92315. (909) 866-6501.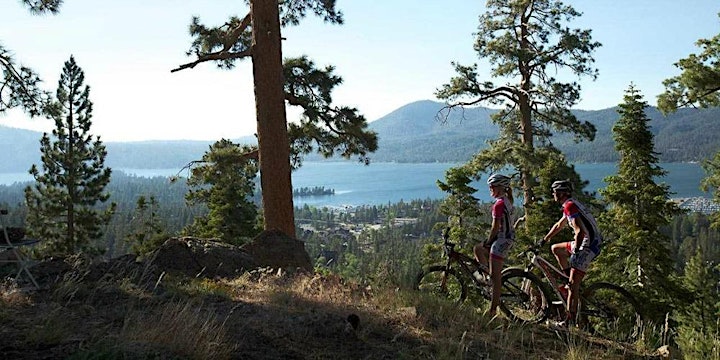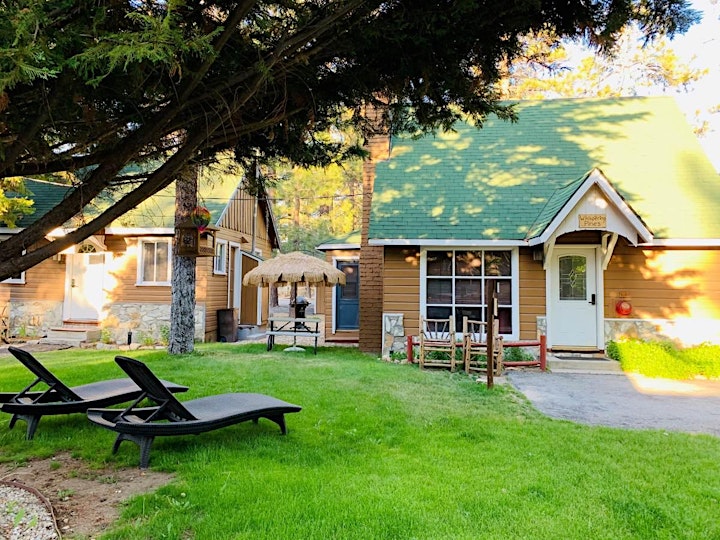 For picture of the cabins - https://greysquirrel.com/Sites/ 
Camp Recovery - Registered with ACA CA1436   
Treasurer- Campership Requests/Send List of Cabin Group - CampRecovery101@gmail.com
Registrar - Registration Questions - Camprecovery.org@gmail.com
4212 East Los Angeles Avenue, Box 3978
Simi Valley, CA 93063