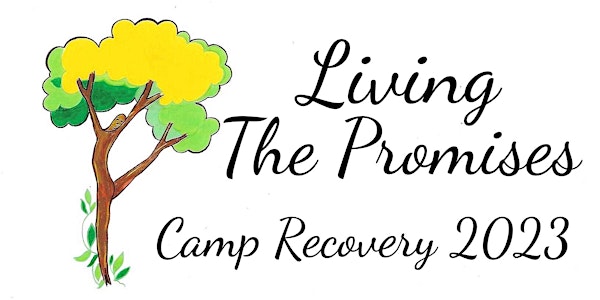 Camp Recovery 2023
Scroll down for more information! READ CAREFULLY HOW TO REGISTER BELOW
Date and time
May 12 · 2pm - May 14 · 3pm PDT
Location
Camp Cedar Falls 39850 State Highway 38 Angelus Oaks, CA 92305
About this event
2 days 1 hour

Mobile eTicket
34th Annual Camp Recovery
"Living the Promises"
For Adult Children of Alcoholics and Dysfunctional Families, with CoDA and all other 12-Step programs invited.
What is Camp Recovery?
It is a weekend retreat of self-care and fellowship that is held every year during the Spring. It's an opportunity for you and your Inner Child to grow, heal, play, discover, reflect, and work on yourselves. This year we are gathering at Camp Cedar Falls in Angelus Oaks, CA. Come join your fellow travelers in the tall trees and fresh air of the beautiful San Bernardino Mountains!
What we do?
This year we are focusing on the ACA Promises. Our program is based on the Adult Children of Alcoholics and Dysfunctional Families program. We cooperate with all other 12 Step programs, so persons from other programs are invited and welcome to attend. We venture deeper into our recovery with enthusiasm through workshops, 12 Step meetings, crafts, music, hiking, dancing, Talent/No Talent show, and fellowship.
We look forward to seeing you this Spring!
Note: Please be aware that Sunday, May 14 is Mother's Day.
Workshops, Activities, & Meetings
Interactive Workshops
12-Step Meetings
Arts & Crafts, Name Tag Decorating & Warm-Fuzzies
Volleyball, Soccer, Tennis, and Basketball fields/courts
Yoga
Fellowshipping and Storytelling
Games, Music, Drumming & Dance
Hiking & Nature Walks that lead to a waterfall
Treehouse
Talent/No Talent Show
How to Register:
Registration is online through Eventbrite (click RESERVE A SPOT button above)!
Registration is $200 which includes lodging for Friday and Saturday night, six lacto-ovo vegetarian meals (Friday Dinner through Sunday Lunch), all activities, workshops and meetings. Limited camperships are available for $100 on a first-come, first-served basis (see details below ).
Pay by Zelle, PayPal, or check/money order via U.S. Mail to complete your registration.
Registrations are not considered complete until payment is made in full.
Payment Options
1. Preferred - Pay using Zelle to CampRecovery101@gmail.com
2. Pay using PayPal to CampRecovery101@gmail.com (Friends and Family option)
3. Pay by check or money order. Make check or money order payable to Camp Recovery. Then mail to: Box 3978, 4212 E. Los Angeles Ave. Simi Valley, CA 93063-3308. If you pay by check or money order your spot will not be secured until your check is cleared/cashed.
Note: If you register after April 15, you must pay by PayPal or Zelle.
Registration and room assignments are first come first served, based on the date of PayPal or Zelle payment or postmark date.
Questions? Email us at camprecovery@proton.me
Camperships
Camperships are matching financial assistance (in the amount of $100) for those who cannot otherwise afford to attend camp. We believe everyone who has a sincere desire to recover should have the opportunity to attend camp! Camperships are dependent on the generosity of the fellowship and on a first come, first served basis. Camperships are confidential and are given with the understanding that service will be rendered at camp. If you are granted a campership, we ask that you be of service at camp. The campership coordinator will contact you with service options.
Giving to the Campership Fund - Would you consider contributing $10, $20, $30 or more to the Campership fund? Donations are accepted via Zelle or PayPal (Friends and Family option) to CampRecovery101@gmail.com.
Waitlist
If you were unable to register, please add your name to the WAITLIST by clicking the "RESERVE A SPOT" button and clicking on the red "Join Waitlist". You may also want to Email with the subject: WAITLIST with your name, phone and email address to camprecovery@proton.me
Cancellations and Refunds
Please make your refund and cancellation requests with as much notice as possible. Registration fees are non-refundable after May 1. After that date, the refund may be issued at the discretion of the Planning Committee. To cancel, please email camprecovery@proton.me and put Cancel in the subject. Consider donating your registration fee to the campership fund.
NEED HELP? WE ARE HERE!
If you have questions or need help with registering for Camp Recovery please contact registration support; we are happy to help. Email the Registrar at camprecovery@proton.me. Please put Registration in the subject.
Check-In
Check-in starts Friday at 2:00 pm in the Lodge. If you arrive earlier, feel free to park, relax, hike, or walk around the camp. Please do not come to the Lodge before check-in opens at 2:00 pm. At check-in, you will sign the liability release form and pick up your room key. If you use the loading/unloading area at the front of the lodge, you must immediately return your car to the lower parking lot. To comply with fire regulations of the National Forest always park facing outward and keep your car keys with you at all times. Remove all food from your car.
If you arrive after 9:00 pm, sign a release form and pick up your room assignment and key at the registration table inside the Lodge. Please enter your room quietly as your roommate(s) may be sleeping. The camp is well lit at night but a flashlight may be helpful.
Disability Access
The Lodge has ramp and disability access. The road is paved. Some walking paths are dirt and have low steps. Persons with handicap placard or plates may drive to and from the cafeteria and meeting rooms for activities. The Lodge is three stories. There is an elevator.
Important Rules & Guidelines
A HANDFUL OF RULES – TAKE NOTE BEFORE COMING TO CAMP:
Appropriate and courteous behavior is expected of all campers at all times.
No tobacco or vaping allowed in camp.
No alcohol or weapons allowed in camp.
No drugs (including medical marijuana) allowed in camp.
No pets or animals allowed in camp, except trained Service Animals, as defined by the ADA (Americans with Disabilities Act). Emotional Support animals are not allowed.
Appropriate attire must be worn at all times.
No photographs of any campers unless you get their permission first.
Anyone not abiding by the above rules may be asked to leave without refund.
FURTHER CAMP GUIDELINES AND INFO:
Smoking and vaping are NOT permitted at Camp Cedar Falls.
Remove all food or food waste/wrappers from your vehicle. The bears can smell it very easily and may attempt to get to it and damage your vehicle in the process.
Keep your car keys with you at all times. An emergency evacuation may not allow time to return to your room.
Camp Cedar Falls serves well-balanced lacto-ovo vegetarian meals only. There is to be absolutely no cooking in lodge rooms. If you have additional dietary restrictions, please arrange to bring your own food which may be stored as noted below.
PERSONAL FOOD: There is no refrigerator available for camper food. If you have special dietary needs you may bring a cooler to store food in your room. Please email the committee at CampRecovery@proton.me if you have medical refrigeration storage needs.
There is no WiFi available for camper use. Consider unplugging for the weekend. There is some cell service with Verizon and ATT.
WHAT TO PACK FOR THE WEEKEND
You Must Bring:
Clothing. Wear layers of clothes for cool mornings and evenings.
Toiletries (not provided by the Lodge).
Flashlight.
Two pairs of sturdy shoes (extra pair in case of weather).
Water bottle (pure mountain water available from the faucet).
First aid items (such as band-aids and antibiotic cream) and over the counter or prescription medications you may need for the weekend. There is no camp nurse or medical station at Camp Cedar Falls.
You Should Consider Bringing:
Journal.
Cash for Raffle.
Your Inner Child.
Stuffed animal.
Your favorite Board Games such as Scrabble, Apples to Apples, Rummikub, Fluxx, Jenga, Imaginiff, Dominos, Twister, etc.
Alarm clock.
Sunblock.
Hiking shoes.
Earplugs or face mask, especially if you are a light sleeper.
Drums & other musical instruments.
Camera (No pictures of others without their permission).
Cell Phone. Cell signal via ATT & Verizon is good. Other carriers such as TMobile are limited. There is no WIFI available for camper use. Consider unplugging for the weekend!
Telescope for star-gazing.
Props for the Talent/No Talent Show.