Description
You're invited to C.A.M.P. Reboot!
Our mission is: Operation WHOLE
C.A.M.P. Reboot is a quarterly gathering space that provides appropriate [C]ontent for [A]pplication, [M]astery and [P]erformance fueled by emotional, mental and spiritual wellness.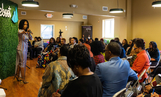 A reboot is often necessary after a malfunction. In order to avoid crashes or breakdown, exploring a different way of operating is essential. Wholeness is the focus with a holistic approach for the transformation needed from the inside out. Attendees will be equipped with strategy for navigating life hacks and trauma, and given specific tools designed for maintaining optimum performance emotionally, mentally and spiritually.
Includes: Materials, Instruction + Certificates & more
Q3: Sepremier 30, 2019 ///
WARNING: Attending Reboot C.A.M.P. will cause transformation to occur from the inside out.
/// If you're ready, we're ready.
#rebootwhole
Hosted by: Michelle Collins
[Coach. Author. Speaker.]