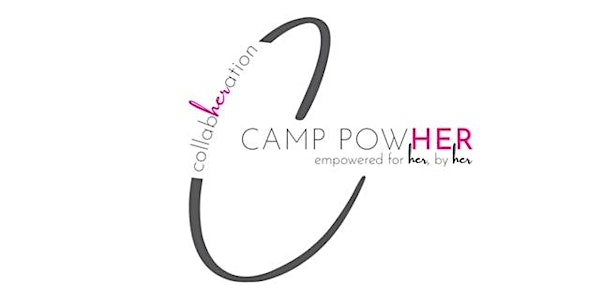 Camp PowHER: Empowered 4 Her by Her
Camp PowHER is a week-long summer camp designed for girls in high school
When and where
Location
Loudoun County High School 415 Dry Mill Road Leesburg, VA 20175
About this event
CAMP POWHER!
JULY 11 - 15, 2022
Camp PowHER will focus on teaching young girl's strategies to build confidence, healthy relationships and celebrate their identities. Our goal is for young girls to feel empowered and ready to take on the new school year as their full selves. Camp Sessions will cover topics:
Empowhered to Be Safe
How to proactively stay safe as the first line of self-defense using self and situational awareness skills. Girls will also learn hands on self-defense and escape techniques.
Empowhered to Find My Fit
Girls will "find their fit" and what makes them feel good about their health and their bodies. Session will start with an exercise followed by discussions on different ways to stay active and what leading a "fit" lifestyle means to them as they grow, mature and experience changes in their bodies.
Empowhered to Choose Healthy Eats
Keeping a balanced diet isn't always easy with busy school and extra-curricular schedules. Girls will learn how to choose healthy options when eating out and how to create quick snacks that will give them the nutrition they need to maintain energy throughout the day. We will also discuss topics related to social stigmas in regards to weight and how nutrition and fitness connect to create an overall healthy lifestyle.
Empowhered to Communicate with Confidence
Effective communication skills are an important part of self-advocacy which is an important skill to have when entering high school. Confidence in communication allows girls to speak up and ask for what they need in order to be successful both academically and socially. During this camp, girls will learn their communication styles and effective ways to communicate with others with different styles. This knowledge will help our participants communicate effectively with peers, school staff and parents.
Empowhered to Manage Your Amazing
Our goal is for each participant to recognize their amazing! Part of being amazing is having the ability to manage the stress that comes with that. During this workshop, participants will learn to embrace the skin they are in and appreciate their full selves. Participants will reflect on their strengths and ways to use their strengths for academic and social success.
Empowhered to Take Action for Mental Health
Mental wellness is equally important as physical wellness amongst our tee girls. During this session, we will discuss the impact Social Media has on their mental wellness. Girls will learn ways to navigate Social Media in healthier ways and will be provided resources for prioritizing their mental health as they embark on this new chapter of new experiences, new people, new expectations and new responsibilities.
Empowhered to Create a Supportive Sister Circle
We understand the importance of friendships amongst teenage girls, but what is most important is healthy friendships. During this camp, participants will learn strategies for cultivating positive and supportive friendships. Positive friendships help create a sense of belonging, support and confidence for our teenage girls.