Description
CAMP NEWS! DESCRIPTION:
Aspiring Broadcast Journalists: Come and LEARN FROM THE BEST Anchors, Reporters, News Directors, News Photographers, Writers, Producers and so many more!!!
Camp News! is a two-day hands-on workshop aimed at providing an immersive and intensive experience. It is now sponsored by the Academy of Business Leadership (ABL).
There are two camps. The first camp is for those who aspire to be reporters. The second one is for those interested in becoming anchors. Both camps are presented in English and Spanish. Participants will have to choose between the Reporter Camp or the Anchor Camp in either English or Spanish. We also offer radio. There is no age limit for participating in Camp News!
This will be the 20th year in which over 100 professionals from the news industry volunteer each year helping those who dream of being in broadcast news. Throughout the duration of the two days, Camp News! professional volunteers guide our workshop participants through mock scenarios.
For more information and details regarding the list of Camp News! wonderful and generous volunteer mentors, please visit https://campnewsmentorlist.wordpress.com/.
2019 CAMP NEWS! PRICE MENU:
August 16 at 10 AM to August 23 at 10 AM - $250 (early bird special)
August 23 at 10 AM to September 13 at 10 AM - $300
September 13 at 10 AM to October 11 at 10 AM - $350
October 11 at 10 AM to November 8 at 10 AM - $375
November 8 at 10 AM to December 6 at 10 AM - $400
PLEASE NOTE: THERE WILL BE NO REFUNDS AFTER 5PM ON NOVEMBER 1, 2019.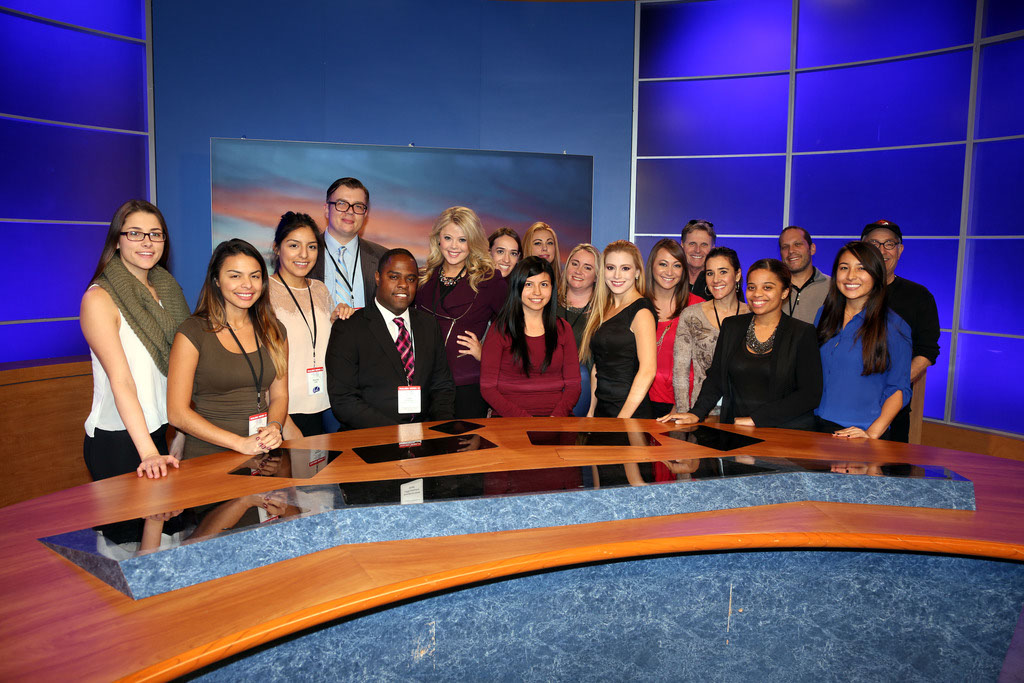 WHEN:
Camp is on Saturday, December 7, 2019 and Sunday, December 8, 2019 in the Calabasas/Malibu area.

Arrival on Saturday, December 7, 2019 at 7am; program starts promptly at 8AM on Saturday, December 7, 2019 and it continues through Sunday, December 8, 2019. It ends on Sunday, December 8, 2019 at 3PM.

Meals and Lodging included: (Saturday Lunch and Dinner; Sunday Breakfast and lunch)

Dorm lodging is for Saturday night only

Vegetarian meals provided for those who request in advance.
PLEASE DIRECT ALL QUESTIONS TO CAMPNEWS@GOABL.ORG
ABOUT CAMP NEWS!:
Founded: In 2000
Founding Dean: Hal Eisner, Emmy Award Winning Broadcast Television Journalist. To learn more about Hal Eisner's work, please visit his website at www.haleisner.com
"Special thanks to Anna Ouroumian, former camper and the Refounder, President & CEO of the Academy of Business Leadership (ABL), to the Academy of Business Leadership, and to the Camp News! volunteers and supporters who will make the two-day workshop possible!!!" -- Camp News! Dean Hal Eisner
ABOUT THE ACADEMY OF BUSINESS LEADERSHIP (ABL):
Besides now being the proud sponsor of Camp News!, ABL runs year-round programs that target youth. Through entrepreneurship, business education, financial literacy, capital raising, and transformational leadership training, the mission of ABL is "to build sustainable American and global leaders who have the inner and outer resources and tools to achieve their wildest dreams, and find inner peace, happiness, and fulfillment in their lives while they pay it forward and leave a legacy behind." ABL inspires youth to dream big by helping them acquire the mindset and the empowering beliefs at the conscious and subconscious levels to achieve their seemingly impossible dreams.
Since 1998, over 122,000 students have attended ABL's workshops and presentations at hundreds of elementary, middle, and high schools, and over 3,400 scholars from over 572 schools and 18 countries have graduated from the ABL Summer Business and Leadership Institute (SBLI) that has been held on 8 college campuses including USC, UCLA, LMU, CSUDH, CSUF, CSULA, SMC, and Cal Poly Pomona. 100% of the ABL SBLI scholars graduate from high school; 98% attend colleges and universities nationwide; and over 90% graduate --twice the national average college graduation rate.
For more information about ABL's current programs for youth (12-22 years of age), please visit www.goabl.org or contact ABL at (562) 800 - 0331. To learn about the upcoming ABL "Got Big Dreams?" Seminar (can be free with a promo code) at the University of Southern California on Saturday, September 28, 2019, please visit https://2019soarandachieve928.eventbrite.com/.
CAMP NEWS! PHOTO GALLERY (PHOTOS SINCE 2000):