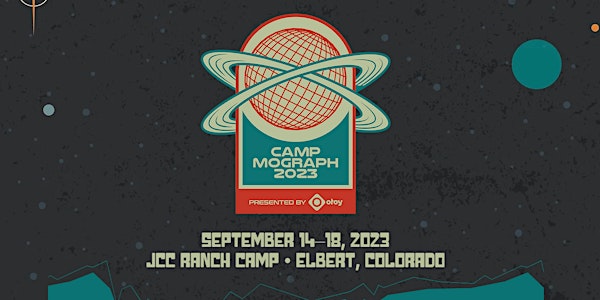 Camp Mograph 2023
Camp Mograph is a one-of-a-kind event that brings together motion graphics artists from all over the world.
Date and time
September 14 · 12pm - September 18 · 12pm MDT
Location
JCC Ranch Camp 21441 North Elbert Road Elbert, CO 80106
About this event
Camp Mograph is a one-of-a-kind event that brings together motion graphics artists from all over the world. Each year, we seek out unique and inspiring locations to host our event. Our goal is to create an immersive and unforgettable experience for our attendees, no matter where we are.
Our out-of-this-world workshops, collaborative learning environment, and vibrant community make Camp Mograph the perfect place to learn, network, and recharge.
Join us this year at Camp Mograph 2023, where we have an incredible lineup of artists and creatives from across the industry waiting to share their knowledge and expertise with you.
2023 Ticket Prices
We are delighted to provide an all-inclusive, yet cost-effective, ticket option that unlocks a world of unforgettable experiences. One ticket gets you four nights of lodging on this celestial adventure, three scrumptious meals each day to fuel your interstellar journey, and access to all Fireside Chats and Workshops with fellow space cadets.
And, check this out, we are including free adult beverages and mocktails from the space bar, along with a shuttle service that'll transport you to and from Denver Airport, so you can save your rocket fuel. Plus, you'll score some exclusive Out of this World Swag that'll make you the envy of the galaxy.​
Get ready to blast off into a universe of extraterrestrial activities, explore new galaxies of fun, and forge cosmic connections with like-minded space explorers. All this, without burning a hole in your space wallet!
Are you ready to join the Camp Mograph space crew for an intergalactic experience? Grab your ticket, and let's journey to the stars together!
EACH TICKET includes:
​Lodging for 4 nights
​3x meals per day (food & beverages)
Access to all Fireside Chats and Workshops
FREE adult libations & MOCKTAILS
FREE AIRPORT SHUTTLE TO & FROM CAMP (DENVER ONLY)
OUT OF THIS WORLD Swag
Access to all extraterrestrial activities
Unlimited good times
Friendships for life
STARS. Lots of stars
TENT CAMPING TICKET - $999
Want to setup your own camp at Camp? This ticket is for you!
Experience the great outdoors like never before with our Tent Camping Ticket! Set up camp under the twinkling stars and immerse yourself in the wonders of nature. Wake up to the sounds of chirping birds and rustling leaves, and breathe in the fresh air as you begin your day. With access to modern amenities, including clean bathrooms and showers, our Tent Camping Ticket offers the perfect balance of rustic charm and modern convenience.
So come, pitch your tent and roll out your sleeping bag to discover the joys of camping in our beautiful natural setting.
COMMUNITY CABIN TICKET - $1099
The heartbeat of camp. Two distinct villages, the MAXON and SPILLT Villages, beckon space travelers to explore their unique offerings.
The MAXON Village, situated in the South, boasts of seven rustic red cabins, carefully renovated to preserve their original charm while offering modern amenities.The SPILLT Village, located in the North, features six spacious cabins, refinished with long-lasting materials and outfitted with wrap-around porches, perfect for relaxation and bonding with fellow spacefarers and rocket scientists.
Community Cabins DO NOT have in-unit bathrooms – there are shower houses nearby with private stall showers and bathroom amenities.
​PRIVATE CABIN TICKET - $1999
The Private Cabin ticket gets you your own private Cabin or Bungalow with its own private bathroom and shower.
When you purchase a private cabin ticket, you will be placed in one of our two private cabin options (cabin or bungalow). If you have a preference, please let us know and we'll try our best to accommodate. Accommodations will be on a first come first serve basis.
THE BUNGALOWS
Our first private option, the bungalows at Camp are the perfect space retreat. These refurbished spaceships offer everything you need including a bunk bed with a full bed on the bottom and a twin bed on top, plus a full bathroom with a shower. Every bungalow is equipped with electricity and water.
THE COTTAGES
Our 2nd private option, the cosmic cottages offer a cozy and familiar ambiance, reminiscent of a typical studio apartment. Each cottage features a full bathroom, complete with a bathtub and shower, as well as a small kitchenette equipped with a mini-fridge and "state-of-the-art" microwave, perfect for your interstellar culinary needs.
While each cottage typically includes a queen bed, we are equipped with the latest technology to swiftly arrange twins at your request. And fear not, as every cottage comes fully equipped with electricity and water, ensuring a comfortable and seamless stay for all who venture into our interstellar abode.
Frequently asked questions
What if I want to share a Private Cabin with someone?
Is Camp Mograph providing linens again this year?
Can I claim my bunk spot a week before anyone arrives?
Can I bring a tent and sleep in that?
Am I able to bunk in a non-coed cabin?
What happens on Arrival Day?
Can I request the same community cabin as a friend?
Camp is sold out, are day passes available?
What's the weather going to be like?
Will there be vegetarian/vegan food offered?
Will there be wild animals, bugs and insects?
What airport should I fly to?
Will there be shuttles to and from Denver airport?