Camp MAD Media! -- a hands-on digital media camp for Madison-area educators
Description
Calling All Educators... -- Looking for a fun way to learn new skills, increase your digital literacy, and play around with tools that can enhance student learning this summer?
Come to Camp MAD Media: a hands-on digital media "Summer Camp" just for educators!
Dates: T/W/Th mornings, 9:30am - 11:30am, June 20-29, 2017

Location: Madison Public Library - 201 W. Mifflin Street, Madison

Fee: FREE for area educators! (a refundable deposit of $10 per session is required to reserve your spot)

Register: via this Eventbrite page!
---
In a series of six 2-hour summer sessions, educators will be introduced to and build skills in multi-media areas that enhance K-12 teaching and learning. Come for one camp or come for all!
6/20 -- Storytelling with Stop-Motion Animation
Come make your own animations and videos using Stop Animation techniques. We will create 'moving' tributes to our own educator skills under the direction of Media Lab director, Nate Clark. No previous experience necessary!
6/21 -- Make-ing Learning Fun with Bubbler Maker Kits
What's holding you back from making your classroom the coolest makerspace around? Come get creative with Bubbler Staff, Carlee Latimer, as we explore hands- and minds-on activities from the Library's award winning collection of Maker Kits and activities.
6/22 -- Coding in the Classroom is a Scratch!
Curious about Code? Wondering how coding can engage your students and enhance the curricula? Want to be the coolest teacher in your District? Join DANEnet's Lauren Kieslislewski as we create simple but cool animated and interactive learning activities using Scratch!
6/27 -- Sharing Stories with Podcasts
Tell me a story! Join us as we learn new techniques for interviews and storytelling, and learn how to capture and share those stories by creating Podcasts!
6/28 -- Explore VR with Google Expeditions
Want to extend your students' experiences with one simple tool? Join MMSD's Beth Clarke as we explore Google Expeditions and the new frontier of Virtual Reality for education.
6/29 -- Game Jam: Create your own Learning Adventure
What makes a game challenging and fun? How can you create your own learning adventures? Join us as we embark on a Game Jam to create educational games for all students!
---
At Camp Mad Media, you will:
EXPERIENCE how to create learning opportunities with digital tools, with the goal of applying new skills and techniques in your classroom;
EXAMINE ways to blend new techniques with current instruction and develop strategies to make them shine;
DESIGN captivating activities that support academic goals and enhance student learning.
In each session, educators and librarians will be introduced to media tools and will explore simple activities and techniques they can use with students. At the end of each session we will reflect and share insights about how these new skills can expand our practice and strengthen student learning.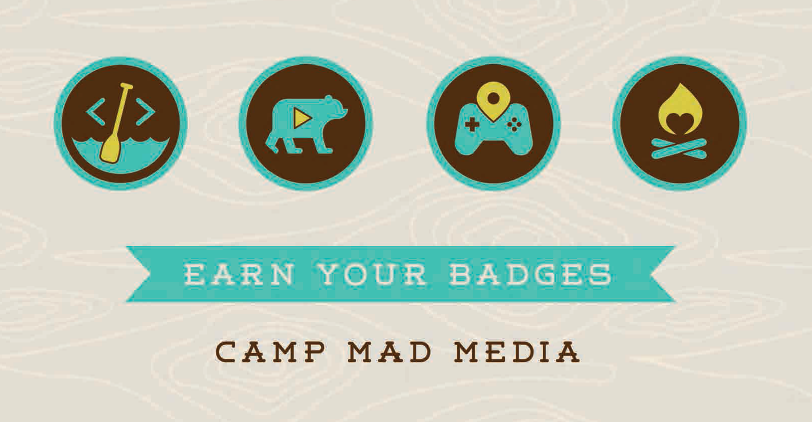 Professional Development credits and Digital Badge Credentialing may be available through your District.
**Madison Public Library is located in the heart of downtown Madison near the Capitol Square. Parking is available on the street and in several city and county parking ramps nearby.
This series, sponsored by the local nonprofit WeThinkBig (www.WeThinkBigInc.org) and the Madison Public Library, is free for educators.
---
FAQs
How do I register for multiple sessions?
Click the green "tickets" button. You will be prompted with a menu for each individual event. You can reserve a ticket from the drop down menu for each event you want to attend! Register for just one, a few, or all six sessions!
How will I be refunded for my reservable deposit?
Whether you're registered for one or multiple sessions, your $10.00 deposit will be refunded at the close of each session you attend. Questions? Email us at info@wethinkbiginc.org or give us a call at 608-800-2100
I paidto reserve a spot, but I can no longer come. What will happen to my deposit?
If you are not able to attend your session, please notify us and arrange to send an educator substitute at least 48 hours prior to the event so that we may extend your spot and refund your deposit. If we don't hear from you, your deposit will be collected as a donation to support programs for teachers.
Are there ID requirements or an age limit to enter the event?
This event is open to educators 21 years of age or older. Proof of age or educator status may be required.
What can/can't I bring to the event?
Devices and supplies will be provided. However, you are welcome bring your own favorite wi-fi enabled laptop or wireless device if you wish.
Where can I contact the organizer with any questions?
Feel free to contact the folks at WeThinkBig at info@wethinkbiginc.org or 608-800-2100.
Location
Madison Public Library : Central Library
201 West Mifflin Street
Madison, WI 53703