About this Event
THREE NIGHTS OF CAMPING AND MUSIC HOSTED BY GREENSKY BLUEGRASS!
Greensky Bluegrass headlines and curates this eclectic weekend fesitval in Northern Michigan alongside many more artists to be announced!
2020 LINEUP:
***GREENSKY BLUEGRASS x 3***
***BILLY STRINGS***
***LETTUCE***
***THE INFAMOUS STRINGDUSTERS***
***JOHN MEDESKI'S MAD SKILLET***
***PETER ROWAN***
***CHA WA***
***WAYWORD SONS***
***DELLA MAE***
***LUKE WINSLOW KING***
***JON STICKLEY TRIO***
***NEAL FRANCIS***
***FULL CORD***
***GRASSHOPPAH***
***PHOFFMAN***
***DAVE BRUZZA & LYLE BREWER***
________________________________________________________________________________________________
TICKET INFORMATION
• Once you purchase, you will receive an order confirmation email from Eventbrite on behalf of Camp Greensky Music Festival.
IMPORTANT: If you do not see your order confirmation in your inbox, make sure to check your junk/spam folder or click here to access the Eventbrite help center.
• Tickets for Camp Greensky are NOT shipped.
• ALL admission options include camping on-site at the festival.
• Tickets are limited and prices may change without notice.
• Contact Eventbrite here for any technical ticket-related issues.
• For general festival info, click here.
• All sales final. No refunds or exchanges.
• Event is rain or shine.
• Artists subject to change without notice.
_________________________________________________________________________________________________________
ADMISSION OPTIONS
• Adult Weekend Ticket 16+ (THURS, FRI and SAT - car camping included ) •  
Adult weekend tickets include tent camping for everyone age 16 and up. These sites can accommodate one vehicle and tents or VW buses/campervans etc. No towable pop-ups, trailers or RVs allowed on tent sites. Each person in the vehicle camps on the same site, in the field next to the vehicle. Every person in your vehicle needs a ticket. You will receive your weekend wristband at the gate upon arrival. Please print your ticket at home and bring with you to be scanned at the gate in addition to having it ready on your mobile device. Printed copies scan much more reliably.
• Kids Ticket (6-15yrs)•
This ticket is needed for any child age 6-15 years old. Children ages 5 and under are free and all minors must be accompanied at all times by a parent or legal guardian.
• Onsite RV Pass •
One RV/Trailer/Pop-up per site. All attendees must purchase a weekend ticket. One RV pass required per site. RV pass does not include a weekend ticket. Example: Bringing one RV for 6 people on that site to share? Purchase ONE RV Pass and 6 weekend tickets. No electric or water hookups available for RVs, primitive only. Generators not permitted to run at night. SMALL QUIET generators may charge batteries from noon-4pm only.
__________________________________________________________________________________________________________
ALL SALES FINAL.
• Gates are open from 9am to 10pm Thursday, June 4 through Saturday, June 6. No admittance after 10pm. There is no music on Sunday, however, you may camp Saturday night.
• Wristbands need to be worn at all times while on the festival site.
_______________________________________________________________________________________________________
PLEASE NOTE: We reserve the right to search any vehicle and person upon entry, and thorough searches are conducted upon entry by our security team.
THE FOLLOWING ITEMS ARE PROHIBITED:
Weapons or violence of any kind: Either will result in immediate ejection from the festival. Camp Greensky does not acknowledge open carry. Bringing guns, knives or weapons revokes your admission.
Illicit substances; drug use of any kind is strictly prohibited.
Unauthorized vending
Cigarettes, cigars and vape pens at either stage venue. Our event is family friendly, please be respectful to other attendees, ALL children, artists and vendors if you are a smoker. Also, these things kill you. Extinguished butts must be disposed of in marked cans. You will be fined and ejected if you are found throwing butts on the ground.
GENERATORS (except from noon-4pm) Absolutely no generators allowed to run at night.
No loud recorded music allowed at campsites especially after dark.
Charcoal grills, due to fire risk. Propane camp stoves are fine.
Camp fires or open flame heaters.
Paper lanterns and fireworks: These are serious fire hazards in the national forest and any person caught doing so will be ejected. You will be charged with attempted arson if found with these items.
Drumming after midnight
Out of respect for the neighbors in our community and your neighboring campers who may- no, actually DO- want to sleep.
Motorized vehicles: Golf carts, ATVs, etc.—this applies to all areas: camping, parking and the concert venue.
Hunting
Laser pens or similar focused light devices
Vehicles parked in designated forested areas or fire lanes
_____________________________________________________________________________________________________
SERVICE ANIMALS ONLY ALLOWED
IF AN ANIMAL—OTHER THAN A TRAINED SERVICE DOG—IS FOUND IN YOUR VEHICLE YOU WILL BE TURNED AWAY.
Contact us ahead of time if you will be bringing a service animal.
When you arrive with your service animal you will be camped in ADA camping for you own safety and convenience.
Neither the ADA nor Michigan's service animal law includes what are often referred to as "emotional support animals": animals that provide a sense of safety, companionship, and comfort to those with psychiatric or emotional disabilities or conditions. Although these animals have therapeutic benefits, they are not individually trained to perform specific tasks for their handlers. Under the ADA and Michigan law, owners of public accommodations are not required to allow emotional support animals, only service animals.
WWW.CAMPGREENSKY.COM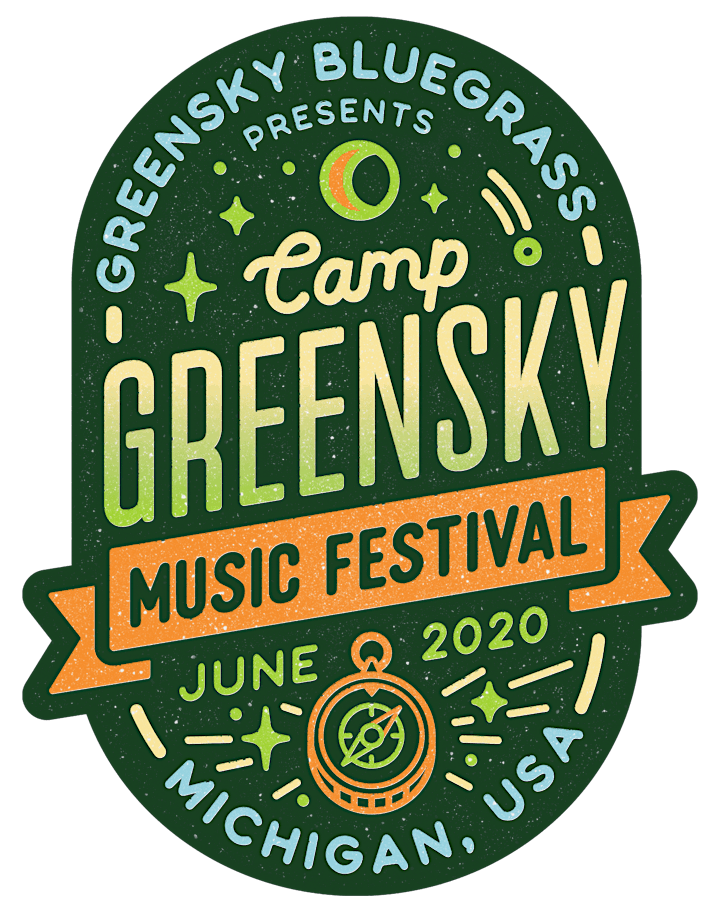 Performers
Date and Time
Location
Refund Policy