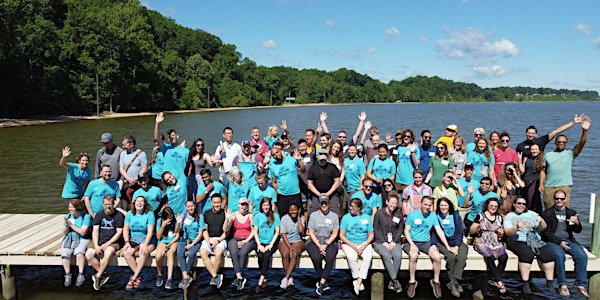 Camp FI: Mid-Atlantic 2023: May 26-29(Fri - Mon)-Memorial Day Weekend
Camp FI: Mid-Atlantic May 26-29, 2023 (Fri-Mon) Memorial Day Weekend
When and where
Location
Chanco on the James 394 Floods Drive Spring Grove, VA 23881
About this event
Camp FI:  Mid-Atlantic
May 26 - 29, 2023 (Fri-Mon) - Memorial Day Weekend 
If you live in (or want to visit) the Mid-Atlantic U.S. and would like to hang out with other FIREwalkers for a fun-filled, relaxing weekend that will include good food, good conversation, great people, outdoor activities and a few presentations sprinkled in, please join us.
NOT JUST FOR BLOGGERS!  People from all walks of life including students, dentists, lawyers, engineers, accountants, and members of the military share their unique experiences and interesting stories.  Strong and lasting friendships will be made.
I've rented out a retreat center in Virginia, between Richmond and Norfolk.  It's a beautiful rural venue with canoeing, swimming, nature trails, zip lines and other recreational activities and it is located on the scenic James River.
Your ticket covers presentations, food, and lodging for all 3 nights. 
Optional recreational activities include swimming, canoeing, kayaking, ropes courses and ziplining, weather permitting.  
Presenters and presentation topics are in the planning stage.  Details will be shared with the attendees as the event nears. If you're interested in presenting, please email me at CampFI.org@gmail.com.
 If you have an urgent question, call or text me (Stephen) at 478-324-0431.
Lodging Options:
$450.00  per person.  The Bluff's motel-style rooms - Double Occupancy (you will have a roommate)
$300.00  per person.  Chalet (bring your own linens) or Tent (bring your own tent)
Q&A: 
Can I come just for the day?
We decided against offering day passes as we feel the full weekend provides the best overall experience, based on past events.
How much are children?
Children 0-3 are free, and children 4-8 are $150. Children 9 and up are full price.
If you're interested in bringing children, please consider that we never know how many children are coming until the event, so we can't promise how many kids will be there, or what ages. Please be prepared that your child may not have many playmates and might need your supervision.
Can I get a private room?
CampFI offers motel-styled rooms each with a private bath. Each room is furnished with one double and one single bed. To increase occupancy, rollaway beds are available.  Pricing reflects double occupancy (you will likely have a roommate) and is per person.
Can I camp or bring an RV?
The retreat center does not have RV hookups but it does have tent campsites (Bring your own tent).  If you prefer camping in a tent, that is perfectly fine.  This is a good opportunity for those who want to experience camping, maybe for the first time.  Restrooms and showers are close-by.
How many tickets are there?
We have 45 motel-style room tickets and 20 Chalet/Tent tickets available.  A waiting list will be maintained when all tickets are sold.
Are the tickets refundable?
No. Tickets are not refundable but they are independently transferrable up to 2 weeks prior to the event as long as you and the transferee provide updated information so that I can appropriately assign rooms. Once tickets are sold out, you are welcome to use the CampFI FB page to advertise any tickets you may be looking to sell.
Please no exchanges within 14 days prior to the event.
 I purchased a ticket. When do I get all the details?
You will receive an email invitation to join the Camp FI: Alumni private Facebook group within a month of the event with all the details you need.  For those of you who do not use Facebook, please email me and let me know so I can email relevant information to you directly.  If you need information faster than we post it, send an email to campfi.org@gmail.com.