Description
Camp Elevate 2019
Join us for the most unique approach to coaching development you'll ever experience.
Camp Elevate is an event that brings coaches of all sports together in beautiful Colorado Springs, CO to learn, grow and connect. It's a time for you as a coach to reflect, learn, grow and rejuvenate your coaching spirit! Read More at TrueNorthSports.net →

We challenge our coaches with questions like:
What does being a successful coach look like for you?
How do you feel about yourself?
Do you like what you do?
Do you like how

you're coaching?
We have Goals:
Create a space where coaches learn and grow

both

Personally

and

Professionally.
Provide Skills

and ideas you can take back and implement immediately into your program

Introduce you to Celia Slater, True North Sports and a community of coaches

you can rely on for support and ideas long after Camp is over!

Re-ignite

your creativity and innovation skills as a leader and as a coach.

Hav

e FUN... rejuvenate your spirit, inspire and motivate you!!
We Win - sample topics & activities for 2019:
The Power of Owning your Personal Story!
Trust-Based

Influence: Using "

Tactical Empathy"

to connect, communicate and break through with your athletes and staff.

Decision-Making

Skills: You will learn a decision-making process you can apply to any situation.

Ethical Decision-Making labs: Small group work to collaborate on ethical issues a coach may face.
Leadership Challenge labs: Small group work to collaborate on situations that all coaches face with their team or staff.
Emotional Intelligence: Explore the concepts of social awareness, empathy and

self-regulation.

Mental Training 101 for individuals and teams.
The way of Mini Challenges to build habits and change behavior.
Introduction to 4 Coaching Philosophies and Resources for building a positive team culture.
Activities to tap into your creativity and innovation as a coach.
We will spend one morning in the mountains hiking with Retired, Major General, Barb Faulkenberry. (USAF)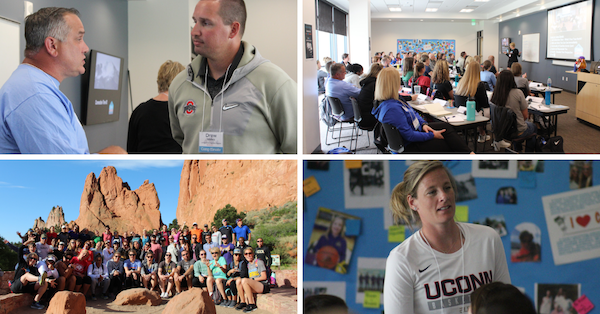 Details:
When: Tuesday, May 28, 2019 at 5:00pm MST - 1pm MST Friday, May 31, 2019.
Where: University of Colorado Colorado Springs
Transportation: Fly into Colorado Springs or Denver International Airport
Denver airport is 1.5 hours north - Camp Shuttle provided for $40/each way, Colorado Springs airport 20 minutes from campus - taxi or Uber available
More Information at TrueNorthSports.net

---
Additional Offerings (add now, or purchase later!):
2 Pre-Camp Workshops - starting 3:00 pm MST on Tuesday, May 28th!
Assistant Coach Workshop with Shannon Wells, Associate Head Volleyball Coach, University of Florida
Topics: What makes a great assistant coach and Recruiting 101.
Head Coach Workshop with Becky Burleigh, Head Soccer Coach, University of Florida
Topics: Head coach case studies and small group discussion.