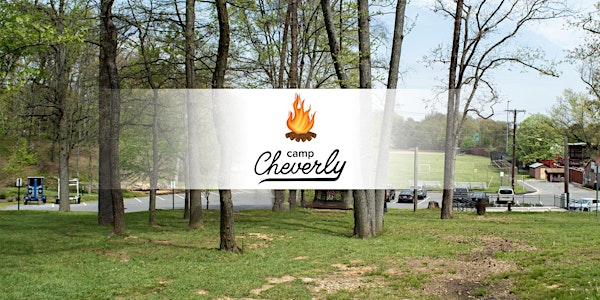 Camp Cheverly — CHV Prom 2022
CHV Prom is an adults-only, themed fundraiser benefiting Cheverly Village and the Mount Hope Commission.
When and where
Location
Town Park 6401 Forest Road Cheverly, MD 20785
About this event
CHV Prom has returned! Join your neighbors and friends for an evening of food, fun, and incredible live music. CHV Prom is a 21+, themed fundraiser benefiting Cheverly Village and the Mount Hope Commission.
CHV Prom will look different this year — we're moving outdoors to the lower parking area at Town Park and our theme is: Camp Cheverly! Camp Cheverly will include a live band, DJ, 360 videobooth, a professional portrait photo opp, and a People's Choice award to the top 3 decorated "campsites."
Follow CHV Prom on Facebook or Instagram to stay up to date.
Ticketing
Tickets will be sold individually so anyone can attend.
Each person can purchase up to 10 tickets. Those individuals who do purchase 10 tickets automatically qualify as a "group" and will be reserved a "campsite" which will operate like tables have at past CHV Proms. These campsites are 10-foot by 10-foot areas where you can set up your own tent, table, decor, etc. within your marked area. Groups with campsites are encouraged to theme and decorate their campsites if they'd like to compete for recognition by their peers, who will vote for their 3 favorites.
Individuals or tickets purchased in groups of less than 10 will not have reserved campsites, but may bring their own camp chairs and individual coolers. No tables, tents, canopies, or other structures are allowed for individuals and small groups. It is not possible to purchase less than 10 tickets and then later combine with other purchasers to form a campsite.
All tickets are non-refundable.
Entertainment
Camp Cheverly will include a live band, DJ, professional photographer, and videobooth.
Sought-after Washington, DC-based Black Masala will be joining us - so get ready to MOVE! Black Masala is a high energy, genre defying brass outfit that has played the likes of the 9:30 Club, Millennium Stage, and more. And they're coming to Cheverly! Don't miss this.
We'll also be joined by the fabulous DJ Edward Daniels of Scorpio Entertainment.
When you're not dancing to his tunes, we'll see you at the 360 Videobooth or striking a pose for our professional portrait photographer. And don't forget the best part of every CHV Prom - a chance to have fun with neighbors you know and meet some that you don't, all while supporting local charities that enhance this great town we call home. What a way to spend a night!
FAQs
What should I bring? Just like camping, you must bring everything you'll need! All campers must bring their own chairs. Reserved campsites may bring a tent or canopy (max 10'x10) as well as a table. Everyone may bring their own picnic dinner and drinks. The American Legion will be selling chicken kabobs and empanadas, and Bay's Soft Ice Cream Truck will be selling sundaes, cones, and more.
What can't I bring? Open flames, including grills, are prohibited. Glass containers are also not permitted, so plan ahead and stock up on your flasks, boxed wine, cans of beer, etc. No electricity will be available to campers, so battery-operated devices are your friend.
Can I park at Camp Cheverly? No parking is allowed in the lower lot where the event is held. There is limited parking in the upper lot at the Community Center. Walking is highly encouraged. Groups with a campsite may pull up temporarily to unload their equipment but then they must park elsewhere.
When can I decorate my reserved campsite? When must I clean it up? Decorating may begin for reserved campsites at 2pm the day of the event. Individuals and smaller groups may bring their camp chairs and supplies when the event begins at 6pm. Everyone must clean up and take home everything they brought when the event ends promptly at 10pm. Like a good hiker, leave no trace! Trash cans and recycling will be available.
Is there a bathroom? The bathrooms inside the Community Center will be available.
What if it rains? In the event of rain on September 23, Camp Cheverly will be postponed to October 14. Tickets will not be refunded if the event is postponed. We will send an announcement through Eventbrite to all ticket purchasers, as well as post on social media and the Cheverly Exchange, close to the time of the event if we plan to postpone. If it rains on October 14, all tickets will be rolled over to a future CHV Prom event. Thanks for supporting your local charities, and join us in hoping for good weather!