Camp Assurance 2019 Registration | Belden, NE

Thursday, March 1, 2018 at 1:00 PM

-

Monday, August 5, 2019 at 5:00 PM (CST)
Event Details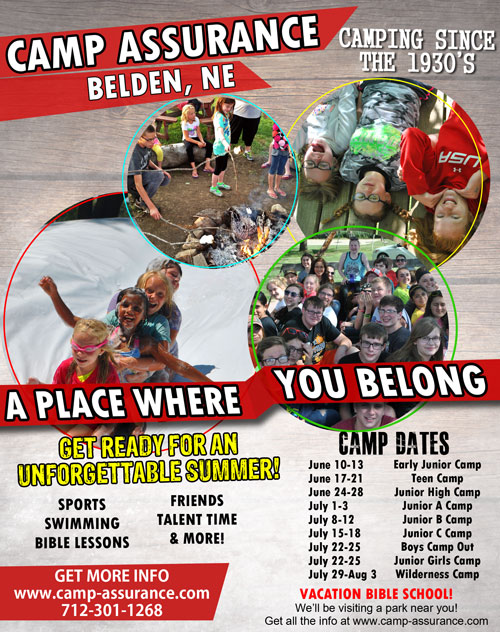 SPORTS!  SWIMMING!  TALENT TIME!
FRIENDS! BIBLE TEACHING! & MORE!
Each summer is great at Camp Assurance. Be sure to check out our website at www.camp-assurance.com with all the important info that campers need to know.
Campers have the opportunity to get to know God better through personal and group Bible study and daily chapel with great speakers and dorm leaders.  As they participate in tournaments, group games, and cabin activities, campers can make new friends and renew old friendships.  At Camp Assurance it's our goal that no camper ever falls through the cracks and all find a place to belong.
If you have any questions feel free to contact the camp director, Shannon Arduser, by calling 712-301-1268.
 *AFTER JUNE 1st ALL REGISTRATIONS (except for the Boys Campout and Junior Girls Camp) WILL GO UP AN ADDITIONAL $15.
REGISTER BEFORE JUNE 1st TO ENSURE THE MOST INEXPENSIVE RATE!*
FAQ:
Q.  Do camp t-shirts cost an additional fee?
A.  No.  One Camp Assurance t-shirt is included with each registration.  Any additional t-shirts can be ordered for an additional amount.
Q.  What happens after I register online & pay the registration costs?
A.   You will receive a confirmation email with your registration tickets and more information.  Please print off the confirmation tickets that you receive.  This will speed up registration at Camp Assurance.  If you register by mail, you will not receive a confirmation email.

Q.  What items should my camper(s) bring?
A.   Bible, pen, notebook, bedding (sleeping bag, pillow, etc.), Swimsuit, towel for swimming & shower, extra pair of shoes for sports, soap, toothpaste, medications, insect repellent, light jacket, personal water bottle & flashlight.  Please label personal items with your name.


Q.  What items should my camper(s) NOT bring?
A.   Please do not bring spending money, electronic games, ipods, cell phones, pop, snacks, weapons, fireworks, alcohol, tobacco
Q.  Can I mail in my registration?
A.  Yes.  If you prefer to mail in your registration, print out the registration form from our website www.camp-assurance.com, make your check payable to Camp Assurance, and send it to Rozanne Hintz  PO Box 7 Dixon, NE 68732.

Q.  What are the clothing guidelines at camp?
A.   Camp attire is primarily casual, though campers will have opportunity to dress up one evening for chapel and pictures.   Undergarments must be covered.  All clothes should be neat, clean, non-revealing and free of offensive printing.  
GALS - one piece swimsuit or a dark t-shirt to cover a 2-piece.  No low cut tops, short skirts, or short shorts.  *If you have questions about clothing guidelines call Marie Arduser at 402 360 2891.
 
Q. 
 Does the registration cost ever change
?

A.   
YES.  After June 7th, all registrations, except for the Boy's Campout and Junior Girls Camp (Deadline July 1), will increase by an additional $15.  Register early to receive the lowest price and ensure an open bunk for your child.
Q.  Are scholarships available?
A.   We do have scholarships available.  If your child needs financial help in attending Camp Assurance please call Shannon Arduser at 712-301-1268 in advance.  


Q.  What should I do, if I would like to give money towards a scholarship?
A.   Contact the camp director, Shannon Arduser, at 712-301-1268. 

Q.  What if my camper needs medication?
A.   ALL medications (including Tylenol and other over the counter meds) must be in their original container and will be kept and dispensed by the camp nurse.  Please check in with the camp nurse at registration and check out with her when your camper is leaving.


Q.  What is the food like at camp?
A.  Camp Assurance aims to provide delicious home cooked meals & snacks that are balanced and nutritious.  There is no need to bring extra food.  Food is not allowed in the dorms.
 
Q.  How do I get to Camp Assurance?
A.   We are located 1/4 mile north of Belden, NE on HWY 57.  It is 45 miles west of Sioux City, IA via HWY 20 and 35 miles northeast of Norfolk via HWY 81 & 20.
Q.  Is there any other info I should know?
A.   1.  To maintain a healthy camping environment, each camper will be privately checked for lice by the camp nurse at registration.  
2. Any items left unclaimed after camp including mail for longer than a month will be donated to a worthy cause.
 
 If you need additional information, please visit us online at www.camp-assurance.com OR give us a call at 712-301-1268.
When & Where

Camp Assurance
86858 Nebraska 57
Belden, NE 68717


Thursday, March 1, 2018 at 1:00 PM

-

Monday, August 5, 2019 at 5:00 PM (CST)
Add to my calendar
Organizer
Camp Assurance is a small Bible Camp in the corner of Northeast Nebraska that is training and mobilizing young leaders to share the Gospel while seeking to pull the lost into a community of authenticity and Christ-centered life.
 The ministry of Camp Assurance spans throughout the year, including our summer camp, youth group activities in surrounding communities, Oasis Coffee House in the fall/winter/spring, and many outreach activites throughout the year. 
To learn more about us please visit us at www.camp-assurance.com