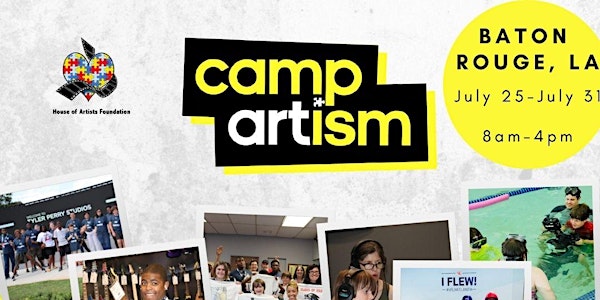 Camp Artism - The Ultimate Specialty Camp for Artists with Autism!
Location
Baton Rouge, LA Location TBA
4964 Constitution Ave
Baton Rouge, LA 70808
Camp Artism is a unique vocational training camp that promotes inclusion in the arts, and independent living skills for autistic artists.
About this event
www.CampArtism.com
House of Artists Foundation is a federally compliant 501 (c)(3) non-profit organization that provides unparalleled vocational training programs for autistic artists.
We partner with industry leaders to bring skilled training, advanced education, job opportunities, and access to better living wages to people with special needs.
A better-connected world requires us to have a work force that reflects the world. With that in mind, we provide opportunities, support and encouragement for people living with autism spectrum disorder.
Our annual CAMP ARTISM program provides the following vocational training workshops that are slated to take place at Camp Artism:
CPR & First Aid
VR / Gaming
Fire Safety
Driver Training
Vision Boards
Comic Book Creations
Workshop-based experiences at various Film & Entertainment industry studios may also include*
3D Animation
Voiceover
Acting
Stunts
Underwater Filming
Video Editing
Movie Theater Tour
Fashion Design
Photography
The CAMP ARTISM Workshop program includes:
* Daily hot lunches
* Daily t-shirts for all participants
* Camp Supplies
The 2022 CAMP ARTISM training workshops will be hosted in 8 markets on the following dates:
Charleston, SC: 4/11 - 4/16
Los Angeles, CA: 6/13 - 6/18
Chicago, IL: 6/25 - 7/11
Orlando, FL: 7/11 - 7/17
Baton Rouge, LA: 7/25 - 7/31
Atlanta, GA: 7/25 - 7/31
New York, NY: 8/15 - 8/21
Ontario, Canada: 8/27 - 9/2
For more information about Camp Artism visit campartism.com
Find out more about House of Artists Foundation at houseofartistsfoundation.org
*All workshop experiences are not guaranteed. Specific experiences offered will be based on available resources.