Camote, Coffee and Kale: From Farm to Market in Honduras

Wednesday, November 14, 2012 from 6:00 PM to 9:00 PM
Event Details

Please join us for our festive Annual Celebration of the work of SHI-Honduras and the Trinidad Conservation Project (TCP) and to renew once again your vital support from the Washington, DC area.
Meet and greet our special guest, Roy Lara, Founder of TCP and Lead Field Trainer for SHI-Honduras, who will bring news about last year's programs and plans for the coming year.
Hear stories and see pictures from adults and teens who have traveled to Honduras to work along side our families.
Learn how our Honduran friends have increased and diversified their crops, improving the quality of their children's lives.
Enjoy food and drink in the company of good friends in an historic and awe-inspiring place!
We are delighted to send you the following letter from Claudia Carcámo, Country Director of SHI-Honduras. And a photo of Claudia at work!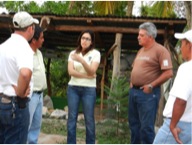 Let me tell all those who have befriended and supported this work how much you have meant to the men, women, and children in the six Trinidad Conservation Project villages – starting more than five years ago. Thanks to you, we can see huge differences in the use of sustainable agriculture and care for the forests. Farmers are able to use the same plots year after year because they no longer slash and burn the fields. Children are eating healthier meals, many families are growing enough crops to feed themselves with some extra to sell, and neighbors are learning new methods as they watch participant gardens and fields. Each of your visits has been received as a sign of caring and encouragement. There is a huge difference in the hope for the future.  
Truly, you have helped us realize the vision of Sustainable Harvest International --  "To provide farming families in Central America with the training and tools to preserve our planet's tropical forests while overcoming poverty."
Warmly,
Claudia Carcámo
We hope you will come and that you will feel moved to make a tax-deductible donation toward the $20,000 we need to raise from individuals to support the Trinidad Conservation Project as it funds the work in these six villages.

-- Charmian Crawford and Melissa Barrett, Co-Chairs, Annual Celebration of the Trinidad Conservation Project
When & Where

Frederick Douglass Museum - Caring Hall of Fame
320 A Street, NE
Washington, DC 20002


Wednesday, November 14, 2012 from 6:00 PM to 9:00 PM
Add to my calendar
Organizer
The Trinidad Conservation Project (TCP) is a group of individuals and organizations in the Washington DC area who are partnering with farming families in Honduras to provide them with the training and tools to overcome poverty while restoring Honduran tropical forests. It has become a powerful movement of people working together to improve lives, enrich souls and care for the environment in Honduras.