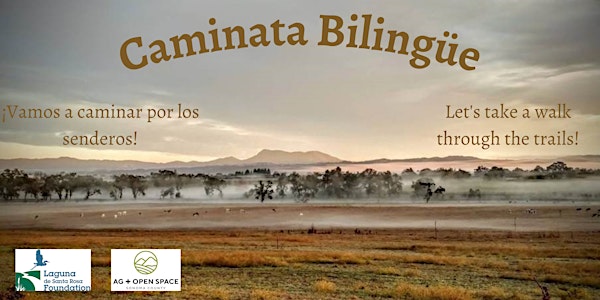 Caminata Bilingüe con Laguna Foundation y Ag + Open Space!
¡Aprenda de los senderos de la Laguna de Santa Rosa en Español e Inglés! Learn about the Laguna de Santa Rosa Trails in Spanish & English!
By Laguna de Santa Rosa Foundation
Date and time
Saturday, March 25 · 11:30am - 1:30pm PDT
Location
Laguna de Santa Rosa Trail 6303 Highway 12 Santa Rosa, CA 95472
About this event
Acompáñenos en una caminata dentro de los senderos al lado de la Laguna de Santa Rosa. Este sábado especial, exploramos los animales y las plantas de la Laguna de Santa Rosa, disfrutaremos del hermoso espacio abierto y buscaremos señales de aves y otros animales de la temporada. Venga a aprender sobre la Laguna, su importancia en la retención de aguas pluviales, y aprenda a identificar algunas de las plantas asociadas con esta área del condado. Nuestro Especialista de campo, Carlos Barragan, le encanta enseñarle a la comunidad de la Laguna usando actividades divertidas para todas las edades.
No hay cargo por esta salida, que es posible gracias a los votantes del condado de Sonoma que financian el trabajo de Ag + Open Space con un impuesto sobre las ventas de un cuarto de centavo.
Join us for a nature walk with learning and fun for the whole family. On this special Saturday we will explore the Laguna de Santa Rosa trail, enjoy the beautiful open space, and look for signs of nesting birds and other delights of the season. Come learn about the Laguna, its important role in holding stormwater, and how to identify some of the plants in the waterway. Our Environmental Educator, Carlos Barragan, will have fun activities for all ages.
There is no charge for this outing, which is made possible by the voters of Sonoma County who fund the work of Ag + Open Space with a quarter-cent sales tax.
About the organizer
The Laguna de Santa Rosa Foundation works to restore and conserve the Laguna de Santa Rosa, and to inspire public appreciation for this Sonoma County Wetland of International Importance.