CAMERAS D'AFRIQUE: La Femme Porte L'Afrique / Tilai

Monday, October 7, 2013 from 7:30 PM to 11:00 PM (PDT)
Event Details
A MONDAY NIGHTS SERIES SPECIAL PRESENTATION
In Partnership with Loyola Marymount University School of Film and Television and Film Independent:
7:30 PM – La Femme Porte l'Afrique (Women Carry Africa)
Idriss Diabaté (Côte d'Ivoire, 2008)

"In Africa, a woman can't be idle," says Colette, a charcoal maker late in La Femme Porte l'Afrique, and her words have already been deeply felt by that point. The title of Idriss Diabaté'sAbidjan-set documentary could be translated as "The women carry Africa." Or, as it is here, "She's carrying Africa on her shoulders," and still rings staggeringly true. The filmmaker profiles five women with several things incommon: they're from low-income families, raising five or more children; their husbands are absent and, as Diabaté notes they "haven't time to discuss economic development or African unity." The unspoken–but visible–aspect of the film is they're too busy creating their own economy. Fantumata produces tapioca and proudly notes, "I've never owed money." Bintou works a small plot of land growing several kinds of vegetables–if one won't sell, another will, she says–while her smiling, very young kids play; her patience is saintly (she even makes her own organic pesticide).  The film starts with another hardscrabble charcoal maker, Henriette. Diabaté makes each segment count by weaving shots of the women's continually laboring hand as we hear their doggedly practical voice-over; these no-nonsense mothers work so hard, you'll be exhausted after seeing this old-fashioned, satisfying movie. – Elvis Mitchell
 IN PERSON Idriss Diabaté 
• Written by Diabaté. Photographed by Alain Amonthé and Idriss Diabaté. (52 min)

Followed by:
Tilaï  (The Law)
Idrissa Ouédraogo (Burkina Faso, 1990)
Winner of the 1990 Cannes Film Festival Grand Jury Prize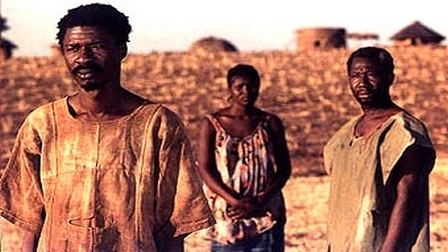 Writer and director Idrissa Ouédraogo weaves a story as old as the Bible–a family destroyed from the inside by sexual jealousy, an envy that binds two brothers and their father together, even as it drives them apart. Saga returns home to his village, hoping to claim the hand of the woman he loves–a woman also desired by his brother, Kougri. Ouedraogo found an intriguing way to set up a modern point-of-comparison; he commissioned Abdullah Ibrahim (also known as the heroic South African jazz pianist Dollar Brand) to compose a score and, working with American legends Billy Higgins and drummer Billy, they underscore the Old World passions and tensions with a musical power as pure and emotional as the story Tilai tells. – Elvis Mitchell
• Written by Ouédraogo. Photographed by Pierre-Laurent Chénieux, Jean Monsigny. With Rasmane Ouédraogo, Ina Cissé, Roukietou Barry (81 min)


Free and open to the general public on a first-come-first seated basis.

This screening is free of charge and open to the public on a first come-first served basis.  Please bring a valid ID, no paper tickets are required for entry, but RSVP is required through this website.  Doors will open at 7PM.   
All SFTV screenings are OVERBOOKED to ensure seating capacity in the theater, therefore seating is not guaranteed based on RSVPs.  The RSVP list will be checked in on a first-come, first-served basis until the theater is full.  Once the theater has reached capacity, we will no longer be able to admit guests, regardless of RSVP status.
When & Where

Mayer Theater, Loyola Marymount University
1 Loyola Marymount University Dr
Los Angeles, CA 90045


Monday, October 7, 2013 from 7:30 PM to 11:00 PM (PDT)
Add to my calendar
Organizer
School of Film and Television | Loyola Marymount University
CAMERAS D'AFRIQUE: La Femme Porte L'Afrique / Tilai