Our Voice. Our Community. Our taxes. Our Reparations. Community conversations for reparations have begun in Cambridge Massachusetts.
About this event
MRCC is kicking off a municipal campaign where Cambridge residents can gather for a community conversation on reparations.
Cambridge city policy #141, introduced by Councilor Simmons in Cambridge, proposes to give reparations to use municipal cannabis tax revenue for reparations towards 'locally Black-owned businesses and economic empowerment applicants.
Economic empowerment program is a closed state wide program based on the War on Drugs and as a result has white people in the program. Do you believe white people from across the state of Massachusetts should receive reparations with municipal tax funds from Cambridge? How do you believe reparations should be dispersed by the city of Cambridge? And who do you believe should receive them?
Join and let us know your thoughts. These community conversations are free and open to all Cambridge residents. All comments will be tracked and submitted to the city of Cambridge as feedback. This is a black centered space. We encourage all Black Cambridge residents to attend and share their thoughts.
If you are unable to attend please fill out our residential feedback form at bit.ly/cambridgepolicy141
Established since 2017, MRCC is a transformative justice nonprofit in advocacy of communities that have been disproportionately impacted by the War on Drugs. BIPOC, women, and queer founded - our workers provide public health, public safety, equity, and solidarity economics education to communities.
Massachusetts has made over one billion dollars since legalization of cannabis and zero cannabis tax dollars has gone towards restorative justice. This makes advocacy work on behalf of our communities harder and it is every day donations from people like you that help us achieve our mission. If you would like to support MRCC's municipal campaign for reparations in the city of Cambridge please donate at https://massreccouncil.com/donate or patreon.com/maconsumers
Since established MRCC has successfully lobbied for the state to have a social equity program, for grants and loan forgiveness to be included in Massachusetts bill for social equity fund, cannabis cooperatives, microbusinesses, secret shopper programs, and much more. MRCC has been a reional coordinator for expungement/cori clinics for National Expungement Work since 2018. MRCC is a certified social equity vendor with the Cannabis Control Commission. MRCC is a certified coop with U.S. Federation of Worker Cooperstives.
MRCC has taught over 40 workshops and events specifically focused on understanding cannabis laws and regulations, navigating licensing/certification processes, how to start a cooperative, public consumer health and safety. If you would like to learn more about MRCC and become an ongoing supporter of our initiatives please visit patreon.com/maconsumers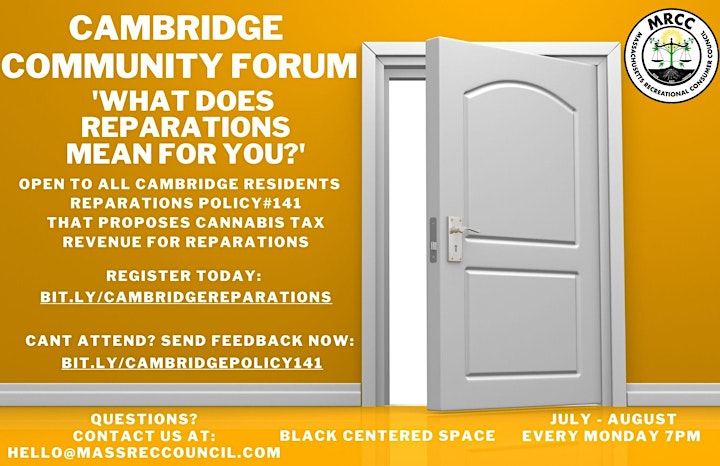 Organizer of CAMBRIDGE COMMUNITY CONVERSATIONS FOR REPARATIONS
The Massachusetts Recreational Consumer Council (MRCC) seeks to ensure the safety of recreational marijuana consumers by bridging the gaps between communities, local legislators, and Massachusetts businesses. We work at the state and local level advocating for sensible recreational marijuana policy and regulations.