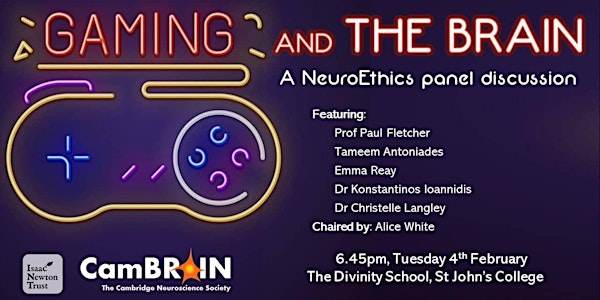 CamBRAIN: Gaming and the brain, a NeuroEthics panel discussion
Event Information
Location
Divinity School
St John's College
Cambridge
CB2 1TP
United Kingdom
Description
One of the most highly anticipated events of the CamBRAIN lent calendar is finally upon us.
Gaming and the brain: A NeuroEthics panel discussion
6.45 pm, Tuesday 4th February @ The Divinity School, St John's College
Featuring incredible speakers:
Prof Paul Fletcher (@paulpcf22)
Professor Paul Fletcher studies psychosis in the Department of Psychiatry. He is a Consultant Psychiatrist, holds the Bernard Wolfe Chair for Health Neuroscience, is funded as a Wellcome Trust Investigator, and directs the study of preclinical medicine at Clare College where he is also a fellow. He uses multiple methods - combining neuroimaging, computer modelling, pharmacological and behavioural experiments - to understand how the brain changes during a psychotic illness, where the world becomes a strange place and stimuli are perceived abnormally. He is also actively involved in collaborating with the video game design studio - Ninja Theory - to explore the potential for video games to represent and help with mental suffering.
Tameem Antoniades (@ninjatheory)
Tameem Antoniades co-founded Ninja Theory in 2000 and is the creative director behind Heavenly Sword, Enslaved: Odyssey to the West and DmC: Devil May Cry.
More recently, Tameem is the writer and creative director of Hellblade: Senua's Sacrifice in collaboration with Professor Paul Fletcher of the University of Cambridge exploring representations of psychosis. The game won 5 Bafta awards, a Royal College of Psychiatry award and a WGGB Writer's Guild of Great Britain award. Tameem is now directing 3 projects including Senua's Saga, a sequel to Hellblade; The Insight Project with Paul Fletcher, which explores videogames technology as a treatment tool for mental health, and Project Mara, a horror experience based on lived experience.
Emma Reay is a video games researcher based in the Faculty of Education at the University of Cambridge and an associate lecturer at Anglia Ruskin. Her current research project examines how children are represented in contemporary video games by cataloguing and critiquing child-characters. Her research interests include children's media, new literacies, play studies, gaming ethics, representation and diversity, and gamification. She consults for game developments studios, higher education institutions, museums, and media companies.
Dr Konstantinos Ioannidis
Dr Konstantinos Ioannidis is a Consultant Psychiatrist in Eating Disorders in Cambridge and Peterborough NHS Foundation Trust. As an Honorary Visiting Fellow of the University of Cambridge, he conducts a diverse range of research to understand behaviour and neurobiology: resilience in mental health, impulsivity, problematic internet use, early warning signs of disordered eating and the application of machine learning in psychiatry.

Member of COST CA16207 Collaboration in Science and Technology Action for the problematic usage of the internet.



Dr Christelle Langley is a Cognitive Neuroscientist and received her PhD from the University of Bristol in 2018. Her PhD focused on understanding the relationship between fatigue and cognition in Multiple Sclerosis, with particular emphasis on the neural mechanisms. She joined the University of Cambridge Department of Psychiatry in Professor Barbara J Sahakian's lab in early 2019. In collaboration with UCL she has been examining cognitive impairment in young premanifest Huntington's Disease patients and with the University of Copenhagen is examining the role of serotonin in cognition. Together with Professor Sahakian's team (Thomas Piercy and Dr George Savulich) Christelle has been examining the effectiveness of brain training apps to enhance cognition in healthy and people as well as in neurological and mental health disorders, with a new project being set up to design an app for Traumatic Brain Injury.
Chaired by Alice White, CamBRAIN Co-President
Date and time
Location
Divinity School
St John's College
Cambridge
CB2 1TP
United Kingdom