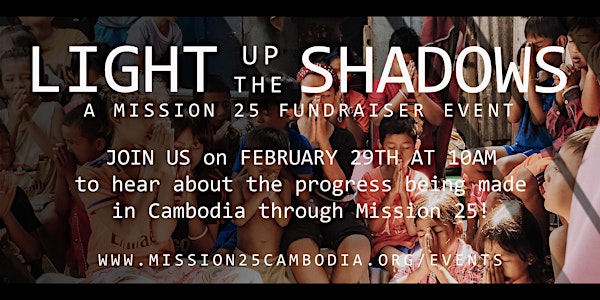 Cambodia:Light Up the Shadows
Join us for breakfast and to hear about the progress being made in Cambodia through Mission 25!
When and where
Location
The Community House 380 South Bates Street Birmingham, MI 48009
About this event
The 2020 Mission 25 Fundraising Event will be on February 29th (LEAP YEAR!) at the Birmingham Community House!
Special Guest Chad Smith, formerly of Agape International Missions, will share about his 5 years experience working in rescue and restore efforts in Cambodia and how the work M25 does goes hand in hand with partnership and prevention.
We will also welcome recent team member and Mission 25 board member, Sarah Galecki. Sarah will share about her recent trip with Mission 25 and the impact she saw.
You will also see personal testimonies from many of the people we work with in Cambodia.
2019 was a special year for Mission 25. We finished our 2nd year of school and started our 3rd year. The dormitory program is thriving. Our partnerships continue to grow and so do the opportunities in Cambodia. We are excited to share with you our hope for 2020 and to raise funds to continue to change even more lives in Cambodia!
*Breakfast will be served