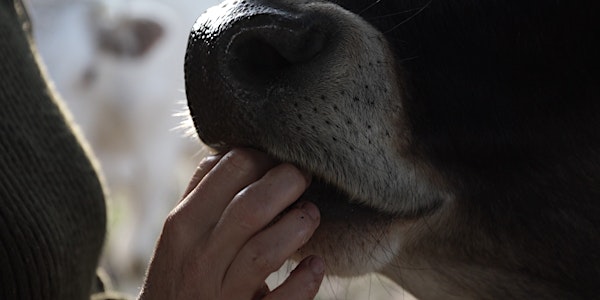 CAM Exhibition Openings: Terrace Projection, Reflections & Gabrielle Martin
CAM invites you to the launch of our latest Terrace Projection by Zoe Scoglio, and, inside the gallery, the opening of two new exhibitions.
When and where
Location
Castlemaine Art Museum 14 Lyttleton Street Castlemaine, VIC 3450 Australia
About this event
Please join us at the gallery on Friday 29 July, 6pm for the launch of Terrace Projections: Agri-Cultures, a commission by local artist Zoe Scoglio, and the exhibition openings of Reflections on the Castlemaine Art Museum Collection and Orbit: Gabrielle Martin - Through the Long Grass.
Drinks and light refreshments provided.
Terrace Projection:Zoe Scoglio, Agri-Cultures
Agri-Cultures is a commissioned video work by local artist Zoe Scoglio in dialogue with local small-scale farmers Gung Hoe growers in response to the theme 'Industry.' Focusing on the manual labours and tactile relations, this is a visual portrait of the daily regenerative wholistic practices and emergent cultures at the Harcourt Organic Farming Co-op. As a volunteer at Gung Hoe Growers, this commission was an opportunity for Zoe Scoglio to enter more deeply into conversation and to further learn from and attend to the practices of daily care-full cultivation.
Reflections on the Castlemaine Art Museum
Reflections began as part of CAM's online response to Covid lockdowns. This exhibition presents a selection of works from the art museum collection, accompanied by a written Reflection from a diverse range of contributors. Contributors are asked to 'reflect' on works or objects from the CAM collections and history – opening our art and museum collections to new voices and knowledge.
Orbit: Gabrielle Martin - Through the Long Grass
Gabrielle Martin paints the landscape near her home in the Goldfields town of Malmsbury. This land was reshaped in the 19th Century by civic rail and water projects, and grazing that serviced the goldmining industry. There are parallels between this landscape and the orchards and paddocks on the outer fringes of Melbourne when she was growing up in the 1970s. Wild fruit trees, weathered pines and dry fields of grass are common to both, as well as endemic gorse, blackberries and briar rose that resist the best efforts at control. Watching children playing in the long grass unlocks memories of her own childhood play.
These exhibitions are supported by the Restart Investment to Sustain and Expand (RISE) Fund – an Australian Government initiative; The Besen Family Foundation; Christine Bell; and Castlemaine Mail.
Image Credit: Zoe Scoglio, Agri-Cultures, 2022, video still. Courtesy of the Artist