Description
The Calvia Lions Club invites you to enjoy a spectacular evening of elegance and entertainment.
The black-tie affair will be held at the grand Castillo Hotel Son Vida at 7pm on the 28th of September. Each guest will receive drinks and aperitifs on arrival followed by a superb 3-course dinner.
You will be entertained throughout the evening, with an astonishing performance from Il Quattro, cool swing and jazz with the Monkey Doos, an illusionist and more to be announced!
Try your hand at the blackjack and roulette tables with 10€ included to get you started!
The event is in support of the Dolly Cancer fund, a worthy cause that hits the heart of many.
Tickets will be 150€ per person for the entire evening.
We do hope that you join us and look forward to seeing you there!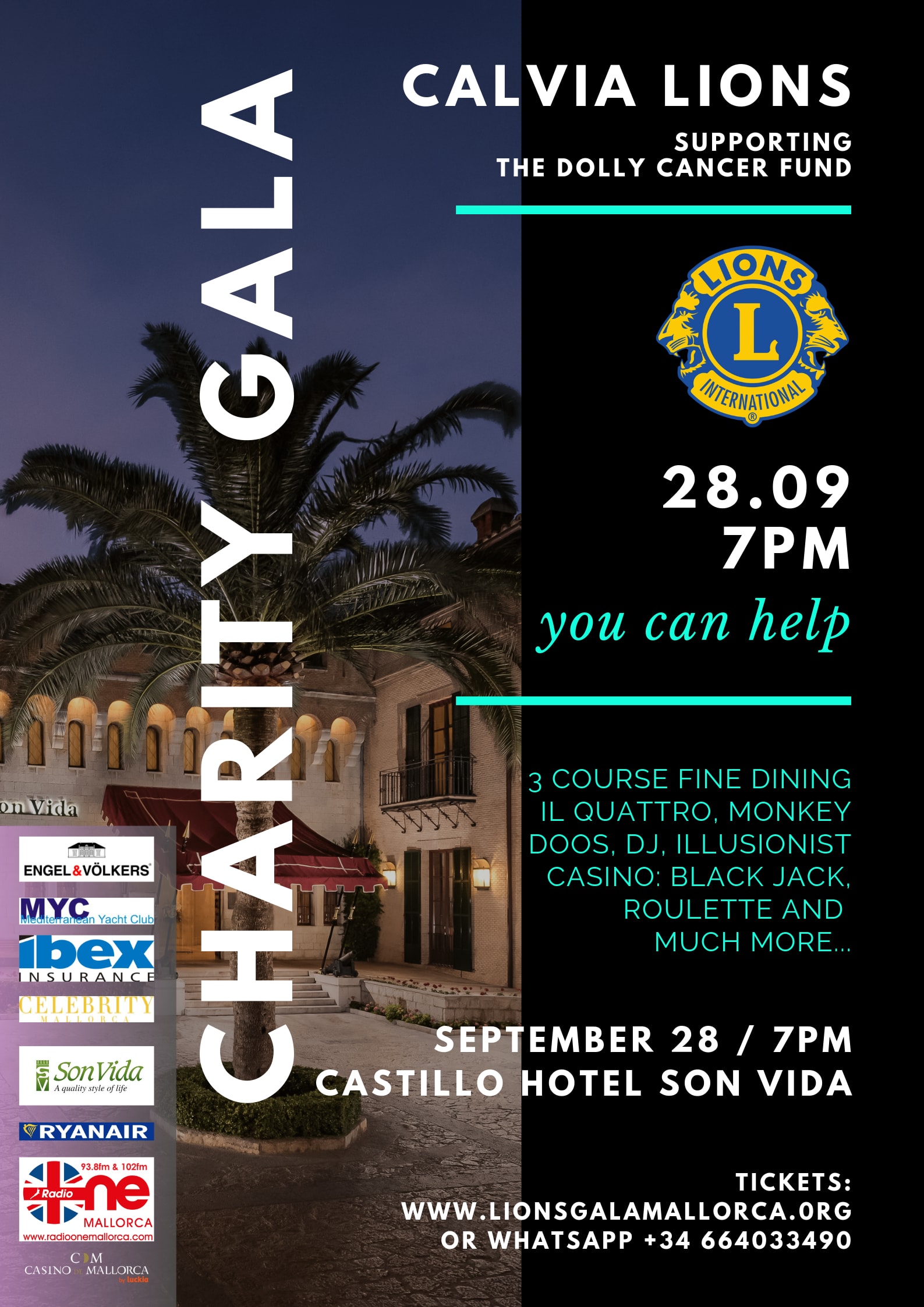 We are also happy to announce our sponsors so far:


The Dolly Cancer Fund
The Dolly Cancer Fund was created when a young girl called Dolores Sanches died at the age of 21 after suffering from cancer from an early age.
Calvia Lions Club became aware of Dolores (Dolly) sometime after her arm was amputated and she wanted a long wig to hide her stump which we funded.

This gave her confidence when she was out with her friends.

Over the years before her death, she was always available to talk to anyone who was a fellow sufferer.

After her death Calvia Lion members decided, that she should not have died in vain and to keep her name alive, the "DOLLY CANCER FUND" was set up.
The money raised is used to help people in Mallorca who have been diagnosed with cancer and are in need of funds, as a cancer diagnosis can be expensive. Many people have unplanned expenses related to their care. Often, finances are a source of stress and anxiety. Sometimes, costs keep people from completing cancer treatment. This increases health risks. It may also lead to more expenses in the future.