Caltech Science for March
Description
Come visit Caltech's campus, interact with 50+ science activities, hear TED-style science talks, and listen to keynote speakers. This event is free and open to the general public with many activities for K-12 children.
General Schedule:
10:00am - 1:00pm Science Booths and Activities
11:00am - 12:00pm Ken Farley, Mars 2020 Project Scientist and select TED-style talks
1:00pm - 3:00pm Sandy Marshall, Project Scientist Founder and select TED-style talks
Food Trucks:
11:00am - 1:00pm Rodney's Ribs, Dina's Dumplings, TBD

Booths include:
Jet Propulsion Laboratory with inflatable rover!
Caltech Seismological Laboratory
Caltech Biological Imaging Facility
Pasadena City College (Electronics, Chemistry, Cinema, and more)!
The Magic of Microfluidics
Algorithmic Origami
Robots!
The Science of Worms
and much more!
Talks:
11:00 am - 12:00 pm
Ken Farley, "NASA's Mars 2020 Mission: In search of life beyond Earth"
David Huynh - "You Don't Have to Be a Rocket Scientist to Think Like One"
Grigory Tikhomirov - "Rise of the Nanorobots"
1:00 pm - 2:00 pm
Sandy Marshall, "Today's STEM Girls, Tomorrow's Innovators"
Brittany Kamai - "Catching Waves from Black Holes"
Sean Feng - "Arms Race against Bacteria"
2:00 pm - 3:00 pm
Joshua Fisher - "The Fate of the Terrestrial Biosphere Under a Changing Climate"
Julian West - "Fortune Favors the Curious"
David Miller - "Beetles that Hypnotize Ants"
Tara Mastro - "Your Brain on Lead"
Parking:
All campus garages are free on weekends, see this website for specific locations (i.e. 1-4) https://www.parking.caltech.edu/documents/35-interactive_parking_map.pdf
Specific Booth Info: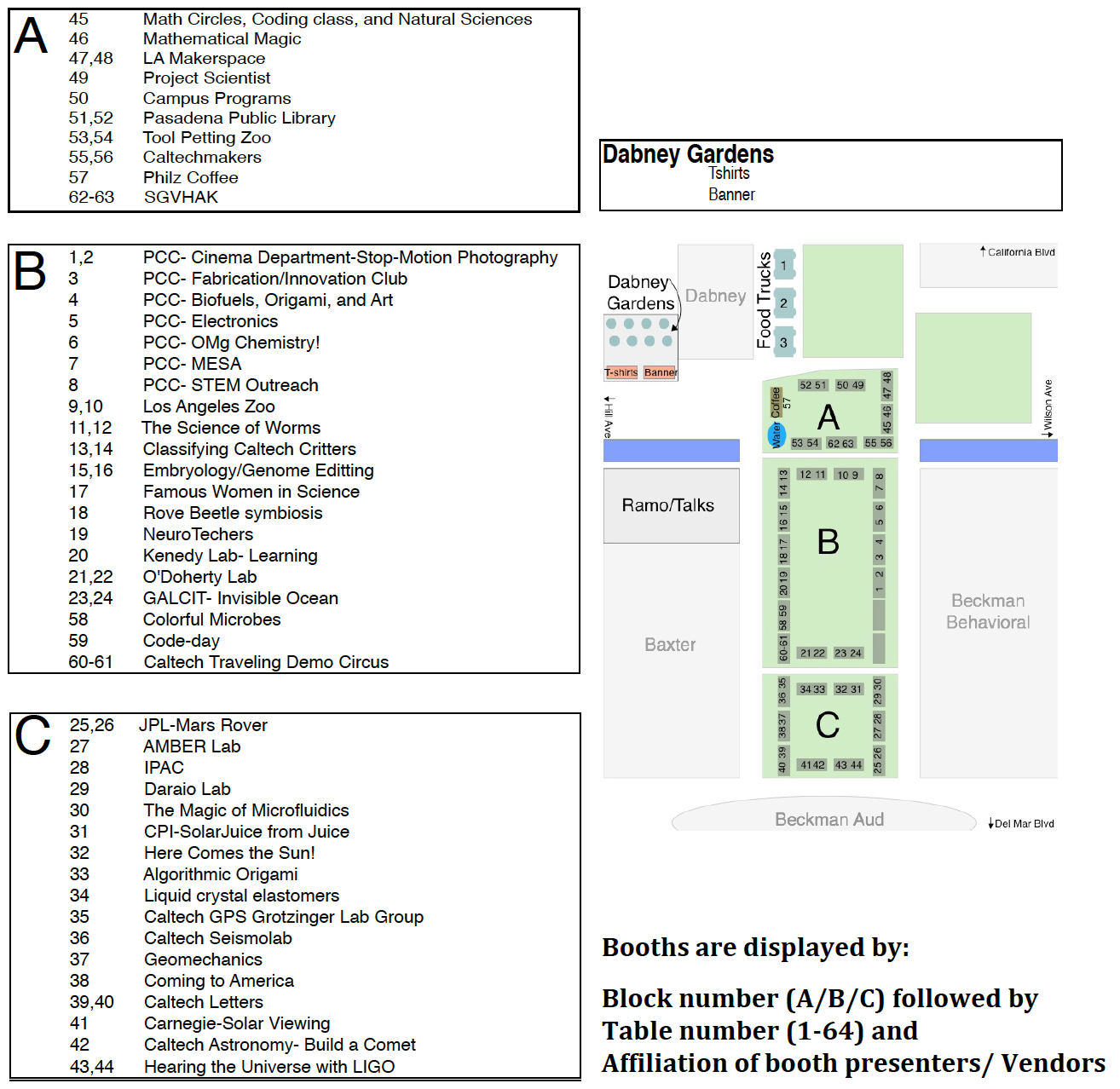 Other Info at http://scienceformarch.sites.caltech.edu/
T-Shirts:
T-shirts will be for sale for $10 (cash only, sorry) in a range of sizes from YXS to XL. All proceeds go to providing science booth volunteers with shirts and lunches!