Description
The Sacramento region is California's best-kept secret, and UC Berkeley, a top 20 national university, and the Haas School of Business, a top 10 business school, are less than 80 miles away from the heart of Sacramento.
This event seeks to connect the University and its Sacramento alumni to leading regional companies to promote business and economic growth. Hear Sacramento Mayor Darrell Steinberg discuss his plans for growing regional businesses and the economy in Sacramento.
Learn how Greater Sacramento Economic Council CEO, Barry Broome, is working to connect our region to the Bay Area and create a premier innovation corridor.
Hear about the Haas School of Business' recent accomplishments and future plans from Distinguished Professor in Economics and Vice Provost of Faculty, Benjamin Hermalin.
Network with UC Berkeley alumni, local executives and professionals from startups, investors, and regional/global leaders including Chase, SMUD, Intel, VSP, and others.
Enjoy appetizers and drinks at a networking reception following the formal program.


Our Sponsors

Agenda
5:00–5:45PM: Registration and Networking
5:45–6:00PM: Introductory Speeches
6:00–6:45PM: Fireside Chat with Speakers
6:45–8:00PM: Networking Reception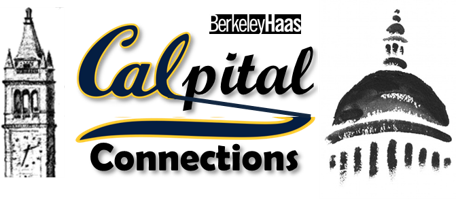 Speaker Biographies
Darrell Steinberg, Mayor of Sacramento
Darrell Steinberg is mayor of Sacramento. As mayor, his economic priorities include diversifying Sacramento's economy, attracting high-wage employers, and helping local businesses grow. He is also focused on making sure neighborhoods get the resources and attention they need to flourish and thrive, and combating homelessness through permanent supportive housing and services. Before that, he represented the Sacramento region in the state assembly and senate for 14 years, including 6 years as senate president pro tem.
Barry Broome, CEO, Greater Sacramento Economic Council
Barry Broome serves as the first President and CEO of the Greater Sacramento Economic Council. The organization is the catalyst for innovative growth strategies in the Capital Region of California. In his role, he has established the first-ever public/private partnership economic development organization in the State of California; the organization comprises 37 CEO's and 19 communities in the Greater Sacramento region.
Benjamin E. Hermalin, Vice Provost of the Faculty
Benjamin E. Hermalin holds professorships in both the Economics Department and in Berkeley's Haas School of Business. In the latter, he is the Thomas & Alison Schneider Distinguished Professor of Finance. Professor Hermalin received his PhD from MIT in 1988, the same year he joined UC Berkeley as an assistant professor in the Department of Economics and the School of Business. He became a full professor in 1998. From 1999-2006 he was the Willis H. Booth Chair in Banking & Finance.
Dave Sanders, Founder and Managing Partner of WorldBridge Partners
Dave's focus is high level retained executive search working with clients in Northern California, across the nation, and internationally. Dave is an active Angel investor and a general partner in two Angel Funds. Beginning his executive search career in 1993, Dave is well established in the West Coast venture capital community and is a national expert working with early and mid stage high growth companies. Dave received his MBA in 1976 from the Berkeley-Haas School of School of Business.