Join us on Saturday March 20th at 5pm for a Violin Duo Concert featuring Ukrainian Performers, Liubomyr Senyshyn and Maria Gorkun
About this event
With such a long winter in Massachusetts we are delighted to invite you to celebrate the coming of Spring with a warm and wonderful program of Violin Duo Repertoire. This program is full of many different styles and genres - starting with the intricate and ornamental style of the Baroque and concluding with a modern day take on this instrument combination by a local Boston-based composer.
The concert will be livestream from Youtube and the link to access is:
We do hope that this concert will bring some light and hope towards a new year that will be better for everyone. We await the day we will once again be able to share music in person, and would greatly appreciate your support by contributing to this concert with any donation of your choice!
Please join us after the concert on Zoom for a brief reception/hangout to toast the season together!
Join Zoom Meeting
https://us04web.zoom.us/j/4235678356?pwd=c1RXSWhDbk00RUl2dkN0ZFlpMUtqZz09
Meeting ID: 423 567 8356
Passcode: Violin
The program for the concert as is follows:
Jean - Marie Leclair - Sonata No.5, Op. 3 in e-moll
Charles Auguste de Bèriot - Duo Concertante No 1, Op. 57( Moderato)
Margaret Boswell Senyshyn - 8 duets for Two Violins
Astor Piazzolla - Nightclub 1960( History of Tango), arrangement by Margaret Boswell Senyshyn
Violin Duo Con Fuoco
Violinists Mariia Gorkun and Liubomyr Senyshyn were introduced to each other in 2016, and quickly discovered the commonalities in their individual musical careers thus far. These two musicians were born in Ukraine, both attended the Longy School of Music, and also both studied under the same teacher, Mark Lakirovich, during their respective time there.
As fellow musicians in the Boston area they've repeatedly played together in many orchestras and ensemble based projects, allowing them to realize that they share an attraction to virtuosic music and general musical aspirations. Recently Mariia and Liubomyr set about to explore the repertoire for violin duet and violin and viola duet. With an interesting and wide variety of material written for this combination, they are eager to highlight these mixture and bring them to others. It is also their goal to expand the canonic repertoire by collaborating with contemporary living composers; accentuating the wonderful stylistic versatility of this instrumentation and duo.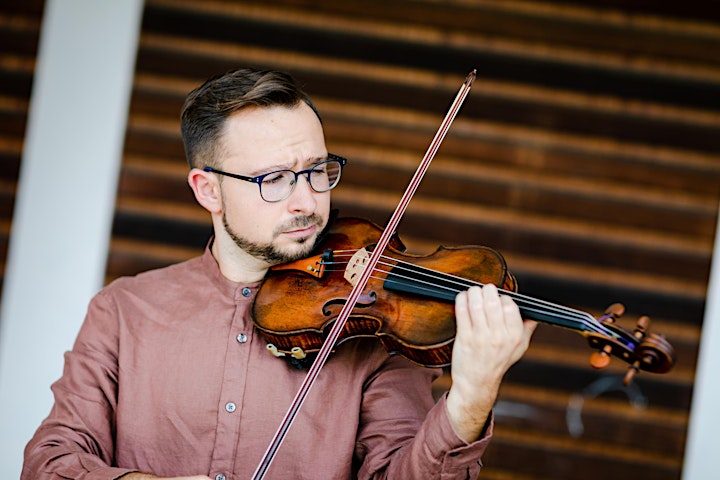 LIUBOMYR SENYSHYN
Originally from Ukraine, Liubomyr Senyshyn is a Boston based violinist. Prior to his career in the United States, Liubomyr was a three year member of the K&K Philharmoniker, an Austrian-Ukrainian orchestra that tours throughout Europe. With K&K, he played over 120 concerts per year in the greatest concert halls in Europe: Berliner Philharmonic, Wiener Musikverein and Oslo Opera House. Currently in the states, he performs regularly with Cape Ann Symphony, Boston Chamber Symphony Orchestra, Boston Philharmonic Orchestra, and Symphony Pro Musica.
In addition to his work as a successful orchestral player, Senyshyn is an active chamber musician. For three years he was a member of KLMB String Quartet in Lviv, Ukraine. He is also a founding member and player for both the Glenside Quartet in Boston, MA, and the Temper Trio in Cambridge, MA.
Senyshyn previously participated in the Kiev Music Festival (2009-2010), in the Cremona Music Festival (2016-2019), and has taken master classes with world famous violinists such as Paula Tumeo, Felix Andrievsky, Roberto Cani, Jela Spikova, Ilya Kaler, Benjamin Beilman, Patricia Kopatchinskaja.
He was a winner of the 2017 Honors Competitions at the Longy School of Music, received 2nd prize at the International Music Competition for Strings in Cremona, Italy in 2018, and in 2019, he was chosen as a finalist in the Concerto Competition at Longy School of Music.
Liubomyr holds a Masters in Music from the Mykola Lysenko Lviv National Music Academy. He also holds a Graduate Performance Diploma, and an Artist Diploma from the Longy School of Music at Bard College in Cambridge, MA under the instruction of Mark Lakirovich.
Senyshyn maintains an active private teaching studio in the Boston/Newton area, as well as holds a faculty position at both the Note-Worthy Experience in Sudbury, MA and at the Sharon Music Academy. Senyshyn started teaching 12 years ago in Ukraine and for the past 3 years has served as a teacher for El Sistema USA in Cambridge, MA and was recently awarded an associate faculty position at the Cremona International Music Academy for the 2021 festival.
Find more information about Liubomyr please visit: https://www.liubomyrsenyshyn.com/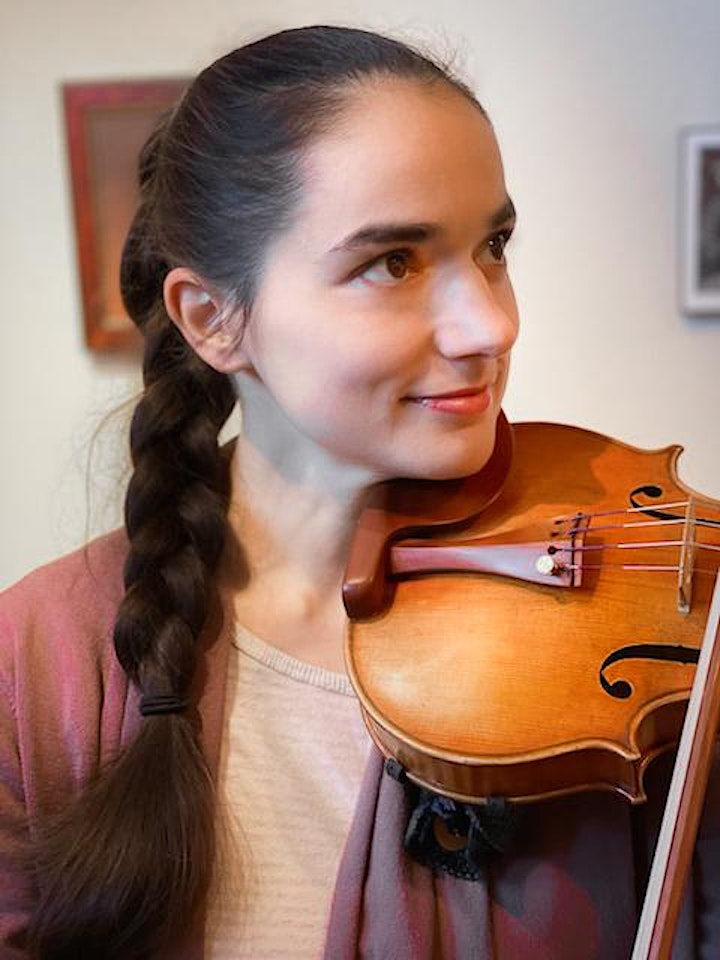 MARIA GORKUN
Violinist Mariia Gorkun enjoys an international reputation as a versatile violinist who has traveled all over the world to share her passion for music. Originally from Kiev, Ukraine, Mariia held a position at the Kiev opera for a time. With them and other ensembles, she has appeared on stages in Ukraine, USA, Russia, Switzerland, Hungary, Holland, Australia, Japan, and more. Mariia is concertmaster of the Refugee Orchestra Project, under the baton of Lidiya Yankovskaya, and has recently appeared at Lincoln Center and United Nations Headquarter in NYC. Mariia holds two Masters Degrees in Violin performance; she studied with many celebrated musicians including: Yaroslava Rivnyak, Jaap Schroder, Mark Lakirovich.
In 2012 she attended her first workshop with a famous American bow maker David Hawthorne, leading to her production of several Baroque bows. Her genuine enthusiasm and passion for bowmaking led Mariia to become an apprentice and later Hawthorne's assistant. At the moment, Mariia is working with David Hawthorne at his workshop in Cambridge, MA, where she makes and repairs fine bows.
As a musician, Mariia continues to freelance as a violinist, often as concertmaster, in various orchestras and ensembles. She also performs in an avant-garde jazz group.
Mariia has made many bows, both modern and baroque, which are in the hands of professionals and high level students in the US and Europe.Along with her career on the violin, Mariia is a maker of violin family bows, and works with one of the most important American bow makers, David Hawthorne. Mariia currently plays on the violin made by Karl Denis
Find more information about Maria please visit:
MARGARET BOSWELL SENYSHYN
Originally from Maryland, Margaret Boswell is a composer, pianist, and music educator currently based in the Boston area.
As a composer, she enjoys exploring the sonic possibilities of both 'standard' and more unusual instrumentations. Her works have been performed by Sybarite 5, the Amernet String Quartet, Duo con Fuoco, the Horzsowksi Trio, Ensemble Uncaged, and the Longy Conservatory Orchestra. As well as writing concert music, Margaret enjoys the art of being a singer/songwriter, and has been heard live on NPR affiliate WTMD's The Baltimore Hit Parade radio show.
As a passionate educator, she holds positions at Arlington Piano and Sharon Music Academy where she teaches piano, composition, theory, coaches chamber music, and accompanies students of all ages. She also has the pleasure to hold an active private studio in Watertown, MA.
She holds a BM in Composition and Keyboard Studies from Samford University, and an MM in Composition, and Graduate Performance Diploma in Piano from the Longy School of Music of Bard College Her studies have included compositional instruction with Joel Davis, Mark Lackey, John Morrison, and Paul Brust, and piano instruction under Kathryn Fouse, and Esther Ning Yau.
Find more information about Margaret please visit:
https://www.margaretboswell.com/