Description
Council on Asian Pacific Minnesotans presents
Calling Attention to the Needs of Hmong Children
Ceeb toom txog kev kawm ntaub kawm ntawv ntawm menyuam Hmoob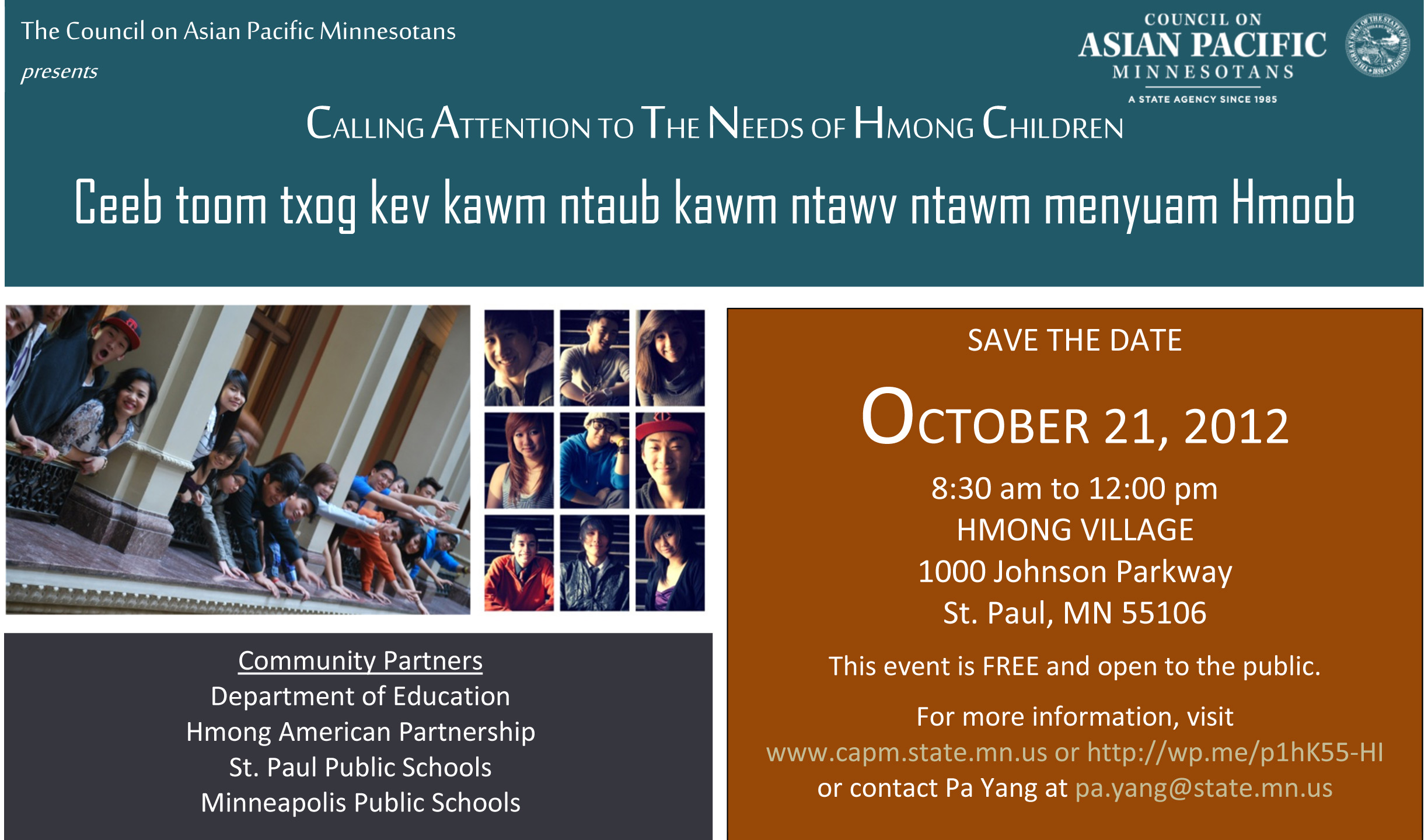 You are invited to the forum Calling Attention to the Needs of Hmong Children. The forum will include; findings from our recently released education report Asian Pacific Students in Minnesota: Facts, not Fiction, host a panel discussion on Hmong student achievement, and conclude with community members sharing their thoughts. The forum will be an opportunity for you to hear the Hmong community's reaction to the Council's report, as well as what they believe are barriers to student success, and potential solutions to those barriers. We will have in attendance: students, parents, education professionals, community leaders, and district officials.
The event is scheduled for Sunday, October 21, 2012, from 8:30am to 12:00pm at Hmong Village, 1001 Johnson Parkway, Saint Paul, MN 55106.
Agenda:
8:30 Registration
9:00 Welcome by Danny Lee, CAPM Board Member
9:10 Presentation of CAPM Education Report by Souvan Lee, CAPM Research Analyst
9:30 Panel Response
Rose Chu, Assistant Commissioner, Department of Education
Bee Lee, Parent Academy Administrator, St. Paul Public Schools
Kazoua Kong-Thao, Director, Office of Equity and Diversity for Minneapolis Public Schools
Minneapolis School Board Member
Hmong Parent
10:00 Panel Q&A
10:30 Small group discussion
11:15 Debrief
11:30 Closing remarks
The Hmong are the largest Asian ethnicity in Minnesota. Yet, according to the Department of Education, only 36.6% of Hmong students are proficient in math and only 46.6% in reading. The achievement gap is becoming more alarming.
This forum will be an opportunity to hear the Hmong community's reaction to the alarming facts about Hmong students' struggles in academic achievement. Please join us for discussion and hear from experts in the field of education.
Light Refreshments Provided.
For more information, please contact Pa Yang at pa.yang@state.mn.us or call her at 651-757-1740.
Community Partners
Department of Education
Hmong American Partnership
St. Paul Public Schools
Minneapolis Public Schools
Hmong Village