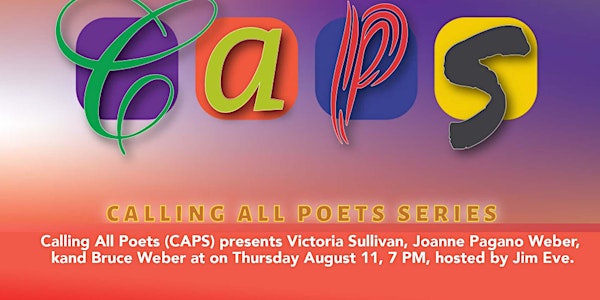 Calling All Poets (CAPS), August 11, 7 PM, Livestream/Live Audience
Calling All Poets (CAPS) presents Victoria Sullivan, Joanne Pagano Weber, and Bruce Weber at on Thursday August 11, 7 PM, hosted by Jim Eve.
Refund Policy
Contact the organizer to request a refund.
Eventbrite's fee is nonrefundable.
About this event
Calling All Poets (CAPS) presents Victoria Sullivan, Joanne Pagano Weber, and Bruce Weber at on Thursday August 11, 7 PM, hosted by Jim Eve.
This event will be livestreamed on the Green Kill Sessions YouTube Channel and will be open to a live audience of 30. Tickets are 5 dollars.
1. Please click "Tickets" button to access livestream or live audience ticket.
2. Select "Livestream Ticket" or "Live Audience Ticket". Audience members attending in person must be masked! Please choose the right ticket. A Livestream Ticket provides you with a link to the Green Kill Sessions livestream which can be accessed remotely on your own equipment. A Live Audience Ticket puts you on a list for a reserved set at the event, and also provides you a livestream link. If you are coming to the event, please arrive 15 minutes before starting time. There are no ticket sales at the door. All tickets must be reserved on Eventbrite.
3. Enter the number of tickets you would like to buy.
4. Enter your credit card information: Name, Number, Expiration Date, and CVV code. Double-check the info you entered. Make sure it's correct. It's easy to slip up!
5. select "Place Order". You will then have access to the page which has a watch event link. Click on that link to see the YouTube event address. An email will also be sent to the email address you provided with the link.
Shortly before the event, you will receive a reminder link.
Please be advised that tickets are not transferable. If you wish to buy a ticket for someone else, you must use their email when buying a ticket for an event.
Because COVID is still a potential hazard guests attending the livestream in person must be masked and vaccinated. Artists organizing events can limit the number of a live audience or decline to invite any in-person attendance.
Victoria Sullivan
Victoria Sullivan is a local performance poet who has read widely in the Hudson Valley, and is a regular co-host on The Woodstock Roundtable on radio station WDST (100.1FM), where she is the "poet laureate".  In recent years she has been performing improv jazz poetry & spoken word with the Peter Einhorn jazz quartet at Station, The Colony, and Early Terrible in Wookstock, NY.
Sullivan has had four chapbooks of her poetry published, most recently "When I Wasn't Looking" (Red Parrot Press), available on Amazon. Her poetry has appeared in numerous journals, including Up The River, Home Planet News, Artist & Influence, Manhattan Poetry Review, Broadway Boogie, 13th Moon, and others.
Sullivan is also a playwright and her plays have been performed in 7 Equity Showcase productions in Manhattan, as well as in Phoenicia & Cooperstown, NY.  She is a member of the PEN Prison Writing Committee, and in that role judged poetry and drama scripts in their annual prison-writing contest for a decade.
Joanne Pagano Weber
Joanne Pagano Weber is an artist and writer who exhibits in the tri-state area. She created the sets for the Hudson Valley New Year's Day Spoken Word/Performance Extravaganza since 2020 and she is an active member of Shout Out Saugerties, a town organization that creates community through the arts. She is co-curator of Dialogues for the Ear and Eye, a cross-disciplinary salon for the arts.
Bruce Weber
Bruce Weber is a poet and historian of American art. His most recent book is There Are Too Many Words in My House, published by Rogue Scholars Press. 
Jim Eve
Host, Jim Eve is the founder of Calling All Poets, Inc. which in March 2021, will be in its 22 year.  CAPS was based at the Roost Gallery and Studio in New Paltz, New York, but now thrives in the virtual world thanks to ZOOM.  He has been a facilitator of poetry for over thirty years.  He tinkers with words, writing scattered thoughts some call poetry.