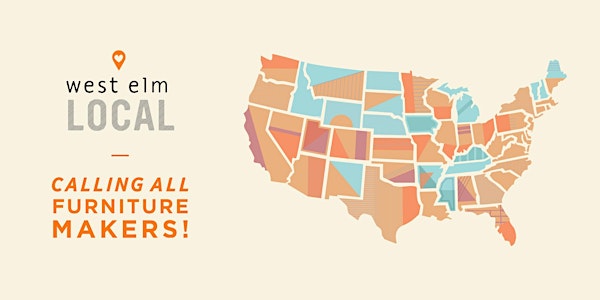 Calling All Furniture Makers + Designers!
Description
west elm LOCAL Showcase FURNITURE EDITION - Submission Site
Click on REGISTER and select your local west elm to submit a link to your work for consideration.
Be sure to read the category guidelines below before submitting.
PLEASE ONLY SUBMIT FOR ONE STORE. MAKERS WILL NOT BE CONSIDERED FOR MULTIPLE STORE EVENTS.
Submit by May 28th!
---
Interested in becoming a part of west elm LOCAL? We're looking for new furniture makers for our assortments and future pop-ups! If your product is a fit, your local store will contact you to schedule a time to meet. After meeting in person, your assortment may be selected to be considered for future pop-ups or for inclusion in our permanent LOCAL collection.
LOCAL is looking for:
Side Tables
Coffee Tables
Dining Room Tables
Benches
Stools
Consoles + and more!
LOCAL does not carry:
Foldable Furniture
Rocking Chairs
Bean Bag Chairs
Bunk Beds
Adult Loft Beds
Step Stools
Other items at our discretion
Not a furniture maker, but interested in partnering with LOCAL? Contact your neighborhood west elm to schedule a time to meet or email welocal@wsgc.com with links to your work.
If you are an existing LOCAL maker and you are interested in selling your furniture products as a part of your assortment, please contact your local store or email your west elm LOCAL partner at welocal@wsgc.com.