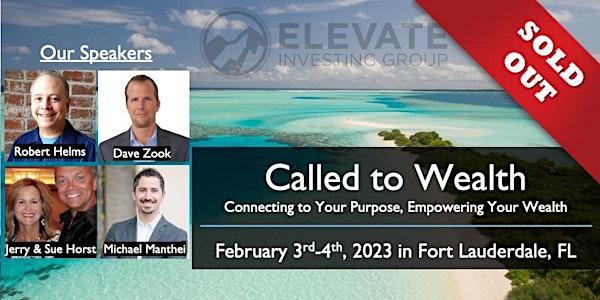 Called to Wealth - Fort Lauderdale FL
Get connected and empowered to take your purpose and wealth to the next level with Robert Helms, Dave Zook and Michael Manthei
When and where
Location
Hollywood Beach N Ocean Dr Hollywood, FL 33019
Refund Policy
Contact the organizer to request a refund.
Eventbrite's fee is nonrefundable.
About this event
I'm thrilled to invite you to beautiful Hollywood Beach Fort Lauderdale Florida this February 3rd and 4th, 2023 for a new event: "Called to Wealth"!
This is not your typical conference. This is designed for you, your spouse, and your business partners to come and receive a powerful reset spiritually AND financially.
It is so easy to get focused on the grind, the goals, the hard work required for success, and planning for each possible scenario that may arise.
But I'll never forget what one of my mentors said to me, "A billionaire doesn't work a thousand times more than a millionaire."
Stop and consider that ….
Sometimes we get so focused on what's right in front of us, we don't take the time to elevate our perspective and see the incredible opportunities around us.
And even for those of us who regularly take time to consider the big picture, how often do we do so in an environment that encourages not just our business sense, but our awareness that there is more to life than financial abundance?
This event is for those who are not satisfied with the status quo, both in their business life as well as their spiritual and family life.
The Venue
There is nothing between the hotel and the ocean except the beautiful white sands of Hollywood Beach, and the hotel also has direct access to the "Broadwalk" which is over two miles of shops and restaurants, all within easy walking distance.
The Speakers
Our speakers all have generated massive financial abundance for themselves and their family, and we will absolutely be sharing our best wealth keys for you to apply in your own life. The speakers for this event are:
- Robert Helms, Robert is the host and founder of The Real Estate Guys™ Radio Show, which has been continuously broadcasting on conventional radio in the United States since 1997. The podcast version of the broadcast is one of the most listened to real estate investing shows on iTunes with listeners all over the world. Robert is a long-time real estate investor with a diverse background in real estate brokerage, development and property management.
- Dave Zook, Dave is a successful Business owner, Syndicator and an Investment and Tax Strategist. He has acquired more than $350M of Investment Real Estate since 2010 which include multiple large institutional grade Self-storage facilities, Tommy's Express Carwashes and Energy investments. Dave and his team at The Real Asset Investor are one of the Top 5 ATM Fund Operators in the country, and they provide investment opportunities in their ATM, Self-storage, Carwash and various Funds for Cash Flow, Tax Impact and Equity Growth. Dave was an early investor in BTC and Digital Assets and currently has an advisory role at Off the Chain Capital, one of the top performing funds in the world for the last 5 years. Dave and his wife Susan along with their 4 children live in Lancaster PA.
- Michael Manthei, Michael came off the mission field at 29 without a dime to his name or any financial or real estate experience and leveraged his wife' life savings of $25,000 into a multi-million dollar real estate portfolio, over $1,000,000 in equity, and enough investment income to never have to work a job ever again, all in less than four years. Since then, he has focused on helping others achieve greater financial freedom through putting together syndications and building an amazing investing education community called ELEVATE Investing Group.
This event is going to explore and provide keys for you to take the next step in your spiritual and family life as well. The truly successful understand these are the deeper issues of life, and we are wise to encourage their growth.
The Schedule:
The format for Called to Wealth 2023 is intentionally designed to provide key wealth accelerating strategies, life changing spiritual development, as well as ample time to relax and be refreshed in a rejuvenating environment.
Be inspired by our conference sessions, then enjoy an afternoon break to discuss and ponder the topics with your spouse, business partner, and other like-minded conference attendees.
Fly in Thursday night and be ready for amazing content and connection!
Beginning at 9am on Friday, the first two thirds of each day will be content rich sessions, then you will have several hours to enjoy the beach, the pool, get some fresh air, and connect with the amazing community of attendees. Then you'll return to the hotel at dinner to find your seat and enjoy a banquet dinner, included in the price of admission, and engaging conversation.
We will repeat this pattern Saturday with morning content until early afternoon, several hours of personal time, then another banquet meal together.
We encourage you to fly out later on Sunday so you can soak up as much refreshment as possible. This investment in yourself, your spouse, and your business partners will pay you back many times over so take full advantage of it.
What You Will Leave This Event With!!
Learn business and investing strategies that will accelerate your finances!
Be inspired to uncover even more of who you've been created to be!
Find community and build relationships with fellow character-based investors and business owners!
Relationships developed through our events often have long lasting fruit through friendships, business partnerships, and mutual growth as you get inspired by others who are pursing the same things in life.
It's so rare to find other successful people who hold the same values as you do!
And be refreshed in a relaxing environment, so that you're renewed and ready for action when you get back home.
I expect this event to have a special and intimate feel.
I believe this event will spark something in you that will cause lasting change, in deep and fulfilling ways.
I can't wait for you to join me in this journey!
To Your Highest and Best,
Michael Manthei
FAQs:
Where is the venue?
The venue is directly on the beach and is less than 5 miles from the Fort Lauderdale-Hollywood International Airport, 25 miles from the Miami International Airport and 50 miles from the Palm Beach International Airport.
What venue is it?
We will share our exact venue and our room block link once you purchase a ticket.
Will I need to rent a car?
You won't need to rent a vehicle unless you would like to. The venue is located right on the Hollywood Beach Broadwalk. They are over 50 restaurants within walking distance of the venue.
How will I get to the venue from the airport?
The venue recommends GO Shuttle, Uber, or Lyft.
What is the schedule for the event?
On Thursday evening, there will be an informal reception for those that arrive early. Both Friday and Saturday will have sessions from 9a until early afternoon. The afternoon will be entirely free to connect and relax. A buffet dinner will be provided at 6pm each evening.
What is the attire?
The dress is business casual. The Florida weather will likely be warm, but our meeting room may be on the cool side, so plan accordingly and bring an additional sweater, wrap, or jacket.
Should I bring my family?
This is a fantastic event to bring your spouse!! Unfortunately, we do not have any content for children at this event.
What is the weather going to be like?
This is peak season in southern Florida, so we are expecting beautiful sunny weather in the 70's! Don't forget to bring sunscreen. Please check the weather before you depart.
Is there a discount to buy multiple tickets?
If you want to buy more than five tickets, please email danielle@investelevate.com and we can offer a discount.
Is my hotel room included in the price of admission?
No, the ticket does not include your hotel room. But it does include two days of content from morning to afternoon, and a banquet dinner each evening!
Thank you! So excited for you to join us!