Location
The Church of Garden Valley
22450 Farm to Market Road 1995
Lindale, TX 75771
United States
Called Out Conference is designed to empower and equip churches, families, pastors, and leaders on how to navigate the topic of SSA.
About this event
JBM has partnered with Pastor Thomas Saali from Cornerstone Assemblies of God Church in hopes to shed light on this very important issue.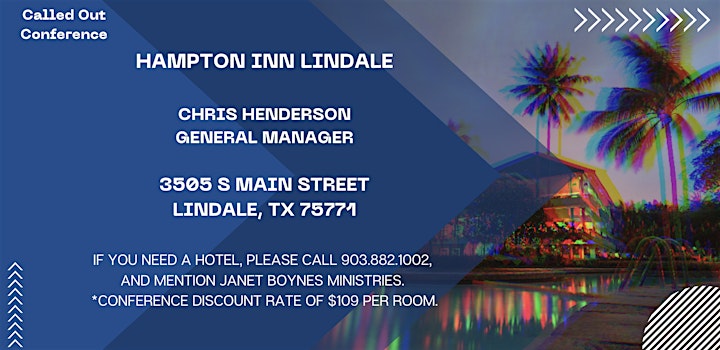 Speakers:
Janet Boynes:
Bio: Janet founded Janet Boynes Ministries in 2006. She authored the books: Called Out- A Former Lesbian's Discovery of Freedom, Arise- The Journey from Fear to Faith, and God& Sexuality-Truth & Relevance Without Compromise, which is her latest book. She challenges individuals and the church to reach out with a message of hope and restoration to the homosexual community. Her articles have appeared in Charisma Magazine, Called Magazine, Power for Living, Believer's Voice of Victory Magazine and many more. Her life is proof that the love of God has the power to heal and restore the brokenness in our lives. Janet is an ordained minister, travels the U.S and overseas sharing her testimony & helps Pastors & Ministries have a better understanding of the issue. Her desire is to bring hope through the power of Jesus Christ.
Dr. Michael Brown:
Bio: Dr. Michael Brown is the founder and president of AskDrBrown Ministries and FIRE School of Ministry in Concord, North Carolina. He is host of the daily, nationally, syndicated talk radio show, the Line of Fire, where he serves as your voice of moral, cultural, and spiritual revolution. He also hosts TV on GOD TV, Middle East TV (METV), and NRB TV. He is the author of 37 books, holds a Ph.D. in Near Eastern Languages and Literatures from New York University, and has served as a visiting or adjunct professor at 7 leading seminaries. He is widely recognized as today's foremost Messianic Jewish apologist.
Pastor Mondoe Davis:
Bio: Mondoe was a professional football player with the N.Y. Jets in the N.F.L. and a health and wellness manager and consultant before entering into full-time ministry. He holds a bachelor's degree in sociology and a master's degree in public administration, with a concentration in urban affairs and public policy, from the University of Delaware. He graduated from Rhema Bible College after completing coursework in pastoral studies.
David Pickup:
Bio: David Pickup is a Licensed Psychotherapist and conservative Christian in Addison, Texas. His practice of Reintegrative Therapy helps clients from all over the world to reduce or dissipate their homosexual or dysphoria feelings brought on by early trauma or severely unmet childhood needs. David is a frequent speaker for churches, psychological organizations and state legislatures to navigate these complex issues from a Christian and psychological perspective.
Jonathan Alexandre:
Bio: Jonathan Alexandre is an attorney and Senior Counsel for Governmental Affairs for Liberty Counsel is an international nonprofit, litigation, education, and policy organization dedicated to advancing religious freedom, the sanctity of life, and the family since 1989. In this capacity Jonathan consults with and advises law and policy makers at the federal, state, and local levels across the nation. Jonathan was formerly the Assistant General Counsel and Public Policy Coordinator for the Massachusetts Family Institute in Boston. Alexandre developed the Massachusetts Attorney Resource Council, a network of pro-family Massachusetts attorneys. Jonathan previously worked for The Jerusalem Center of Public Affairs in Jerusalem, Israel as a Scholar in Residence, and the United States Army's Judge Advocate General's Legal Center and School. He is Married to His Wife Renee Alexandre.
Testimonies:
Tim and Janet Distel:
Bio: Tim and Janet have been happily married for 38 years. Both are graduates of Oral Roberts University in Tulsa, Ok. They have helped in many areas of ministry for 40 years, including marriage counseling and helping parents who have children struggling with same sex attraction. They have two grown daughters and three grandchildren.
Luis Javier Ruiz
Bio:Luis Javier Ruiz was Born in Nuergnburg Germany. Luis served as a Combat Veteran in the United States Army for fifteen years and now resides in Orlando, Florida. He survived one of the most deadly shootings in US history: The Pulse Nightclub shooting. The attacker killed 49 people and wounded 53. Luis survived, but was trampled while trying to escape for his life. He later found out that he is HIV positive. Although life threw him many challenges, he always remembers his parents teaching him about a God who was in total pursuit of him. Surrendering to Jesus meant he had to give God all of his heart and not just some of it. While the enemy meant to kill, steal, and destroy his life, the God of the turnaround is using it to reach the lives of many. Luis is using his story to share a message of truth and love that is found in Jesus, and that Jesus doesn't just set you free, He sets you free indeed!
Laura Perry
Bio: Laura Perry is a former transgender whose message of transformation through Jesus Christ to restore her feminine identity can relate to those who struggle, those who have transitioned, parents and loved ones, and those in the church who want to reach them. Her story has been covered on CBN's The 700 Club Interactive, and various radio programs and articles as well as in her autobiography, Transgender To Transformed. After more than three years of discipleship, women's studies, and meeting many other transgenders, she has learned and can relate many of the underlying issues that lead to transgenderism, the truth about the agenda, and how to help others out of it through the power of Jesus Christ.
Angel Colon:
Bio: Angel Colon was Born in Massachusetts and now resides in Orlando, Florida. He survived one of the deadliest shootings in US history: The Pulse Nightclub shooting. The attacker killed 49 people and wounded 50. By the grace of God, Angel survived but was shot multiple times and suffered a shattered femur. Despite his wounds, Colon was determined not to let this shooting discourage him. Growing up in a strong Christian home he knew the Lord was the source of his strength. What started as his "mess." has now become his message. Angel is using his voice to spread a message of hope, forgiveness, and faith to all who will listen. He wants the world to know that there is Freedom in Jesus Christ.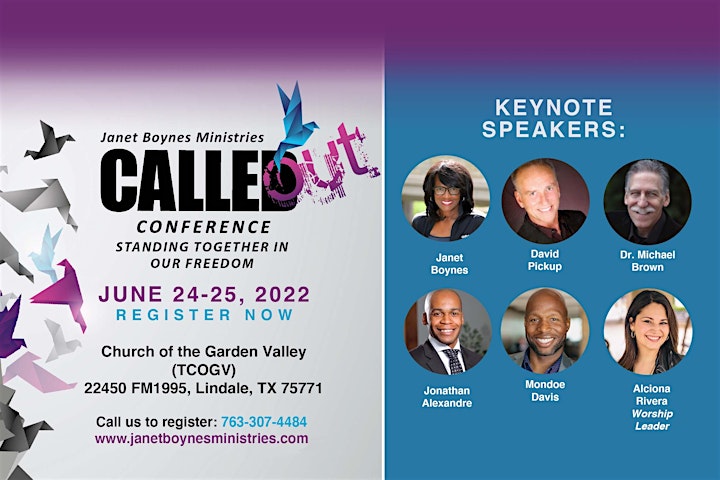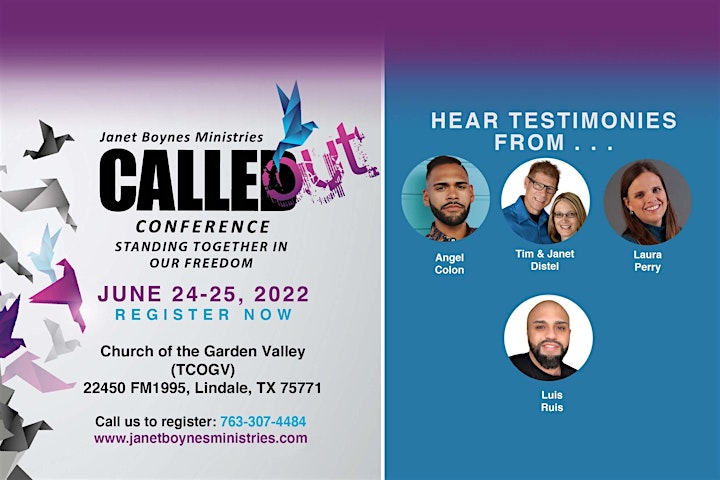 Hotel Information:
If you need a hotel, please call 903.882.1002, and mention Janet Boynes Ministries.
They will make sure to give you the conference discount of $109 per room.
Chris Henderson
General Manager
3505 S Main Street
Lindale, TX 75771