Tickets to Cheer Available Here! Callanwolde School of Dance and Parking Lot Productions Present , "Hope for a Holiday Show"
About this Event
About this Event
Join us for a physically and safe disDANCED evening under the stars featuring members of the Callanwolde School of Dance and Prime Movers Dance Company Program.
A show written in verse follows Callanwolde's resident actor/percussionist Mark Little as he plays a Producer in search of enough magic, heart, and hope to make a Holiday show.
A pursuit that is nothing short of a feat given a myriad of obstacles that at times mirror our current life circumstances." Hope For A Holiday Show" roams the beautiful grounds of Callanwolde with surprising moments that are sure to make you laugh, raise your spirits, and take your breath away.
Just what this season calls for, moments of merry and artful bright! Bundle up and join professional dance makers Corian Ellisor, Jillian Mitchell and Jerylann Warner with guest choreography by faculty member Katie Messina. Please see our Safety Guidelines below for how we plan to keep our guests safe.
Written and Directed by Jerylann Warner
Lighting Design and Execution by Grant McGowan of Pinch and Ouch Theatre
Film of "Snow "created by Jillian Mitchell
Ticket Information
Safety is the primary concern at Callanwolde. We will be implementing our physically distanced seating "pod" structure. Parties will be seated comfortably within each pod and will be 6 ft. from all other pods. We will have an option of 2 or 4 person pods, if your party is larger than 4, please purchase additional pods to accommodate. Children under 12 do not need to count in your party number and can be added to any pod.
2 person pod - $40.00
4 person pod - $80.00
Sunday 5:30 Performance Online Streaming - Donation
Parking
Guests will park across the street from Callanwolde at Metro City Church and Morningside Kindergarten Center. See address below. An officer will be assisting guests across the street to Callanwolde.
999 Briarcliff Rd. NE
Atlanta, GA 30306
Safety Guidelines
To keep our guests safe, we will be implementing our "pod" structure to keep guests 6 ft. apart. See 'Ticket Information' for more information about our "pod" structure.
Guests will be moving from the parking lot to the Amphitheater and back up to the parking lot during the performance. We will have pods laid out in both locations and will ask that guests be mindful of their distancing when moving from location to location.
Guests will be required to wear masks during the performance. The duration of the performance is 45 minutes.
Cancellation & Refunds
Should Callanwolde deem cancellation of this event necessary due to inclement weather, all tickets will be transferred to our back up performance date of December 21, 2020. If you do not wish to attend the December 21st performance, a refund will be issued minus transaction fees. This event will not be moved indoors under any circumstances.
Note from Callanwolde
By attending this event you assume the elevated risk of contracting COVID-19 and hold Callanwolde Fine Arts Center and DeKalb County harmless.
Amphitheater Layout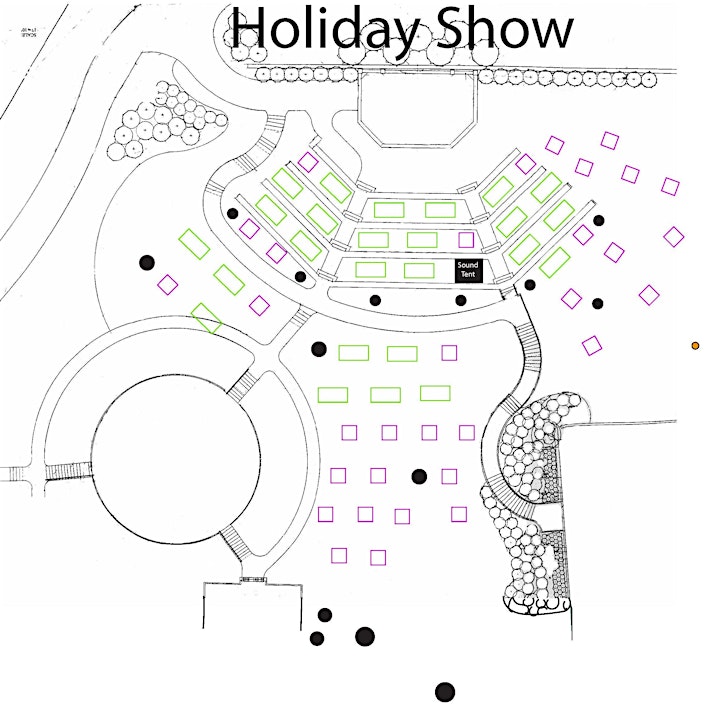 Parking Lot Layout