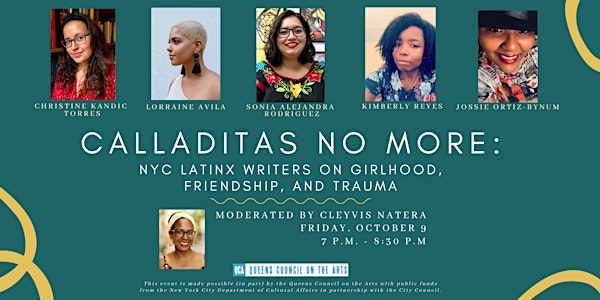 Calladitas No More: NYC Latinx Writers on Girlhood, Friendship, and Trauma
A virtual reading and panel discussion featuring NYC Latinx writers on female friendships and toxic masculinity.
About this event
Join us for a virtual reading and panel discussion featuring NYC Latinx writers reading their own prose and poetry on female friendships, toxic masculinity, and rape culture. Men in our community need to be held accountable for their actions, but change cannot come without our own introspection across the intersections of race, ethnicity, and gender: in what ways have we been conditioned to cape for the men in our lives? When we implore our community to "believe women," we must acknowledge we are not only speaking to cis-het men, but to our mothers, sisters, girlfriends—sometimes even fellow survivors. How can literature help us to recognize and heal internalized misogyny? What is the role of art, if any, in making sense of trauma?
Advance registration is required; attendees will receive log-in information the day of the event.
Writers featured will include:
Christine Kandic Torres is a Latinx writer, born and raised in Queens. Her short fiction has been published in Catapult, Kweli, Cosmonauts Avenue, and Lunch Ticket. Through the Queens Council on the Arts, she received a 2020 New Work Grant from the Queens Arts Fund for work on her first novel, Strike Three, as well as this virtual community event.
Lorraine Avila is a Black woman with Caribbean roots in the Dominican Republic. Born and raised in the Bronx, her mission is to break free from generational trauma by continuing to rupture the traditions of silence. She is the author of Malcriada & Other Stories.
Sonia Alejandra Rodriguez is a Professor of English at LaGuardia Community College in New York City. She is an immigrant of Juarez, Mexico and raised in Cicero, IL. Her work has been published in Huizache: The Magazine of Latino Literature, Hispanecdotes, Acentos Review, Longreads, and Lost Balloon.
Kimberly Reyes is the author of the poetry collections Running to Stand Still (Omnidawn) and Warning Coloration (dancing girl press), and her nonfiction book of essays Life During Wartime (Fourteen Hills) won the 2018 Michael Rubin Book Award. A second-generation New Yorker, Kimberly was the 2019-2020 Fulbright fellow studying Irish Literature and Film at University College Cork.
Jossie Ortiz-Bynum is a GenderQueer Latinx multi-artist that has been writing poetry since their adolescence to mend the negative impact of being raised in a society intrigued by gender roles. A Nuyorican poet who writes hand in hand with their vulnerability in a versatile poetic collection of their faith, self-identity, mental health, marriage, and parenthood. With their writing, Jossie hopes to bring awareness to the veracity that Queerness is not impermissible.
Moderator, Cleyvis Natera is a Dominican immigrant and a writer. She's currently hard at work on her first novel, Neruda on the Park. Her work has appeared in the Kenyon Review, The Washington Post, The Women's Review of Books, Kweli & Asterix, among other publications. Follow her on Instagram @cleyvisnatera.
This event is made possible (in part) by the Queens Council on the Arts with public funds from the New York City Department of Cultural Affairs in partnership with the City Council.