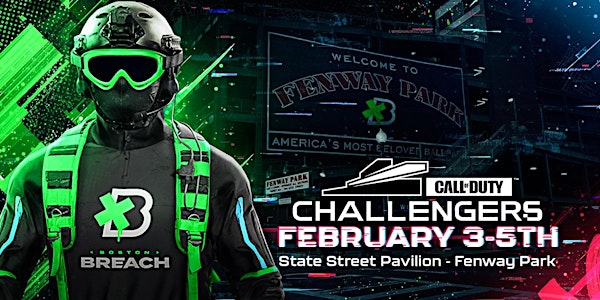 Call of Duty League™ Major II Challengers Tournament - Boston, MA
NOTE: This includes 5 four-day GA tickets for the Major. These will be transferred via Ticketmaster. Please see Q&A below.
When and where
Location
Fenway Park - State Street Pavilion 4 Jersey Street Gate D Boston, MA 02215
About this event
The Boston Breach is hosting Call of Duty League™ Major II continues to raise the bar for Challengers players by welcoming them to the most iconic ballpark in the US, Fenway Park. The next installation of the Call of Duty® Challengers circuit will be hosted in the State Street Pavillon in Fenway Park. We are excited to host our second Challengers event and welcome players from around to globe to compete for glory and their slice of the $75,000 prize pool.
Below is some basic information to consider prior to arriving to compete or spectate:
Recommended Hotels and Accommodations:
Residence Inn by Marriott Boston Back Bay/Fenway
2125 Brookline Ave, Boston, MA 02215 Phone - (617) 236-8787 Website
The Verb Hotel
1271 Boylston St, Boston, MA 02035 Phone - (617) 566-4500 Website
Venue Specifics and What to Bring:
No outside food or drink will be allowed inside Fenway Park or MGM Music Hall. Concessions will be available for sale. There will be beer, wine and mixed drinks available at the bar inside MGM Music Hall for those over 21.
Spectators must have a ticket to Major 2 and the proper credentials to enter the ball park.
Players should bring:
Controller, Micro USB Cable and 3.5mm Headset
Prizing Breakdown:
1st: $24,000 2nd: $12,000 3rd: $7,500 4th: $6,000 5/6th: $3,750 7/8th: $2,250 9-12th: $1,875 12/16th: $1,500
What is the Challengers Format & Prizing Breakdown?
Bracket Format: All series up until Top 32 in Challengers will be a Best-of-3. Once we are down to our top 32 teams all matches will then become best-of-5. This is for both winners and loser bracket matches.
Where can I find the Official Rules?
You can find the official rule documents listed below.
How do I receive my Major 2 tickets?
All 5 tickets will be sent to the captain (purchaser of team pass) via Ticket Master app to the email used to register and purchase the Challengers pass here. Captain will be able to assign tickets to teammates on their behalf
Do I need my full team to Check-In as a competitor at the event?
We ask that either the team captain or entire team are present for check-in
When is Roster Lock & Challenger Points Cut-off?
Challengers Roster Lock: Monday, January 30th at 6:00 PM EST
Challengers Point Cut-off: Monday, January 30th at 6:00 AM EST
Where can I find the Round & Heat Schedule?
The full Challengers Round & Heat Schedule can be found below, times are subject to change. To see the most up to date accurate Challengers schedule information please see the in-venue information booth.
Friday, February 3rd
10:00AM EST - Check-In
Saturday, February 4th
10:00 AM EST – Winners Round 4 & Losers Round 4
Sunday, February 5th
10:00 AM EST – Winners Finals & Losers Round 9
As a Challengers player which sponsors can I represent?
There are certain sponsorship rules and guidelines you must follow as a Challengers competitor. You can find specific sponsor restrictions in Section 8 here.
Who can I contact for more information?
You can email: amateur@callofdutyleague.com if you have any further questions.
Terms and Conditions:
Personal information Boston Breach and/or the Call of Duty League ("CDL") collect or receive in connection with your ticket purchase is subject to the Boston Breach privacy policy available at oxgesports.com/privacy-policy and Call of Duty League Privacy Policy available at http://callofdutyleague.com/en-us/legal/privacy-policy. Ticket holder (and/or ticket holder's parent or legal guardian) grants Boston Breach and CDL and each of their respective parents, subsidiaries, affiliates, sponsors, advertisers, media partners, licensees and other designees the irrevocable permission to use holder's name, image, voice, and/or likeness in any media (now or hereafter existing), video display, or other transmission, reproduction or depiction in connection with all or part of the event to which this ticket admits holder, for any purpose whatsoever, including commercial purposes. Ticket holder agrees not to transmit or aid in transmitting any photograph, image, video, livestream or other account or description (whether text, data, auditory or visual) of all or part of the event to which this ticket admits holder (the "Works"). Transmission or other distribution by, to, or for any commercial enterprise, and any public performance or display, direct or indirect, of the Works are also strictly prohibited. Ticket holder (and/or ticket holder's parent or legal guardian) agrees that by causing this ticket to be scanned upon entry to the venue, ticket holder shall be understood to have signed this document and granted TEAM and CDL an exclusive, worldwide, sub-licensable, royalty-free license to all copyrights associated with the Works.
Ticket holder (and/or ticket holder's parent or legal guardian) recognizes the inherent risks of attending esports and/or entertainment events and assumes all risks incident to the event which this ticket admits holder, including but not limited to the risk of lost, stolen or damaged property or personal injury. The sole and exclusive remedy for ticket holder if admission is refused or withdrawn, or if the match is cancelled and not replayed, is a refund of the face value of ticket, and ticket holder will not be entitled to consequential, incidental, indirect or exemplary damages of any kind, including without limitation any amount paid in excess of face value to any third party. Boston Breach liability for any breach of any term of this ticket shall not exceed the face value. No refund or other remedy will be provided if ticket holder is ejected or refused entry as a result of failure to comply with these ticket terms or any Arena security policies. Ticket holder and Boston Breach mutually agree that any and all disputes, claims and causes of action arising out of or connected with ticket holder's use of this ticket must be resolved by neutral, binding arbitration pursuant to the JAMS Streamlined Arbitration Rules and Procedures, without resort to any form of class action. Ticket holder and Boston Breach expressly waive any right to a trial by jury.
Age Requirement:
Must be 17+ unless accompanied by a parent or legal guardian. 16 years old can attend without a parent but they must have a signed minor in attendance form. Any minor 13-15 years old can attend if accompanied by a parent or legal guardian and have completed a minor in attendance form. No one under the age of 13 will be permitted in the event.