"Call Her Ganda" Film Screening and Panel Discussion
Description
Pride is a time to celebrate how far we have come but it is important to remember how far we still need to go. Join Santa Clara County Division of Equity and Social Justice and other community partners in the screening of "Call her Ganda". The film tells the story of Jennifer Laude, a Filipina transgender woman, brutally murdered by a U.S. Marine. Three women – an activist attorney, a transgender journalist, and Jennifer's mother galvanize a political uprising against transgender based violence, pursuing justice and taking on histories of US imperialism.
Watch the trailer here: https://www.youtube.com/watch?v=6YwQtgBRhZQ
Agenda:
5:30pm - 6pm: Reception in Back Patio
6:00pm - 6:05pm: Welcome
6:05pm - 7:35pm: Film Screening
7:35pm - 8:15pm: Panel Discussion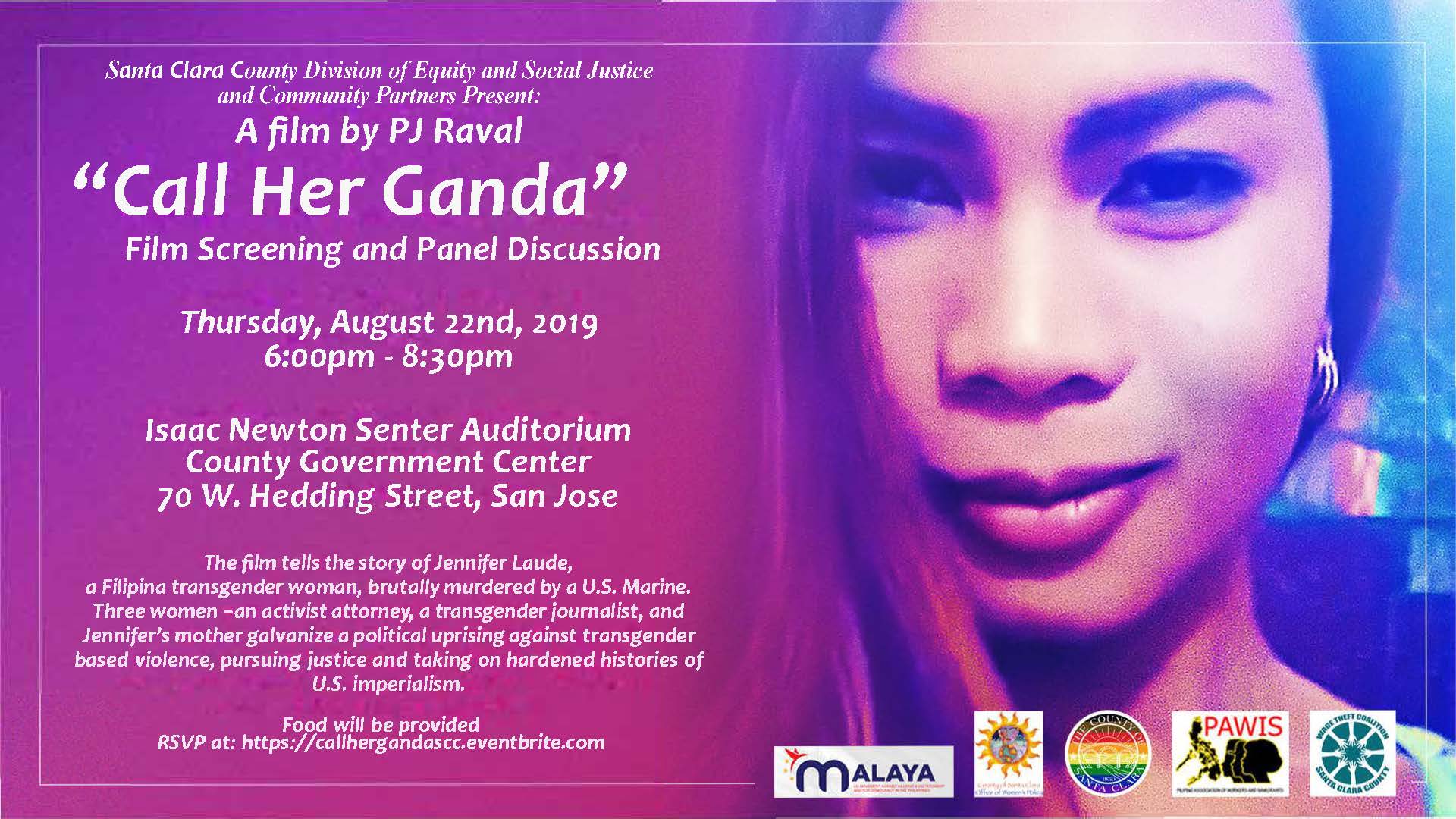 Organizer of "Call Her Ganda" Film Screening and Panel Discussion
Developed in the spirit of collaboration between the County and the community in 1998, the Office of Women's Policy is a leading voice in Silicon Valley on the needs of women and girls, serving as a catalyst for awareness and action on current and emerging issues that impact women's health, safety and security.  Through analysis, research and strategic collaboration, OWP works to ensure that programs and services, and also systems and policy support women's leadership, full equality and advancement in the home, at work and in the community. 
Our Strategies
Serve as a bridge between County and community to ensure the voice of women and girls is present in decision-making 

Conduct outreach and dialogue to identify and raise awareness of current and emerging issues for women and girls

Strategically collaborate to better leverage resources, identify programs and services, and examine the effectiveness of policy and systems in meeting the needs of women and girls

Influence the legislative process at the local, state and national levels
Our Major Policy Tracks
Everything we do at the Office of Women's Policy is guided by the belief that we must leverage the strength of women and girls to create a local, strong, sustainable economy that is equitable to all.  Our major policy tracks for action include:
Health

Education

Violence and Crime

Economics