CALL FOR VOLUNTEERS! Willow Springs Boys Ranch Fall Work Day
Description
Willow Springs Boys Ranch

Work Day
Come and join the SPE YP Board on Saturday, October 21st to do some work around the Willow Springs Boys Ranch and enjoy activities with the boys and house parents. Activities include fishing, basketball, and fitness activities, as they have a gym onsite. Hopefully, we can even play a big game of kickball or tag football going! This is be a great opportunity to give back to the WSBR and spend time interacting with the young men. Lunch will be provided by Leon West, from Dover Artificial Lift Systems!
What is the Willow Springs Boys Ranch?
Willow Springs Boys Ranch is a long-term residential childcare program that accepts applications from boys between the ages 7 to 12 years old. Boys are able to live on the ranch until they graduate from high school, obtain their G.E.D. or participate in an independent living program after graduation. The Ranch takes boys who find themselves in a family crisis, abandoned, in need of supervision or from broken or dysfunctional homes.
Willow Springs Boys Ranch will not accept those with violent or aggressive behaviors. The focus of the program is preventative in nature. It is the Ranch's goal to provide an environment where boys can become successful and develop into productive adults. WSBR is a team of families that possess a passion for helping boys who need a second chance ... or for many, a first chance.
Willow Springs Boys Ranch helps boys find appropriate ways to deal with the struggles and face conflicts of life. WSBR utilizes each of its relational program components as opportunities to develop solid relational skills, coping skills, education, work ethic and character development in order to face the challenges of life. This lifestyle is not just talked about at Willow Springs, it is lived out daily in community. When boys leave Willow Springs, it is our goal that they leave with the tools to not just get by in life, but to live successfully and with confidence as productive men and leaders in their families and in our communities
Location/Directions
The directions based the address (880876 S 3390 Rd., Chandler, OK, 74834) can be tricky if just navigating through a mapping app alone so please take a look at the map with directions below. If you get lost, or need help with direction because contact Derin Carr, Ranch Director, at 405-258-6499.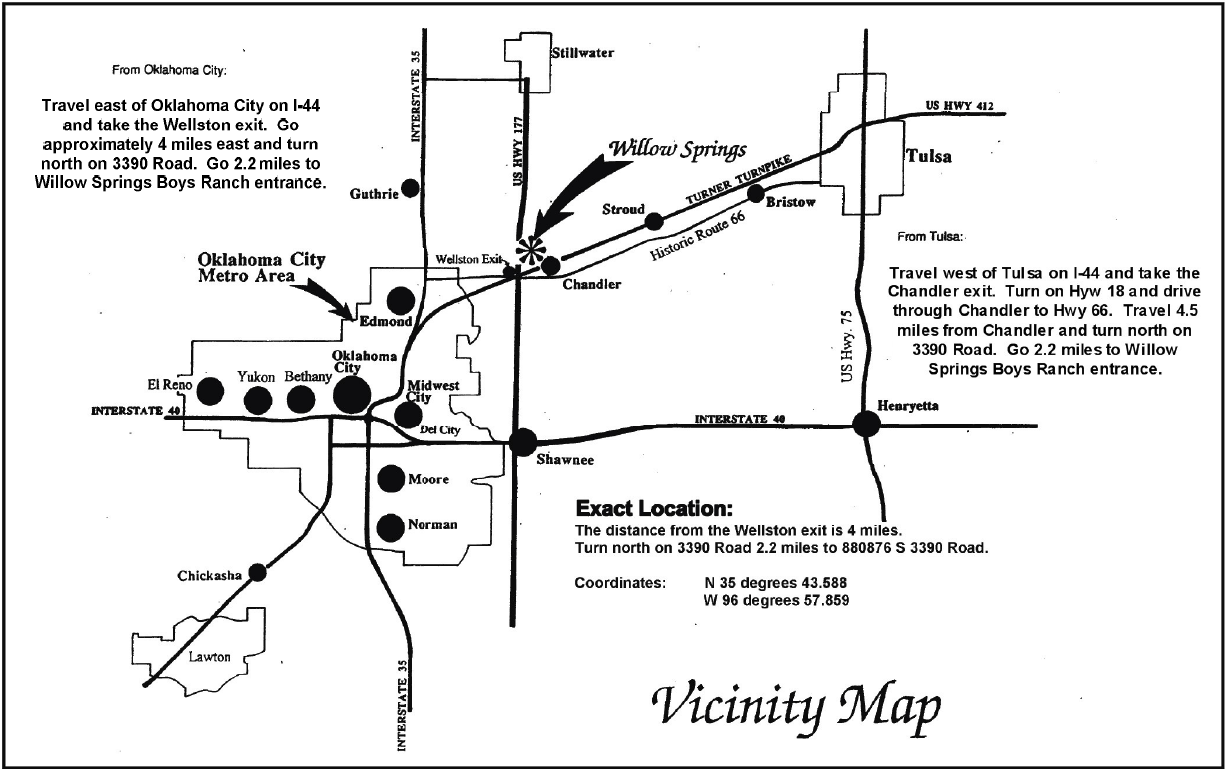 If interested in carpooling, we will be meeting in the parking lot of Quail Springs Mall at 8:30am to carpool to the ranch.
For any quesitons about the event or volunteering, please contact Hannah O'Neill (Hannah.Oneill@chk.com) or Colleen Shappee (Colleen.Shappee@halliburton.com).