Event Information
Location
Mz. Baltazar's Laboratory
52-54 Jägerstraße
1200 Wien
Austria
Responsible for the industrial alienation of the human, non-human, and planetary.
About this event
Welcome to the Molecular Queering Agency. We are the agency responsible for the industrial alienation of the human, non-human, and planetary. The molecular colonization of endocrine-disrupting compounds asks us to acknowledge our bodies as changeable, mutable, and responsive to the environment. We invite you to join a 10-person (socially distanced) disobedience ritual designed to neutralize your eco-heteronormative fears around our collective alien becoming. We ask you to be loyal representatives of MQA and carry out this performance with a sample of your own urine. You will also be dressed in MQA uniforms and guided through simple choreography that is part science and part witchcraft. The uniforms include a plastic oxygen mask that may slightly limit airflow. The performance will be English-speaking and photo-documented and may be attended by a larger public audience. All uniforms and equipment will be sanitized for the performance.
We have only 9 slots available for this participatory performance. No prior experience or background knowledge is necessary. During the performance, you will need to put on a clean costume, wear an oxygen mask, perform simple choreography and provide your own urine at the site. The performance will be followed by a group discussion, so please expect to be on at the performance site for at least 2 hours. Registration is first come first serve however priority is given to queer, migrant, and POC individuals.
SUPPORTED BY
FWF | The Austrian Science Fund, BMKÖES | Federal Ministry Republic of Austria Arts Culture, MA7 | City of Vienna Culture Department and FFG | The Austrian Research Promotion Agency.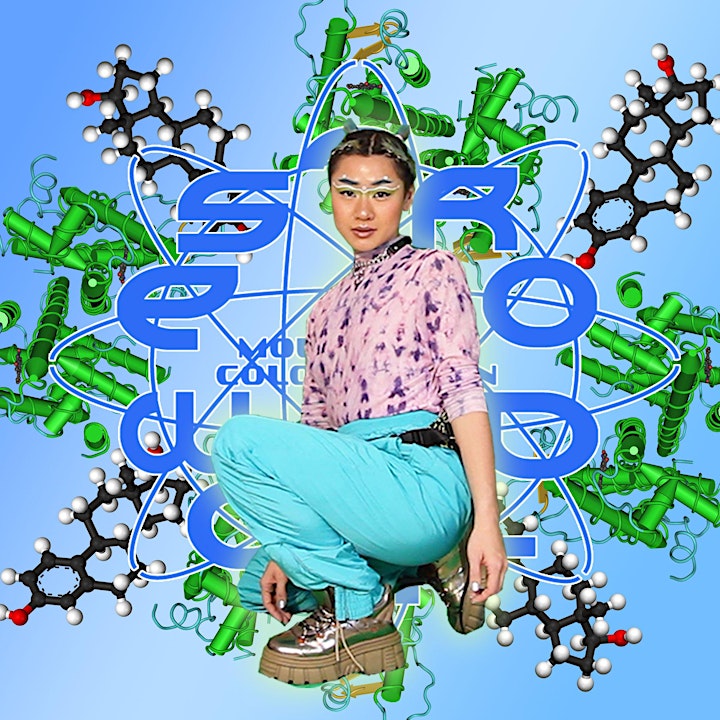 Mary Maggic (b. Los Angeles, '91) is a non-binary artist working at the intersection of cultural discourse, body and gender politics and ecological alienations. Using biohacking and public amateurism as a critical practice of care, Maggic investigates the micro-performativity of hormones and works collaboratively to demystify their molecular colonization. Maggic is a current member of the online network Hackteria: Open Source Biological Art and the laboratory theatre collective Aliens in Green, the Asian artist collective Mai Ling Vienna, as well as a contributor to the radical syllabus project Pirate Care and to the online CyberFeminism Index.
Feminist Hardware Festival
16th of May - 14th of June 2022
Queer, non-binary and female-identified media artists come together to rethink the notion of hardware from a feminist perspective. They extend the ethics of feminist hacking to ecological circuits. By using decentralized, fair-traded, modular, renewable, non-toxic materials they speculate upon future alternative technologies: they create hardware made from water, air, bubbles, waste, body-liquids, microbes, glass, soil or plants.
We proudly present a diverse selection of local and international artists who generate empathic, eco-sentient and anti-racist soft/hardware. They investigate the use of organic, biodegradable, microbial matter for creating ethical technology that helps to unpack the late capitalist industrial complexity of the high-tech.
Building their artistic circuits the artists are learning from biocultural, reciprocal restoration, feminist data science and environmental movements. By doing so, the artists prototype models of generative and subsistent commons with human and non-human agents.
Through workshops, talks, performances and exhibitions we will debate artistic, anti-colonial alternatives to sexist, toxic and extractivist commodity chains. This way we propose the term feminist hardware as a vehicle to diffract gender equality with sustainable and healing ecologies.
The 1st Feminist Hardware Festival is a synergetic extension of Feminist Hacking: Building Circuits as an Artistic Practice international 3-year art-based research project (PEEK AR580) conducted by Stefanie Wuschitz, Patrícia J. Reis and Taguhi Torosyan at the Academy of Fine Arts Vienna in collaboration with Mz* Baltazar's Laboratory.
Participating artists
Arianna Forte / IT
Ce Quimera & Gaia Leandra / Wetlab / CAT
Giulia Tomasello / IT
Irene Agrivina / HONF / ID
Ioana Vreme Moser / DE
Marcela Suárez / US
Mary Maggic / US / AT
Mirjana Mitrović /MX / DE
Sponsors
BMKÖES | Federal Ministry Republic of Austria Arts Culture, BMUKK | Federal Ministry Republic of Austria Education, Science and Research, Civil Service and Sport, FFG | The Austrian Research Promotion Agency, FWF | The Austrian Science Fund and MA7 | City of Vienna Culture Department.
Supporters
Barcelona City Council, Hangar Barcelona | Catalan Center of Artistic Research and Production, Government of Catalonia | Delegation to Central Europe, Institut Ramon Llull, Istituto di Cultura Italiano and Wetlab Barcelona
Partners
Academy of Fine Arts Vienna, Mz* Baltazar's Laboratory and AIL - Angewandte Innovation Lab.
For more info and registration go to www.mzbaltazarslaboratory.org/
Date and time
Location
Mz. Baltazar's Laboratory
52-54 Jägerstraße
1200 Wien
Austria