Description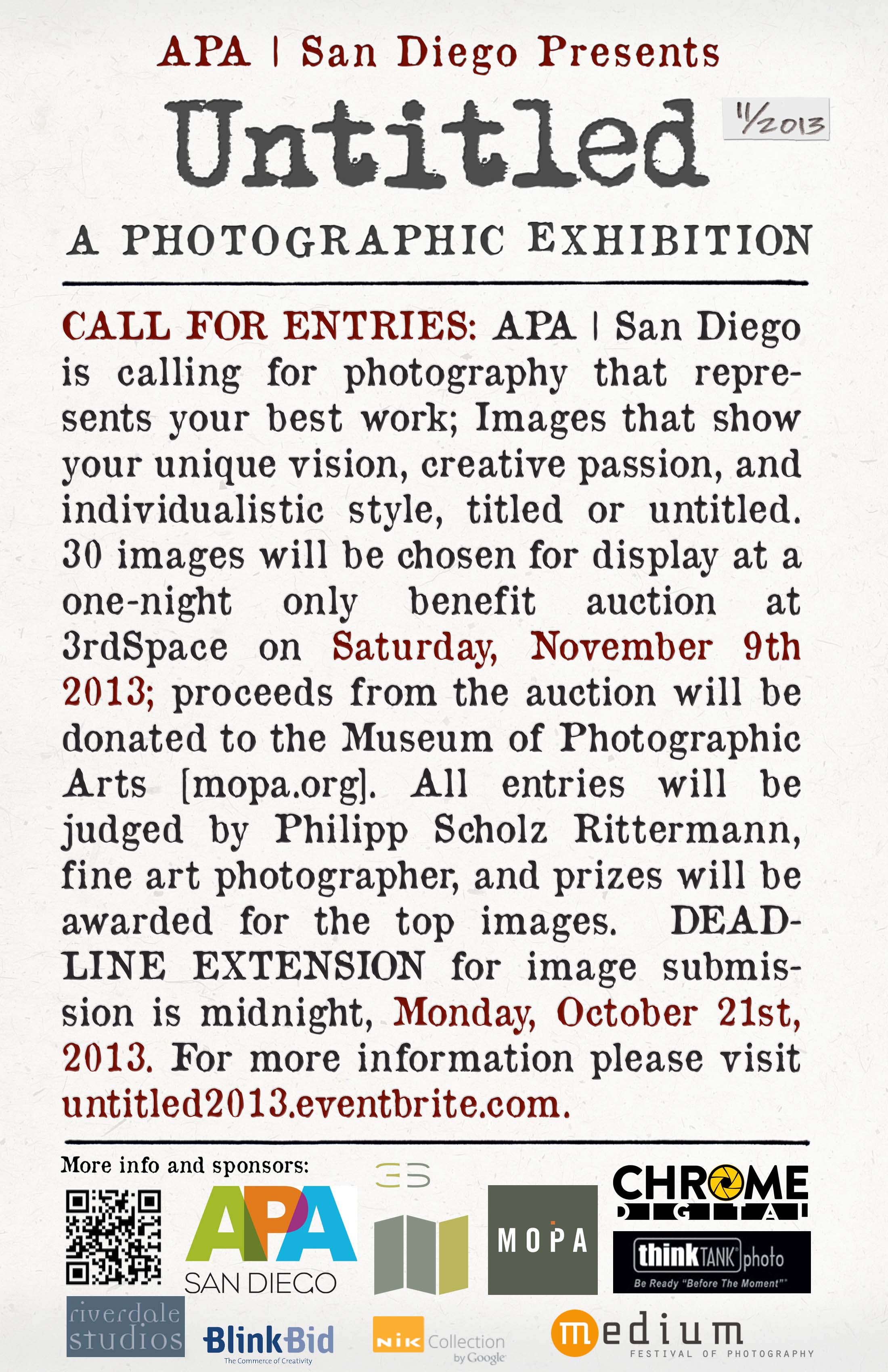 TO ENTER:

Purchase your entry above. Once you have purchased your entry, please email your image/s sized to the specs below to untitled2013_apa@yahoo.com by the contest deadline.

SPECS: All images must be submitted in jpeg format, no larger than 1,000 pixels for either dimension at 72 dpi.


Please be sure to name your files as shown here:
Last Name_First Name_Image Title_Number of images.jpg
e.g. Smith_John_Untitled_01of05.jpg
Please send any questions to director@apasd.org
The competition is limited to five entries per person. Hanging hardware will be provided by APA | San Diego. Print size requirements will be announced after final selections for the show have been made.
ABOUT THE JUDGE
From nocturnal scenes of industry to views of pristine landscape, Philipp Scholz Rittermann's work spans opposite ends of our environment.

His work is held in over one hundred public, private and corporate collections, including MoMA, New York and the Bibliotheque Nationale in Paris, France. Scholz Rittermann exhibits in national, and international venues, and was honored with a mid-career survey at the Museum of Photographic Arts San Diego, which published the monograph "Navigating by Light". He has been teaching photography for over thirty years in the USA and abroad.

In 2011, the Museum of Contemporary Art San Diego exhibited large scale photographs from "Emperor's River", a multi-year project he conducted in China.

Represented by: Scott Nichols Gallery, San Francisco, CA
Contact: info@rittermann.com / www.rittermann.com


3rd Space: Co-Working & Club For The Creative



Organizer of CALL FOR ENTRIES: APA | SD presents: Untitled 2013 – A Photographic Exhibition DEADLINE EXTENDED