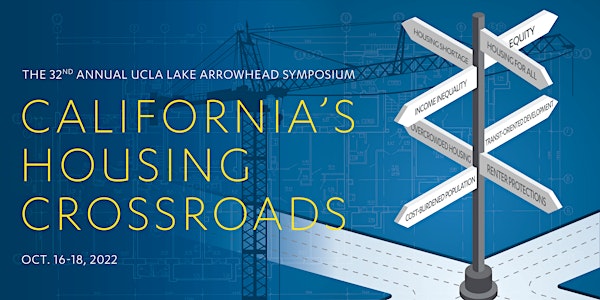 California's Housing Crossroads| UCLA Lake Arrowhead Symposium 2022
The 32nd Annual UCLA Lake Arrowhead Symposium
When and where
Location
UCLA Lake Arrowhead Lodge - Conference Center & Family Resort 850 Willow Creek Road Lake Arrowhead, CA 92352
Refund Policy
Contact the organizer to request a refund.
Eventbrite's fee is nonrefundable.
About this event
Registration Opens: Sunday, October 16 @ 12:00 PM
Program Begins: Sunday, October 16 @ 1:30 PM
Lodging Check-in: Sunday, October 16 @ 5:00PM
High land costs, a shortage of homes, and income inequality leads to a cost-burdened population: Nationally, 49% of households that earn under $50,000 per year pay more than 30% of their income on housing, but in California it's over 65%, and in the Los Angeles metro area it's nearly 70%. Californians cope with this housing burden by crowding into cramped housing units, exiling to exurban or out-of-state markets with lower costs but increased climate impacts, and surfing between less secure housing opportunities with friends or relatives. Those with the least support end up without housing altogether, either in vehicles, in shelters, or on the street.
California's Housing Crisis is a Transportation Issue:
California's housing crisis is particularly acute in coastal job centers and near public transportation infrastructure. Recently UCLA ITS assembled an expert panel of transportation leaders from throughout California to discuss the state's transportation problems and policy options. Even with shifting investments to build a robust and reliable multimodal network, using pricing to manage automobiles, and making the system a safer place for all users, panelists saw increasing inequality, economic strain, and automobile dependence if these were pursued without making progress on the state's housing crisis.
The 2022 UCLA Lake Arrowhead Symposium on Transportation – Land Use – Environment intends to build an understanding of and capacity to implement these solutions across attendee backgrounds, the Symposium will include a Housing 101 session and a demystification of the alphabet soup of California housing: RHNA, HEs, AFFH, CEQA, ADUs and highlight actions that transportation professionals can take to support housing solutions
Registration Includes:
Unlike most conferences, the UCLA Arrowhead Symposium is an all-inclusive experience. 
Full 2.5 Day Program
2 Nights Lodging
All Meals (Sunday lunch through Tuesday lunch)
Receptions
Access to Center Facilities
Each fall the UCLA Lake Arrowhead Symposium convenes a diverse group of influential policymakers, private sector stakeholders, public sector analysts, consultants, advocates, and researchers to delve into the pressing public policy challenges related to the transportation - land use - environment connection. The symposium's location in the San Bernardino Mountains affords attendees a reflective setting to contemplate, discuss, debate, and return to their organizations with informed thinking on the latest research and most innovative new practices from around California and the globe.
Legal:
"As a condition to your attendance to all Lewis Center for Regional Policy Studies and/or Institute of Transportation Studies Events, you agree and irrevocably consent to your image and/or likeness being captured on photo, film and/or video, the benefit of which shall vest in Lewis Center for Regional Policy Studies and the Institute of Transportation Studies., it's licensees, successors and assigns, and shall be used for promotional, marketing, and educational purposes only."
FAQs & Policies:
What is the refund policy?
Once you register, we pay for you to attend even if you cancel. Thus, in most cases, we cannot offer a refund. Exceptions will be made for individuals who will be under quarantine or isolation orders by their health care provider during the symposium. The individual must notify symposium organizers at arrowhead@uclaarrowheadsymposium.org within 24 hours of being placed on the quarantine or isolation order and include a copy of the order from their health care provider. Any refunds will be minus the Eventbrite fees.
Your registration is transferable, and you can change the name on your registration until October 12, 2022 by logging into Eventbrite and clicking your order on the Tickets page. Note that this doesn't change payment responsibility from the original registrant. If you change the name of your registration, please notify us at arrowhead@uclaarrowheadsymposium.org
What lodging accommodations will be provided?
Included in the registration is the lodging for two nights and meals (Sunday Lunch- Tuesday Lunch). Please note that RSVP is required for lunch on Sunday. Lodging at the UCLA Lake Arrowhead Conference Center is semi-private cabins (condolets). Your condolet will be shared with another symposium attendee. You may request a suitemate by indicating so during the registration process. Some condolets have an open-door bedroom plan and others have a closed-door bedroom plan. Most condolets are two-story units with each level having a queen bed and full bathroom. A downstairs living room parlor with a sleeper sofa, work desk, and fireplace separates the two guest rooms. Due to room availability, we cannot accommodate requests for specific bedroom plans.
May I request a suitemate?
Yes, you can request a suitemate (that we hope is mutually agreed on) during the registration process. Our policy is to pair suitemates of the same gender unless otherwise requested. We will do our best to pair attendees from the same organization but this is not guaranteed.
Is smoking allowed in the buildings?
The UCLA Lake Arrowhead Conference Center is a smoke-free property. Due to this, we will be required to bill a smoking fee during the symposium or post check-out to guests who will be participating in smoking activities in the rooms during the symposium or post check-out.
Can I request dietary meal preferences?
Yes. You will indicate your dietary preferences during the registration process. The conference center will do its best to accommodate most meal preferences (vegetarian, gluten-free, vegan, etc.).
May I request a specific room at the conference center?
Please let us know during the registration process if you have a mobility issue and need to be housed in a room close to the main conference. The conference center will do its best to accommodate requests based on availability and medical needs; however, these accommodations are not guaranteed.
Can anyone register to attend?
This event is invitation-only. Attendees must receive a nomination to attend. Please enter nominees on this form. UCLA reserves the right to cancel attendee registration if they were not nominated to attend.
Can I invite an additional person to attend and stay in my room?
No. All attendees and guests must be registered to attend the conference and stay as a guest at the conference center. UCLA reserves the right to cancel attendee registration if they were not nominated to attend and to ask non-registered guests to leave the premises.  
What are my transportation/parking options for getting to and from the event?
We will arrange for a shared shuttle service to and from Ontario Airport. If you are interested in this service, please purchase the ground transportation package during registration. We will confirm shuttle logistics, one week prior to the event. Parking is located directly in front of the conference center.
Do I have to bring my printed ticket to the event?
No. We support paperless activities when we can get away with it. No need to print out your ticket.
Is it ok if the name on my ticket or registration doesn't match the person who attends?
No. All attendee names must match the registered conference guest names. If you need to transfer your registration, you may do so by clicking your order on the Tickets page until Wednesday, October 12, 2022.
Can I update my registration information?
You can update the information on your order (such as name, email address, or answers to the organizer's questions) by clicking your order on the Tickets page until Friday, October 12, 2022. Please contact us at arrowhead@uclaarrowheadsymposium.org if you have already completed your registration and still want to purchase an add-on item (e.g., Ground Transportation).
What are the Health & Safety Protocols that will be in place during the conference?
Event attendees will be required to show proof of their full vaccination status or negative PCR COVID test taken within 48 hours (a negative antigen test taken within 1 day is also acceptable) of the first day of the event along with a photo ID in order to gain entrance to the venue. Surgical Masks or KN95 or N95 masks will also be required indoors unless eating or drinking. These protocols are subject to changes in the UCLA policy.
When should I arrive and check-in?
The conference center is located at 850 Willow Creek Road, Lake Arrowhead, CA 92352. There is free parking available in front of the main lodge. Symposium registration will be available beginning at 12PM on Sunday 10/16 in the main lodge. We suggest that you arrive by 1PM in order to get settled before we get started with the Welcome Session at 1:30PM. Before 6:30PM on Sunday, registration will be in the main lobby; afterward, registration will be available in the upstairs library.
Check-in for lodging is at 5:00 PM in the main lodge. Ask our student volunteers at registration if you need assistance with storing luggage. Please be advised that generally all lodging accommodations are 2-bedroom, 2 bath semi-private shared condolets. In most condolets, the bottom room has a door; whereas the top room is an open loft. You will share a unit with another symposium attendee. Due to this, registered attendees cannot bring non-registered guests to the conference center. Feel free to check with the front desk regarding the name of your cabinmate upon check-in.
Lunch will be provided from 12PM-1PM with an RSVP during your Eventbrite Registration or via email to arrowhead@uclaarrowheadsymposium.org by 10/7/22.
Can I pay by check?
If you'd like to pay by check, contact event organizers at arrowhead@uclaarrowheadsymposium.org to obtain an invoice. The invoice will be billed at the Regular Registration rate ($1195). All invoice payments must be received no less than 30 days before the event.
How can I contact the organizer with any questions?
You may reach us at arrowhead@uclaarrowheadsymposium.org with any questions regarding the event.