Description
Thank you to all who joined us for another successful California Wines Road Trip Tasting! To see photos from the tasting, click here: http://www.flickr.com/photos/103172116@N08/
Raise a glass to California Wine Month this September. We invite you to take a virtual road trip through California's wine regions - all offered in one place - at a walk-around tasting at the SF Ferry Building.Taste diverse offerings from north to south, with selections from El Dorado, Livermore Valley, Lodi, Madera, Mendocino, Monterey, Napa Valley, Paso Robles, San Luis Obispo, Santa Barbara, Santa Clara, Sonoma and beyond. Plus, enter to win one of several wine country trips for two!
Taste more than 100 California wines from 12 regions - and meet the people behind the labels - along with a selection of Californian cheeses, salumi and other hors d'oeuvres. Attendance is limited and guests must be 21 years or older. Visit www.discovercaliforniawines.com/californiawinemonth for more events and information.
Participating wineries include:
Baldacci Family Vineyards, Cakebread Cellars, Groth Vineyards & Winery, Long Meadow Ranch Winery, Monticello Vineyards, Spelletich Family Wine Company, Alexander Valley Vineyards, Freeman Vineyard & Winery, Landmark Vineyards, Patz & Hall, Pedroncelli Winery, Seghesio Family Vineyards, Ancient Peaks Winery, Halter Ranch Vineyard, JUSTIN Vineyards & Winery, L'Aventure Winery, Niner Wine Estates, Vina Robles, Fasi Estate Winery, Ficklin Vineyards, Quady Winery, San Joaquin Wine Company Sumner Peck Ranch Winery, Barra of Mendocino, Handley Cellars, Meyer Family Cellars, Mendocino Wine Company, Philo Ridge Vineyards, Saracina Vineyards, Bernardus Vineyards, Caraccioli Cellars, Delicato Family Vineyards, Hahn Estates, J. Lohr Vineyards & Wines, Wente Vineyards, Concannon Vineyard, Crooked Vine Winery, Fenestra Winery, McGrail Vineyards & Winery, Nottingham Cellars, Retzlaff Estate Winery, LangeTwins Winery & Vineyards, McCAY Cellars, Michael David Vineyards, Peltier Station, St. Amant Winery, Spenker Winery, Lava Cap Winery, Fenton Herriott Vineyards, Madrona Vineyards, Narrow Gate Vineyards, Nello Olivo Wines, Shadow Ranch Vineyard, Edna Valley Vineyard, Kynsi Winery, Laetitia Winery, True Myth Wines, Tolosa Winery, Brewer-Clifton, Fiddlehead Cellars, Melville Winery, Palmina, Guglielmo Winery, Solis Winery, Sycamore Creek Vineyards, Joel Gott Wines, Napa Cellars, Robert Mondavi Winery, The Lucas Winery, Simi Winery, Beringer Vineyards, Bonterra Vineyards, Cooper-Garrod Estate Vineyards, J Vineyards & Winery, The Lucas Winery
Part of the proceeds from this event will go to CUESA (Center for Urban Education about Sustainable Agriculture) and CSWA (California Sustainable Winegrowing Alliance).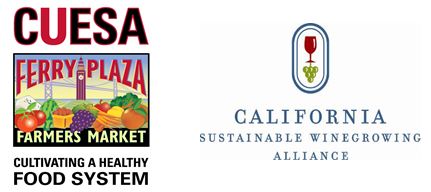 Organizer of California Wines Road Trip 2013 - at the San Francisco Ferry Building
Wine Institute is an association of 1,000 California wineries and affiliated businesses from the beautiful and diverse wine regions throughout the state. Wine Institute works to create an environment where the wine community can flourish and contribute in a positive fashion to our nation, state and local communities.