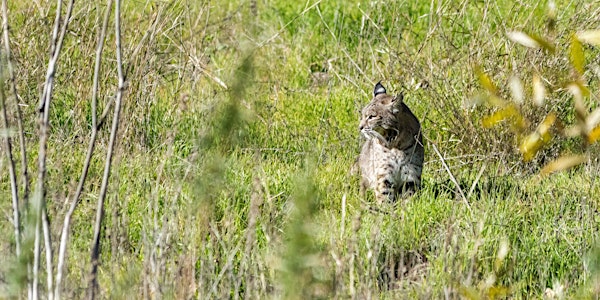 California Wildlife Day - CANCELED
Join us for a fun-filled day celebrating the native animals that share a home with us here in the Santa Clara Valley!
When and where
Location
North Coyote Valley Conservation Area Free Shuttles will be leaving from the Santa Teresa Light Rail Station San Jose, CA 95119
About this event
March 11, 2020 Notice
While we are so thankful for your interest in attending CA Wildlife Day, due to the Santa Clara County Public Health Department's mandatory order to cancel mass gatherings, the Open Space Authority has decided to cancel this event. While we believe that the event itself would be safe under the County's guidance, the shuttle service that would be required to transport guests to the event could violate that guidance.
However, the Open Space Authority strongly believes that connecting people to nature and outdoor open spaces is more important than ever, as being in nature provides important personal physical and mental health benefits, and we will continue to provide opportunities for the public to enjoy our open space preserves in a safe and healthy manner.
Please continue to enjoy our open space preserves at your own leisure.
If you have any questions or concerns, please contact us.
Join us for a fun-filled day celebrating the native animals that share a home with us here in the Santa Clara Valley. This family-friendly event will have something for every nature lover: docent-led walks and activities, family-friendly arts & crafts, speaker workshops, a live animal presentation, and more - and located in the beautiful Laguna Seca seasonal wetland, part of the newly protected North Coyote Valley Conservation Area!
Every hour, we will have a variety of docent-led activities and workshops for you to attend. Drop in for a smaller, hands-on group activity led by Authority docents and partners, or attend a larger workshop presentation by one of our featured speakers.  See schedule below.
Free shuttles will be transporting attendees to and from the celebration at Laguna Seca, as parking on site is extremely limited. Circulating shuttles will depart from the Santa Teresa Light Rail Station* every 15 minutes, with the first shuttle departing the station at 10:00 a.m.
Registration is required for this special event so we can provide an adequate shuttle service. If you need special transportation accommodations, please reach out to us at 408-224-7476.
SCHEDULE OF EVENTS (subject to change)
11:00 a.m. – 2:00 p.m. (all day)
Kid zone! Arts & crafts, nature activities, and more. Hosted by the Open Space Authority and our nature partners!

Open Space Authority: Come solve the mystery of our wildlife game scene CSI, decorate your own butterflies, and enjoy other arts and crafts at our family area for kids of ALL ages!
Saved By Nature - Touch elk antlers, get face-to-face with life-sized animal sculptures, and learn how nature can help make you a happier, healthier person.
Honey, Natives, and Beeyond - Take home your own native flower pots and seeds, paint a bee box, and learn about the importance of our native bees!
Wildlife tracking with the Bay Area Tracking Club

Try your hand at tracking wildlife with local enthusiasts! Learn how to spot wild animals by the signs they leave behind. The Bay Area Tracking Club will be leading an all-day tracking expedition around the Laguna Seca wetland.
11:00 a.m. – 11:45 a.m.
Speaker Workshop 1: Live Bird Presentation with Wildlife Education and Rehabilitation Center (WERC)

Here's your chance to meet some feathery friends up close and personal! Learn all about the bird species that share a home with us in the Santa Clara Valley in this special presentation by WERC and their animal Educational Ambassadors.
Activity 1: Wildlife Tracking for Beginners
Join us for this unique twist on the traditional nature walk: learn how to spot wild animals by the signs they leave behind. Tracks, scat, and more! 
Activity 2: Plant and Animal Identification Walk around Laguna Seca
Want to know more about native plants and animals and how to identify them? Join us for a gentle walk around Laguna Seca, an important seasonal wetland habitat that is teeming with life.
Activity 3: Meet the Elk Enthusiast!
We bet you didn't know there are Elk living right here in San Jose. Join Docent Mike, our local Coyote Ridge wildlife enthusiast, for a fascinating walk and talk about the local Tule Elk. Learn how big they are, listen to their sounds, and find out what they are doing right now, on a ridge near you.
12:00 p.m. – 12:45 p.m.
Speaker Workshop 2: Wildlife and Nature Sketching with artist Edward Rooks
Interested in finding a new and creative way to connect with nature? Join naturalist and wildlife artist Edward Rooks in discovering the natural world around you through sketching!
Do you believe that nature can save your life? One of the best ways to get in touch with nature is by safely watching it! Come meet the Founder of Saved by Nature, Richard, for a gentle, all-inclusive nature walk to hear how he has benefited from nature and how you can too. Learn ways to explore nature and observe wildlife with your family.
After WERC'S Live Bird Presentation (11:00 a.m.), join them for an engaging and informative walk around Laguna Seca to look for wild birds and other animals.
1:00 p.m. – 1:45 p.m.
Learn more about the wildlife video seen 'round the world! Pathways for Wildlife will be sharing the story behind this amazing footage and explaining what science is telling us about these animals and the Coyote Valley landscape. Pathways for Wildlife is a research organization specializing in identifying, monitoring, and implementing connectivity designs for wildlife movement.

Activity 6: Sketching walk around Laguna Seca with Edward Rooks
After Edward's Nature Sketching Workshop (12:00 p.m.), join him on a walk around Laguna Seca to use your new drawing skills! We will provide sketching materials, or bring your own.